Friday Morning Asbury Park Boardwalk Schedule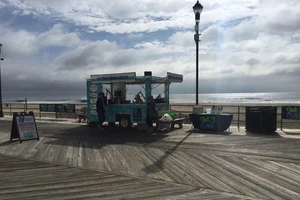 It's another Jersey Shore Summer Weekend and that means we're kicking it off at the New Jersey Natural Gas Asbury Park Boardwalk Studio.
Come and visit us on the beautiful Asbury Park boardwalk. You can catch a beautiful sunrise, you can win some great prizes, you can Kiss a Kia, and you can meet some of our special guests.
Tom Hayes from New Jersey Natural Gas has invited some awesome special guests to join us today. Let's take a look at our schedule for this morning…
8:00am hour…Claire Antonucci from New Jersey Sea Grant Consortium
8:00am hour…Jacqui Moskowitz, Resource Director for Autism Family Services of New Jersey
9:00am hour…Carolyn Cannon, from New Jersey Natural Gas Education Programs
So please stop by and kick off a summer weekend like only a Jersey shore resident can. Head to the beautiful Asbury Park Boardwalk Studio, and we'll see you here!
More From Monmouth & Ocean Counties 
Subscribe to 94.3 The Point on