Townsquare's Toms River Headquarters Officially Opens [VIDEO]
It was an exciting night here at 8 Robbins Street in the heart of Downtown Toms River Wednesday, as hundreds gathered for the official grand opening of Townsquare Media's Shore Headquarters.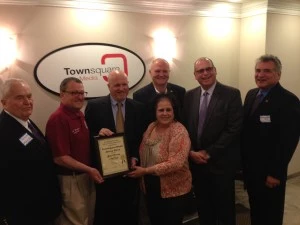 Although we have been broadcasting in the building since February and many of the sales and corporate staffers have been here since last summer, you could feel the energy from all of the employees and the community as we marked a major milestone.
For the first time ever, four of our radio stations – WOBM-FM, WOBM-AM, WJLK-FM and WCHR-FM – are all housed under one roof – as is the shore bureau of the Townsquare News Network.  The building had been vacant for many years and was once home to the former Ocean County Observer newspaper.
During the last several months, our fantastic engineering team have been setting it up with state-of-the-art equipment and new facilities we had never seen before.  Being in Bayville for many years, things were very tight – now we have three out of four floors to call our own.
Toms River Mayor Tom Kelaher was out last night for the ceremonies and the ribbon cutting.  He says "this is wonderful.  I am so happy to be here on this very special occasion.  For years, the building was an utter empty eyesore in need of a facelift.  Townsquare has a great relationship with us down here and we feel this is a great shot in the arm for the Downtown area."
Townsquare's  Don Dalesio, who serves as the General Sales Manager for the Monmouth-Ocean market says "this is a very exciting time for our company.  We are happy everyone was able to come out to this event.  This is more than just a building – this is what this company is all about.  What better way to keep the Townsquare brand by putting ourselves in the Town Square."