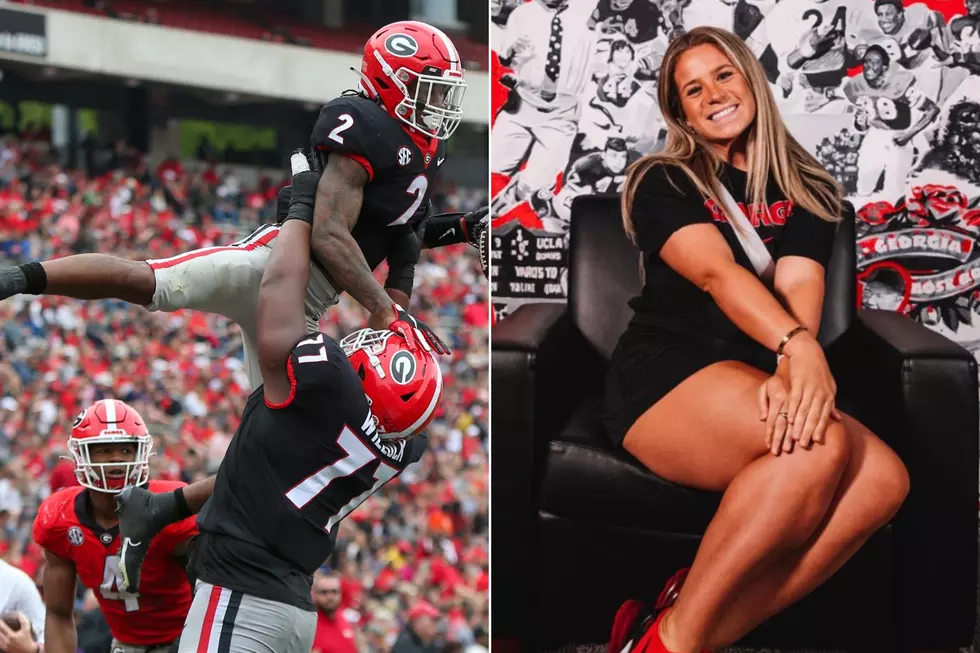 Speed a factor in fatal wreck that ejected UGa football player from NJ
(AP Photo,Brett Davis/via Instagram)
Excessive speed is listed as a factor in a crash that took the lives of a University of Georgia football player and staff member just hours after celebrating their national championship.
The report from Athens-Clark County police said 20-year-old Devin Willock, of New Milford, was not wearing a seatbelt and was ejected from a Ford Expedition in the wreck early Sunday morning around 2:45 a.m., the Associated Press reported.
Police said a primary cause of the crash was excessive speed on an Athens, Georgia road with a 40 mph speed limit. Investigators are still working to determine exactly how fast the vehicle was traveling.
Less than two miles from UGa campus, the SUV hit a curb and went off the road. It cut through two utility poles before it hit multiple trees and finally came to rest against an apartment complex.
Willock, who played at Paramus Catholic High School before committing to Georgia, had been sitting in the driver's side passenger seat. The 6-foot-7, 335-pound sophomore was pronounced dead at the scene.
The driver of the SUV, 24-year-old recruiting analyst Chandler LeCroy, was wearing a seat belt but died soon after at a local hospital. Authorities had not yet tested LeCroy for drugs or alcohol, according to the AP.
Willock, Lecroy, and two other passengers had all been celebrating the Bulldogs' second consecutive national title just hours earlier. The team held a parade through town then was part of a ceremony later Saturday.
Offensive lineman Warren McClendon, 21, was wearing a seatbelt and was not seriously hurt. He had announced Saturday, the day before the crash, that he would enter the NFL draft.
Victoria Bowles, 26, was in the backseat with Willock and not wearing a seatbelt. Also a member of team staff, Bowles was hospitalized with serious injuries. She was in stable condition Wednesday morning, USA Today reported.
Rick Rickman is a reporter for New Jersey 101.5. You can reach him at richard.rickman@townsquaremedia.com
Click here to contact an editor about feedback or a correction for this story.
Actors Who Turned Down Major Marvel Roles
Not everyone wants to be a part of the Marvel universe. These actors all got offered high-profile gigs in Marvel movies and turned them down.
Best Albums of 2022
Below, check out 2022's best pop albums according to PopCrush.
See the Current Status of Every Murdered Rapper's Case
XXL takes a look at the current status of the cases of hip-hop murders that have occurred over the past 35 years.