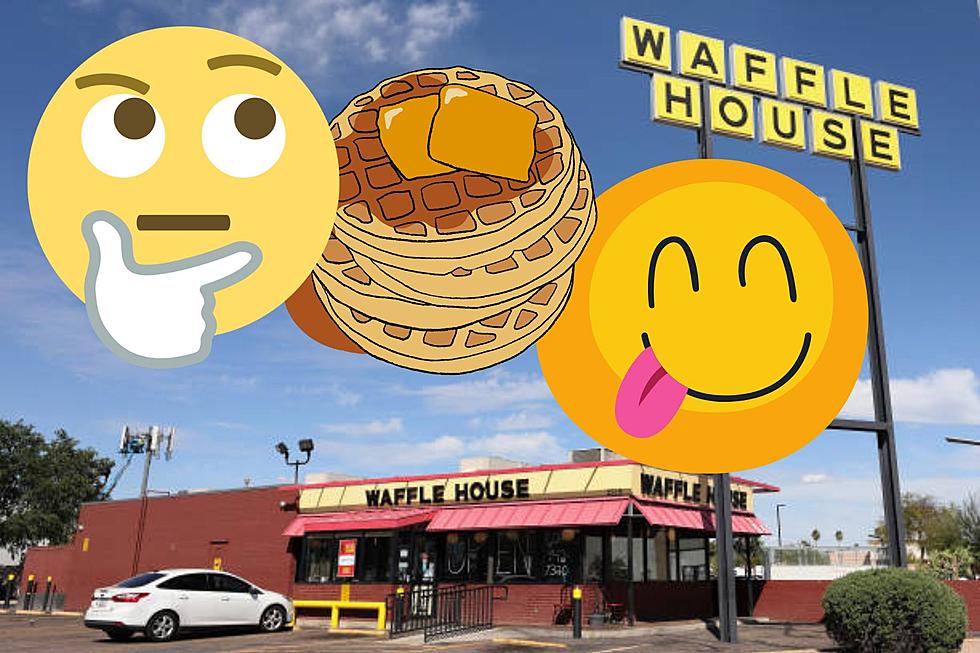 Why is there no Waffle House in New Jersey?
Getty Images/Townsquare Media illustration
🍴 There are almost 2,000 Waffle House restaurants in the U.S., none in NJ
🍴 How did Waffle House reach such legendary status?
🍴 Some truly crazy things have happened inside a Waffle House
---
New Jersey has no shortage of great places to eat.
From upscale steak and seafood houses to the iconic Jersey diner, you could probably eat at a different place in New Jersey every day for the rest of your life and never visit the same place twice.
Jersey loves to eat!
Most of the major chain restaurants also have locations in New Jersey, but there is one that is noticeably absent.
New Jersey does not have a Waffle House.
The Waffle House has achieved an almost mythical reputation for both its food and its clientele and wait staff.
In 2011 FEMA even created what is still known as the "Waffle House Index."  Based on how many Waffle House locations are closed after a natural disaster, FEMA says, helps gauge how an area is faring.
A New Jersey 101.5 listener recently sent a question to my Asked & Answered column asking "How come New Jersey doesn't have a Waffle House?"
I reached out to the spokesperson for Waffle House and our listeners to try and figure out the answer to that question, and why Waffle House has such legendry surrounding it.
The official responses to my questions came from Njeri Boss, vice president of public relations, for Waffle House.
To say that she lacked a sense of humor would be an understatement.  Her responses to my questions were often brief and terse answers that did not seem to reflect the fun attitude exhibited by the many people who work at the actual Waffle House restaurants.
Waffle House currently has 1,965 restaurants in 25 states, but none in New Jersey.
How come New Jersey doesn't have a Waffle House? 
Boss' answer was a very simple, "No available answer."
She clearly is not aware of the awesomeness of New Jersey.
Was there ever a Waffle House in New Jersey?
According to Boss, "There has not been to date."
Yeah, we kinda guessed that.
A friend of mine swore there used to be one in Cape May near Congress Hall, but we found no evidence of that.
What makes Waffle House so special?
"Waffle House's Associates and the customers they serve make Waffle House special because of the often deep relationships that flourish on both sides of the counter," Boss said in an email.
Certainly, a fine corporate response, but it really doesn't quite capture the true Waffle House experience that has become legendary.
How did Waffle House achieve such a legendary status?
From Boss: "That's best answered by our customers who dine with us every day."
Fair enough.
So, we asked New Jersey 101.5 listeners who have visited Waffle House what was up.
The answers we got reflect strong feelings, both positive and negative, to the legendary eatery.
Below are some of the best.
LOVE me some Waffle House!
I love Waffle House. I've had almost everything on the menu. Whenever I drive by one, I stop. I swear the cooks are always on meth but the waffles, hash browns, and coffee are to die for. — Dee
It's an open diner experience where you can see your food being cooked. The coffee and pecan waffle are delicious.  You have to visit a Waffle House to understand the fascination. —  Angela
Good coffee and chicken sandwich is a fav. — Roshan
Love Waffle House. Great waffles and pancakes. —  Lorie
Great BLTs. Quick and cheap. — Jackie
The food and menu is the same at every Waffle House across the country...no regional specialties. When I traveled for work, I always ate at a Waffle House because there were no surprises, I knew exactly what I would get when I ordered the scrambled cheese n' egg plate, hash browns "scattered". —  Nicole
I like Waffle House ... once a year when I'm in Harrisburg, Pennsylvania or maybe more often if I'm traveling somewhere where there are WHs. —  Peter
My good man, its ALL about the pecan waffle. —  Dan
It's been about ten years but at the WH near Quantico where our son was stationed, he warned us not to order egg whites. Smoking was allowed at the counter and rather than coffee some people washed down breakfast with a Mr. Pibb, said to be Dr. Pepper's kid brother without a medical degree. The portions of eggs, waffles, sausage, biscuits and gravy and grits were overly generous and quite tasty. Not my usual yogurt and blueberries but a pleasant and filling once-a-decade treat. —  John
I drive to Florida once a year and Waffle House is a must stop. It tends to be in the middle of the night / early morning. It is like eating breakfast in a crack house but the food is great. I usually get scrambled eggs with cheese, bacon, grits and toast. There are some very interesting characters in a Waffle House in the middle of the night - including the employees! —  Mike
The all Star!! . Waffle House is a favorite in Virginia. More so than Ihop for sure. Further south they have the huddle house. And if you've been in the Military and stationed near one – it's a MUST —  Will
The variety of greasy spoon delicacies is what always catches my attention. Their pecan pie is one of the best I've ever had, and the All-Star Breakfast is massive with a fantastic variety and probably the best bang for the buck!! But let's face it, Waffle House is a three-star version of Denny's or IHOP. Most people who rave about Waffle House live in states that don't have the long tradition of family-owned dinners like we have in New Jersey. – A.J.
Very simple menu. Never changes!! It's under the glass in the table. All comfort food!! Almost hard to describe the feeling!! But awesome! —  Dave
Been there once. It wasn't w-awful. —  Bob
Waffle House waffles are amazing and the bacon is super yummy too!!  —  Jasmine
Hash browns - Scattered, smothered, covered, and country! It is a great example of southern fast comfort food. There aren't large in terms of Sq. Ft. Just a little southern diner that is best enjoyed after an evening on the town.  —  Erik
HATE me some Waffle House!
Had my share of Awful House when I lived in Florida and California. Nothing special at all. —  Bob
Been to a few. The ONLY good thing is they are quick and cheap. Otherwise, they would rate lower than Denny's on my list. Dirty, loud, rude, etc... Sure, it's kinda fun if you're in the mood or there after a night of drinking!!  —  Craig
I visit Ga often where my daughters live. They love it. I personally do not enjoy it at all. I think because I prefer our NJ diners and breakfast nooks. —  Shaun
Waffle House is the breakfast version of White Castle, meaning that it gets increasingly better with every beer you have. Sober, or not hungover, it's a B- at best. And like the Castle: it's also drenched in grease, the clientele is sketchy, they are small and tight, and the bathrooms are similar to an airplane's. 95% of Jersey Diners are way better. —  Andy
I go for the EXPERIENCE and the PEOPLE!
When I was living in Florida the two local waffle houses were robbed/having fistfights on a weekly basis. Popular destination for club-goers after they got drunk and hungry – Nick
We went to one when we were in Columbus Ohio. We sat down to order but had to leave because an argument/ fight broke out. We left before someone got shot or stabbed. – Jay
My husband likes it because the dining tables and the cook area is in the same place so you can be sure that nobody spitting on your food! Lol! - Barbara
Lived in Fayetteville, NC for 18 months. While my better half was not crazy about the cleanliness of the one we would visit, we both agreed that the food was wonderfully prepared. We did hear of incidents happening there, however, none ever happened while we were there, mostly issues late night, extremely early in the day (aka the witching hours). They serve breakfast, one thing, and they do it well. - Shawn
I worked at a Waffle House in college, so I know how to properly order there and can call my own order to the cook   Hash browns-covered, smothered and chunked…. Translates to: covered with cheese, smothered in onions, chunked with pieces of ham  - Amy
There's one in Lancaster, right near Dutch Wonderland. I've only eaten there once. Once. You can imagine what happened after I "enjoyed" waffles and sausage there. (Use THAT in your article!) - Len
It's a dive but you have to have the double hash browns scattered, covered and smothered. And the servers holler "mornin'" when you walk in. - Mike
They have their own language?
Oh, yes.  It's part of the experience.
They even encourage customers to learn it and be able to call their own order.
For example, when ordering hash browns, you could say:
"Scattered" (spread on the grill), "smothered" (with onions), "covered" (with cheese), "chunked" (with diced ham), "diced" (with diced tomatoes)
What kind of crazy things have happened at Waffle House?
How long do you have?  There have been some doozies.
For example:
😮 A man once drove his pickup truck into a Waffle House to try and kill his wife.
😅 A couple left their hotel room and forget to put on clothes and walked inside a Waffle House stark naked.
😲 A Waffle House worker was arrested to spiking a co-worker's drink with crystal meth.
😆 A man once tried to rob a Waffle House armed with a pitchfork.
😍 A woman got caught having sex in the parking lot and when cops told her to get dressed, she tried to wear a cheeseburger as a shoe.
😯 A waiter clung to the hood of a car after a dine-and-dash.  The car reached speeds of 60mph.
You can read about these and other crazy Waffle House stories by clicking HERE.
Ok, so I wanna go to one!
Unless you are traveling to a state where the Waffle House is plentiful, your options from New Jersey are limited.
The closest locations to the Garden state are in Pennsylvania and Delaware.
🔺 Bethlehem, PA
2101 CHERRY LANE
BETHLEHEM, PA 18015
(610) 838-2592
🔺 Newark, DE
1450 PULASKI HWY.
NEWARK, DE 19702
You can search for Waffle House locations by clicking HERE.
How does Waffle House determine where to build their locations?
I asked I asked the Waffle House's Njeri Boss that question.
Her response: "This information is something we, as a private company, do not share with the public."
So, you're telling me there is a chance?
Sure.  Why not.
I asked Boss if enough people wrote to Waffle House asking you to come to a location, would you consider it?
Her response: "You never know, but there are no guarantees."
2023 Seaside Heights Polar Bear Plunge
Photos from the 2023 Seaside Heights Polar Bear Plunge, which raised $2.5 million for the Special Olympics New Jersey.
Eric Scott is the senior political director and anchor for New Jersey 101.5. You can reach him at eric.scott@townsquaremedia.com
Click here to contact an editor about feedback or a correction for this story.