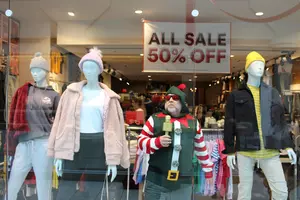 What's Up With This Elf At Freehold Raceway Mall?
Brad Burascano, Townsquare Media
So, you may have noticed an elf walking around Freehold Raceway Mall the other day with a camera crew right behind him. What's up with that?
We went right to the source, Santa Claus himself to get the details on this elf. The Big Guy made it perfectly clear that the elf in the photo does not work for him. We confirmed that with the elf himself, who, it turns out is...me.
So what was I doing at Freehold Raceway Mall dressed like an elf? Well, I can't tell you everything just yet, but I can say four words. Lou...on...the...Shelf. It's actually a good thing for you because it's another way for you to win!
We'll roll out all the details Monday morning. In the meantime try to get a good night's sleep and try to keep the image of Lou on the Shelf out of your mind, at least for now.
Also, I'd like to thank Santa at Santa HQ at Freehold Raceway Mall, and while he did say he didn't have any job openings available for a Lou on the Shelf this season, he did give me some great elf advice!
More From Monmouth & Ocean Counties