A Little Rain Can't Stop The Boss [LIST/PHOTOS/POLL]
The weather was perfect for the first two Bruce Springsteen & The E Street Band concert at MetLife Stadium. But the Boss' luck ran out with a delay due to thunderstorms and heavy rain on Saturday night that did not lessen the experience for anyone for a show that one lone time fan called "epic."
Everyone's was moved off the field and into the crowded concourses at MetLife Stadium around 8:30PM due to the threat of lightning from a line of strong thunderstorms. But the threat passed and the concert got underway around 10:30PM and lasted into the early hours of Springsteen's 63rd birthday, ending at 1:55AM.
A very tired Tom "TC" Cunningham, longtime Springsteen aficionado and host of the Bruce Brunch on sister Townsquare Media NJ station 105.7 The Hawk called the show "epic" despite hosting his program mere hours after the end of the concert. "It was amazing to look around at 1AM and see that no one went home," said Cunningham about the show. Bruce and everyone at the show was "really into it."
It was also the playlist selection. " 'The River' into 'Jungleland?' That's special." recalled TC.
On Wednesday Bruce and the band kicked off the first of the 3 "Wrecking Ball" shows at MetLife. The band played for 3 hours and 40 minutes and featured a rockin' version of "Prove It All Night", a massive sing along to "Hungry Heart", original drummer Vini Lopez and a crowd surfing Boss!
Friday night at 8:28pm the band entered to Frank Sinatra's "Summer Wind." Bruce (who turns 63 tomorrow) and the band had a "let's say goodbye to summer" party! The boss and the E Street Band played for 3 hours and nine minutes, performing 28 songs! The show included a first time performance of "Living On The Edge Of The World", Gary US Bonds, and fireworks! The show was over at 11:37pm.
Saturday night's show started at 10:31 with "Out In The Street". Other highlights include "Who'll Stop The Rain" (it stopped!), Bruce's friend Gary US Bonds and Little Steven leading the crowd in singing "Happy Birthday" as Bruce tuned 63 at midnight. Joining in the on stage celebrating was Bruce's mom Adele, his sister Ginny, Patti Scialfa's mother and brother, plus Maureen Van Zandt came out with a huge birthday cake. The highlight of the night for many was a moving version of "Jungleland". After 3 hours and 28 minutes and 33 songs, the show came to an end with "Twist & Shout" at 1:55am.
If you went to the shows and took some photos, "Show Us Your Springsteen"!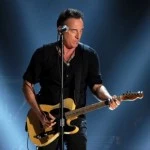 JERSEY'S FAVORITE SPRINGSTEEN HITS AS CHOSEN BY OUR LISTENERS
Thunder Road
Born To Run
Jersey Girl
Out In The Street
Brilliant Disguise
Rosalita
Glory Days
Jungleland
Tenth Avenue Freeze Out
Badlands
Born In The USA
Dancing In The Dark
Hungry Heart
4th of July Asbury Park
Prove It All Night
My Hometown
Spirit In The Night
The Rising
I'm on Fire
She's The One
Other favorites bubbling under the Top 20 are "Pink Cadillac", "Growing Up","No Surrender","Sherry Darling", "Bobby Jean","Tunnel Of Love" and "Waiting On A Sunny Day".
What is your favorite Springsteen song?
Source:
A Little Rain Can't Stop The Boss [LIST/PHOTOS/POLL]