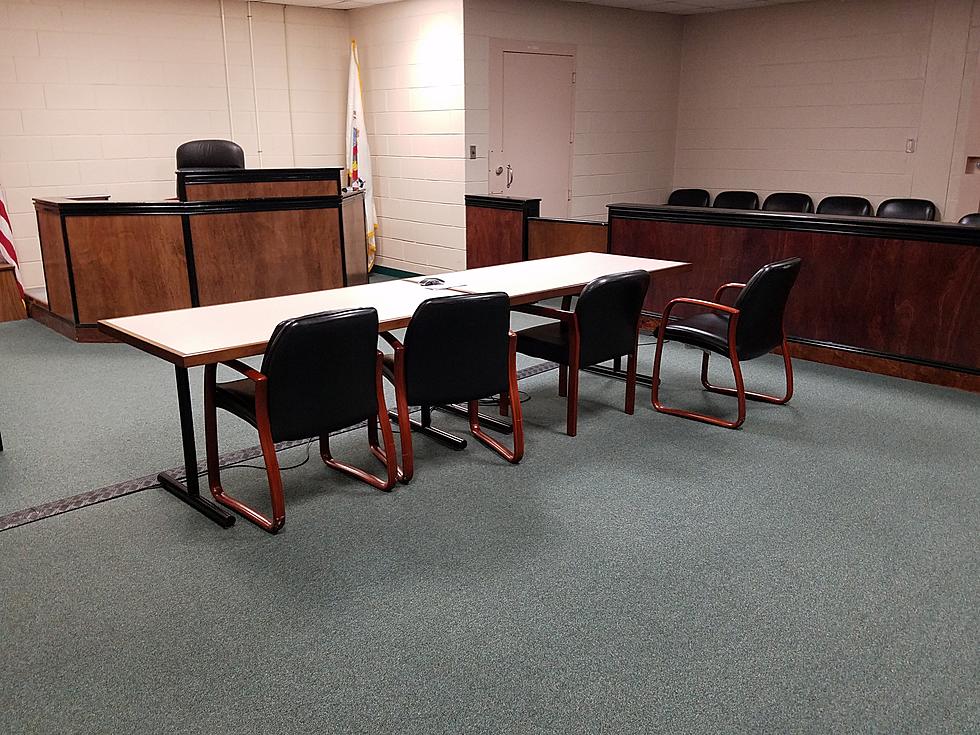 Colts Neck man claimed he had limited assists when he actually had $2.9-million in a hidden account
Court room at the Monmouth County Correctional Institute. (Vin Ebenau, Townsquare Media New Jersey)
A Colts Neck man faces up to five years in prison has a $250,000 fine to pay for allegedly filing a fraudulent bankruptcy petition where he claimed to have limited assets and hundreds of millions of dollars in liabilities when he actually had $2.9 million in a hidden bank account, Acting U.S. Attorney Rachael Honig announced prior to his first court appearance on Thursday.
Elia Zois, 56, was charged by complaint with one count of concealment in bankruptcy.
Attorney Honig said that Zois was one of five partners in "Business-2," a New Jersey-based health care organization that operates 50 senior living facilities throughout New Jersey, Michigan and in Wisconsin.
Zois and his spouse filed for Chapter 7 bankruptcy protection in February of 2019 because he said he only had $9,000 in assets and $201-million in liabilities from his partnership with Business-2 between 2014 and 2018.
Forensic investigators looked into it and through their accounting report found out that Zois had actually received $2.9 million in deposits into the bank account of "Business-2" –which he was the sole owner of, including approximately $200,000 in undeclared income, after he filed for bankruptcy.
"The hidden account was intended to conceal a portion of his income to circumvent existing IRS liens on his known assets," Honig said in a statement.
The government is represented by Senior Litigation Counsel V. Grady O'Malley and Special Assistant U.S. Attorney Kendall Randolph of the U.S. Attorney's Office's Organized Crime/Gangs Unit.
Defense counsel: Timothy M. Donohue Esq., West Orange, New Jersey.
You can follow Vin Ebenau on Twitter and Instagram and email news tips to vin.ebenau@townsquaremedia.com.
When Ocean and Monmouth County Police saved the day
Have You Seen Them? Monmouth County's Most Wanted
12 Times Being High Cost NJ Residents & Towns
Have You Seen Them? Ocean County's Most Wanted
NEXT: 10 Jersey Shore School Districts Losing Millions From S2 School Funding Formula
Ten times drunk driving changed New Jersey Lives Forever
Strange NJ Laws You've Never Heard Of
Marijuana legal in NJ: How do the laws work?
Answers to common questions about legalized recreational marijuana in New Jersey and rules about underage use of weed.
NEXT: INSIDE JOE PESCI'S HILARIOUSLY OVER-THE-TOP LAVALLETTE MANSION
LOOK: GO INSIDE JON BON JOVI'S $20 MILLION MIDDLETOWN MANSION
Go Inside Mike 'The Situation's' NJ Mansion
TAKE A TOUR OF JON BON JOVI'S NEW $43 MILLION PALM BEACH MANSION
Jersey Shore Nor'easter 2021 Listener Pictures
LOOK INSIDE: The Most Expensive House in Rumson
This is the most expensive house for sale in Rumson, NJ in 2021
Peek Inside Snooki's New Toms River Waterfront Home
LOOK: See the iconic cars that debuted the year you were born
NEXT: The 100 Best Places to Live on the East Coast