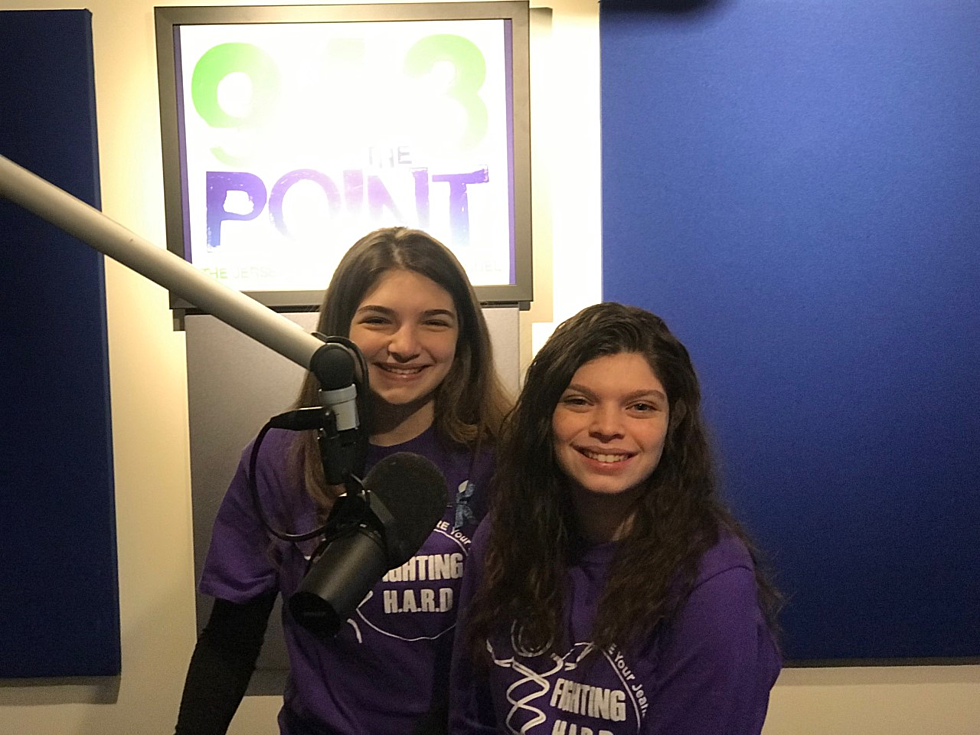 Fighting H.A.R.D. Celebrates Kids with Rare Diseases
(Allie and Jonna Crocker, photo by Liz Jeressi)
These Howell girls want you to acknowledge Rare Disease Day today by celebrating kids in school who suffer from rare diseases and chronic illnesses.
These high school sisters, who have suffered from rare diseases since they were little, have started a special foundation to help so many more families right here in Monmouth and Ocean Counties!
Allie Crocker is now a junior at Howell High School.  Her sister Jonna (pronounced is now a sophomore at Howell High School, and together (along with their parents) they run a nonprofit foundation called Fighting H.A.R.D.
H.A.R.D. stands for Having A Rare Disease.  Allie and Jonna want to help other kids who suffer from a rare disease or chronic illness to know they are not alone!  They do this by sending care packages, raising awareness and helping out financially with medical needs, medications not covered by insurance, dinners, or even some family fun days to help their families get through difficult days.
Allie and Johnna even started a Fighting HARD Family Fund for $10,000 at K. Hovnanian Children's Hospital at Jersey Shore University Medical Center!
So many of these kids are battling so HARD every single day, having to undergo treatment after treatment, surgeries, procedures, experimental medications, chemotherapy, and so much more.  Allie and Johnna just want to help them to know they are not alone.
Today several area high schools will celebrate with "Rare Your Jeans" Day, because 80% of rare diseases are caused by faulty/rare "genes". Many of these diseases are invisible, so it is important to make them visible.
Some of these rare and chronic illnesses include Crohn's Disease, Juvenile Rheumatoid Arthritis, rare gastrointestinal disorders, kids with feeding tubes, ports, picc lines, pacemakers, etc. as well as those with autoinflammatory diseases, autoimmune diseases, rare blood diseases, and the list goes on and on.  Many of these children have to battle in silence and Allie and Johnna are just trying to help these kids and their families to know that they are Fighting HARD with them!
Rare Disease Day is held on the last day of February (since that is the rarest day of the year) but this year, they are celebrating today (Friday, February 28th.)  They have LOTS of schools participating to help raise awareness and funds for the foundation.
For example, Howell High School staff sold patches for students to decorate however they would like and also handmade jeans ribbons, and the awesome principal and staff are participating by decorating --RAREing-- their jeans and raising funds and awareness for kids who are Fighting HARD.
Other schools are decorating jeans cutouts and hanging them around the school, and still others are decorating real jeans and wearing them and even hosting competitions.  It's all about creativity, fun and most importantly raising awareness!
And since they have grown so much, this year they are also hosting an incredible night at IPlay America from 4-9pm tonight (Friday, 2/28) to allow these families and all supporters to come out and have a great time to help these kids know they are not alone! You're invited to eat at GameTime at IPlay tonight and if you mention Fighting HARD they will donate 20% of the check! And for ride tickets to help show your support, CLICK HERE!
Even more incredible local businesses joining forces with Fighting HARD including Martell's Tiki Bar, Colonial Coffee Shoppe, ProCare Rehabilitation Center in Howell, Coal House Bistro in Point Pleasant, and of course the wonderful NJ State Troopers Association are always the biggest supporters.  Allie and Jonna couldn't be more grateful for all of the ongoing support for Fighting HARD!
Fighting HARD families are so excited. So many wonderful businesses are helping to raise awareness, too!!! Mueller's Bakery has created actual Fighting HARD cookies  and will be selling them through the weekend, and Plethora Boutique will also be generously donating a portion of proceeds this weekend to the foundation.
Let's show all these kids that they are not alone! And let's continue to Fight HARD!  A support group for these kids is coming soon!
For more info, to show your support, or to get your school involved, CLICK HERE and follow them on Facebook HERE.