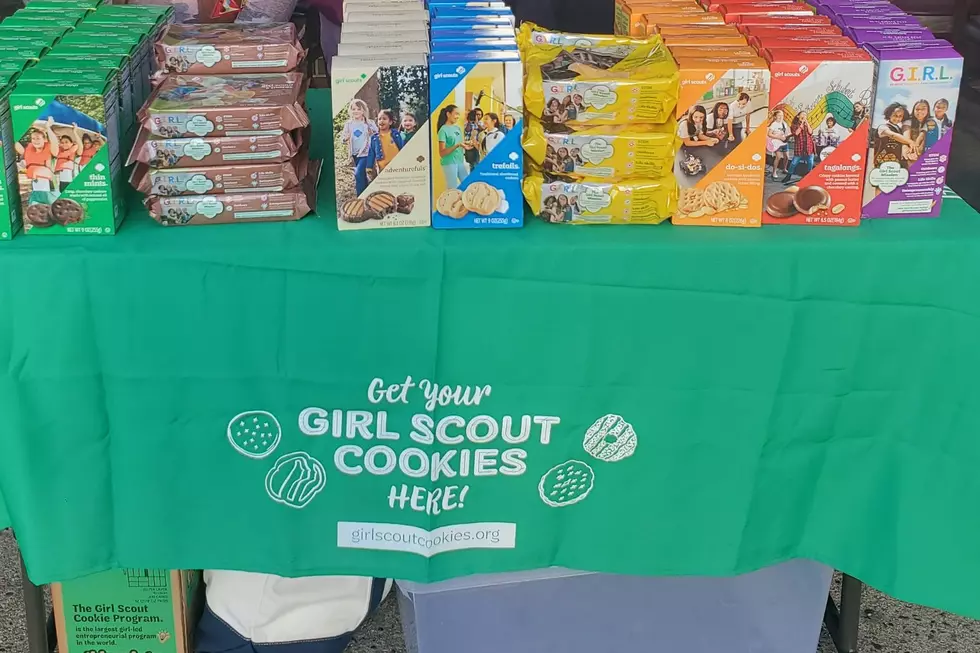 'Sister of the Thin Mint': Girl Scouts new cookie of the 2023 season is here
GSJS (Photo Credit: Erin Vogt, Townsquare Media)
🍪 Girl Scout cookie selling is underway from now until April
🍪 New this season is the Raspberry Rally, sister cookie of the Thin Mint
🍪 Scouts can sell cookies in-person, on a digital cookie platform, and at booth sales
---
It's time to buy your favorite cookies!
The Girl Scouts have kicked off the 2023 Girl Scout Cookie season. From now until April, everyone can once again get their hands on these classic family favorites treats.
How many boxes of cookies are expected to be sold?
There are 18,000 Girl Scouts in North Jersey and most will participate in the iconic cookie program, said Sandra Kenoff, president and CEO of Girl Scouts of Northern New Jersey.
"We're anticipating this year that we see an increase in about 9% of packages sold. I think it's a combination of the fact that we're building back our membership and that we'll have more girls selling, and that we have a variety of channels and ways that they can sell," she said.
Last year about 10,000 Girl Scouts in Monmouth and Ocean counties sold over one million boxes of cookies and they expect to sell the same amount or more this year, according to Girl Scouts of the Jersey Shore Vice President of External Affairs, Carla Scarabino.
Is online ordering here to stay?
Yes!. Online ordering was very popular during the pandemic.Kenoff said the digital cookie ordering system was so popular last year in North Jersey, that it represented over 61% of total cookie sales.
This gives girls an opportunity to build their own websites, and tell the story of what they're going to do with the proceeds from their cookie sales on the sites. It also gives them the skills in getting that out to customers whether that's e-mail marketing, or working with troop leaders to help get it out to potential customers who would like to purchase online, Kenoff said.
Plus, it gives girls the flexibility to sell all across the country. Customers can have the option to have their cookies shipped.
"Digital cookie is an enhancement of the Girl Scout Cookie Program, coupling traditional sale activities with online sales experiences that teach girls online marketing and e-commerce, all in a digital space that puts an emphasis on learning, fun, and safety," Scarabino added.
What is this new cookie for 2023?
Both Kenoff and Scarabino are very excited to announce the newest addition to the Girl Scout cookie line. It's called the Raspberry Rally. Both ladies said to think of it as the "sister" cookie to their very popular Thin Mints.
But instead of mint, this thin, crispy cookie is infused with raspberry flavor and dipped in a delicious, chocolate coating.
The Raspberry Rally is an online exclusive, meaning it will not be sold in person or at booth sales. The cookies will only be available for shipment only, starting at the end of February.
Kenoff said it's already been widely received with available samples.
What are the most popular Girl Scout cookies sold?
Hands down, Thin Mints and Samoas are the two most popular cookies sold, Kenoff said. Thin Mints are crisp, chocolate cookies infused with mint flavor. Samoas are crisp cookies with caramel, coconut, and chocolaty stripes.
Tagalongs, Do-si-dos, and Trefoils are also popular, Scarabino said. Tagalongs are crispy cookies layered with peanut butter and covered with a chocolaty coating. Do-si-dos are crunchy oatmeal sandwich cookies with peanut butter filling. Trefoils are the iconic shortbread cookies inspired by the original Girl Scout cookie recipe.
Other cookie flavors offered include Adventurefuls, Lemon-Ups, Girl Scout S'mores, and Toffee-tastic.
How can people order cookies this season?
Girl Scouts can sell in-person and online through the digital cookie platform and outdoors in front of stores and supermarkets at "cookie booths," Kenoff said.
You can also text COOKIES to 59618 to be among the first to receive information about Girl Scout Cookies and to find out about other exciting Girl Scout news.
Beginning, February 27, enter your zip code into the Girl Scout Cookie Finder here. Cookie lovers will be able to purchase cookies (like Raspberry Rally) to be shipped directly to their homes by entering their zip code into the Girl Scout Cookie Finder.
The link can also be used to find a local booth, purchase cookies, and/or donate cookies to local community causes.
"Keep an eye out during the first week of March when Girl Scouts of the Jersey Shore will be outside local stores selling cookies. I encourage you to buy cookies but please do more than that. Talk to the Girl Scouts you meet. Ask them why they sell cookies and listen to their answers," said Scarabino.
Where do all the proceeds from cookie sales go?
All proceeds stay local. "They can do everything from fund their camp experiences in the summer to doing community work. It's so incredible to see all the things girls can do because of this program," Kenoff said.
Every girl will have a goal and a plan, Scarabino added. From earning prizes to saving for a Girl Scout lead trip, or contributing to their troop's goals, these girls are driven and they achieve.
How does the Girl Scout Cookie Program encourage entrepreneurship?
Members have access to hundreds of progressive programs and activities that build life-long leadership skills. The Girl Scout Cookie Program is the largest girl-led entrepreneurial program in the world.
It helps girls learn five skills that are essential to learning, leadership, success, and life. That includes goal setting, decision making, money management, people skills, and business ethics, Kenoff said.
She added that it gives girls the opportunity to learn how to interact with customers, how to create budgets, how to take orders, and how to talk about some of the challenges that may be out there with regard to the availability of cookies and the timing of our sales.
"I think that it is invaluable and it does help girls generate the proceeds that they need to do the things they want to do to grow as leaders as tomorrow," Kenoff said.
Scarabino agreed. "Our girls do amazing things to make the world a better place locally, nationally, and globally. We are so proud of them and what we are able to accomplish together, and it all starts with a box of Girl Scout cookies!"
Jen Ursillo is a reporter and anchor for New Jersey 101.5. You can reach her at jennifer.ursillo@townsquaremedia.com
Click here to contact an editor about feedback or a correction for this story.
Gravy or sauce? These restaurants make the best red in Central Jersey