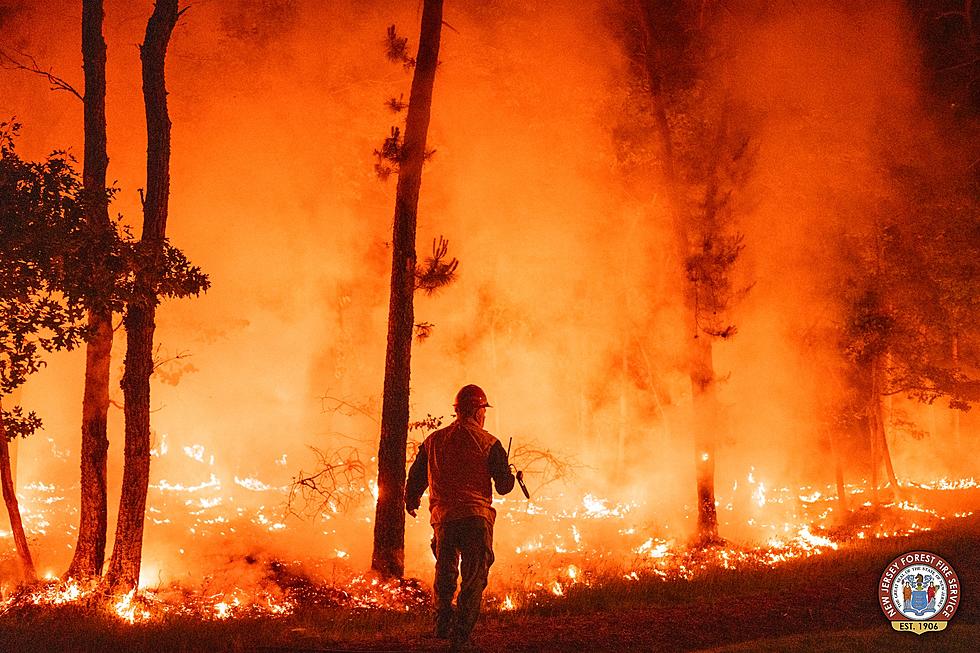 Into Hell — See what it's like on the front lines of NJ wildfire
An unidentified fire fighter works to contain a wildfire in Burlington County, NJ. The fire threatened dozens of buildings.
🔥 Temperatures inside a forest fire can reach 2,000 degrees
🔥 Highly trained men and women respond to about 1,500 wildfires per year in NJ
🔥 See what it is like to confront one of nature's most terrifying disasters
---
Imagine running into a forest of fire with flames more than 20 feet high and temperatures that can exceed 2,000 degrees Fahrenheit.
Thousands of highly trained men and women do that an average of 1,500 times every year in New Jersey.
The New Jersey Forest Fire Service says, on average, 7,000 acres of forest are destroyed every year in New Jersey.
This has not been an average year.
More than 5,400 acres were burned in a massive fire that burned out of control for days in the Bass River State Forest.
Crews finally got 100% containment on Saturday.
As they were finally bringing that monster fire under control, another fire sparked up about 40 miles away in Medford, Burlington County.
Dozens of homes and other buildings were in the fire's path.
Heavy equipment was brought in to dig trenches and set containment lines. Only a small shed was destroyed. All of the homes were saved.
Forest Fire Service Chief Greg McLaughlin said, "We were really lucky."
"Wildfires not only damage our woodlands but are becoming an increasing threat to homeowners who live within or adjacent to forest environments," according to the Forest Fire Service.
Officials released a series of dramatic photos that show what these brave men and women face every time they get the call.
Keep scrolling to see what it's like to walk into a hellish environment where the air can reach the equivalent of one-fifth the temperature of the surface of the sun.
Allen Road Wildfire — Bass River State Forest
Flatiron Wildfire — Medford, Burlington County, NJ
Wildfire in the Bass River State Forest in Little Egg Harbor 5/16/21
A fire in the Bass River State Forest burned through woods along Route 9 in both Ocean and Burlington Counties.
Potential hidden hazard on NJ picnic tables and benches you need to know about
A hidden danger that could potentially be present without you knowing
A very stupid move by a NJ bicyclist that almost got him hit
Another example of a bicyclist doing whatever they want in New Jersey
Report a correction 👈 | 👉 Contact our newsroom