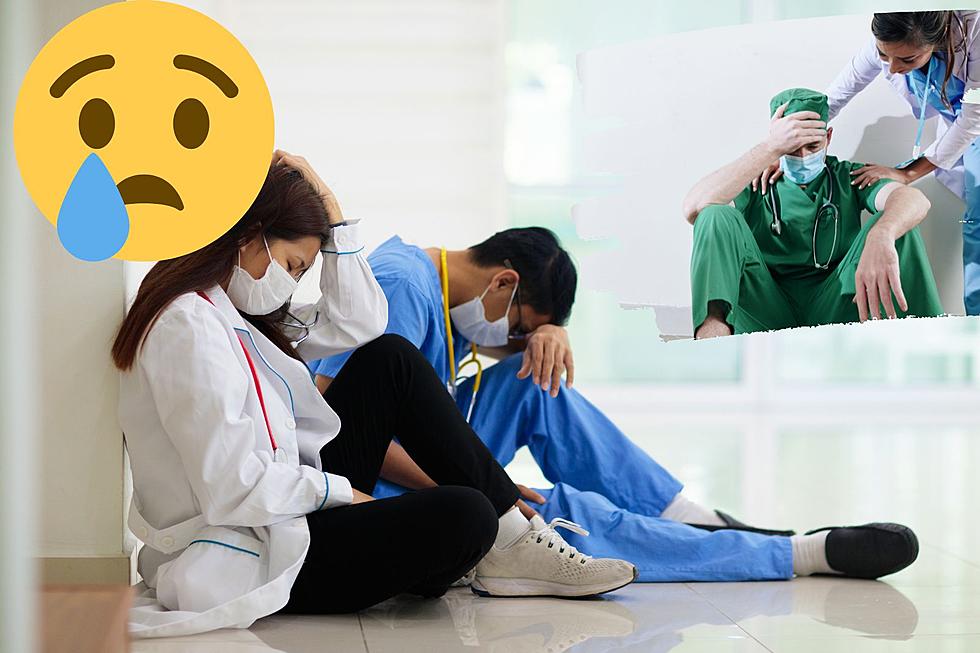 Mass burnout – 30% of NJ nurses have quit & more will
Canva/Townsquare Media illustration
👩‍⚕️ NJ nurses are quitting in record numbers
😷 Union officials say it is putting patient lives at risk
🏥 Hospital executives dispute the unions claims
---
New Jersey's nursing shortage is far worse than even members of the profession had realized, and they say it is putting patient lives at risk.
That was the message from healthcare worker unions in Trenton on Monday as they pushed for lawmakers to pass a bill that would set minimum nurse-to-patient ratios.
Debbie White, President of the Health Professionals and Allied Employees union, presented legislators with a survey she first talked about on New Jersey 101.5.
White, a long-time nurse, was among the guests on our recent Town Hall broadcast looking at critical staffing shortages among nurses, police officers and teachers.
She revealed 30% of New Jersey's nurses had already left the profession, "and of the 70% left, we found 75% were considering leaving."
These are nurses, White says, that are directly responsible for patient care, "These are the nurses that are at your bedside."
During the program, White says she recently talked to a nurse who was assigned 20 patients. She described that as an impossible task and, unfortunately, not an uncommon situation given the number of nurses who are calling it quits due to burnout.
Legislation supported by the union would require a nurse be assigned no more than five patients.
This is not just about stressing nurses. White insists there is a direct link to a positive patient outcome.
"Adding one more patient to a nurse's assignment increase likelihood of the death of that patient by 7%," White told New Jersey 101.5.
The nurses' union has been fighting for minimum staffing levels for a decade, but hospital executives have successfully lobbied against them.
Recent financial reports from the New Jersey Election Law Enforcement Commission found the New Jersey Hospital Association (NJHA) has spent millions of dollars in recent years trying to influence lawmakers.
NJHA President Cathy Bennett told NJ.com their group rejects the argument that state mandated staffing levels are good for patient care, insisting "nurses and teams of other healthcare professionals need flexibility to make the best decisions for their patients."
The staffing bill (S304) is sponsored by Sen. Linda Greenstein, D-Middlesex. She joined the healthcare unions at the Statehouse and promised to lobby her Democratic colleagues for passage, but action is unlikely.
Labor leaders are planning a rally in Trenton on May 11 in hopes of pressuring lawmakers into action on the bill.
You can see New Jersey 101.5's Town Hall: Workforce in Peril by clicking the link below.
Eric Scott is the senior political director and anchor for New Jersey 101.5. You can reach him at eric.scott@townsquaremedia.com
Click here to contact an editor about feedback or a correction for this story.
Up or down? Average property tax changes in NJ in 2022
Below are the average property tax bills for every municipality in New Jersey last year.
The towns are listed from the biggest cut in the average bill to the highest increase. On the county maps, the deeper red color means a higher increase above 2% whereas the darker green signifies a smaller increase or a reduction.
Each listing also shows how the average tax bill is split among the county, school and municipal governments.
How much your school district gets under Murphy's proposed 2024 budget
Gov. Phil Murphy's porposed 2024 budget includes $1 billion in new spending for school funding including pre-K funding, pension and benefits, and an additional $832 million in K-12 aid, which is listed below by county and district.
LOOK: Food and Personal Care Shortages We Could See In 2023
Learn about the 13 potential shortages that could impact stores in 2023, from produce and meat to snacks and beverages.