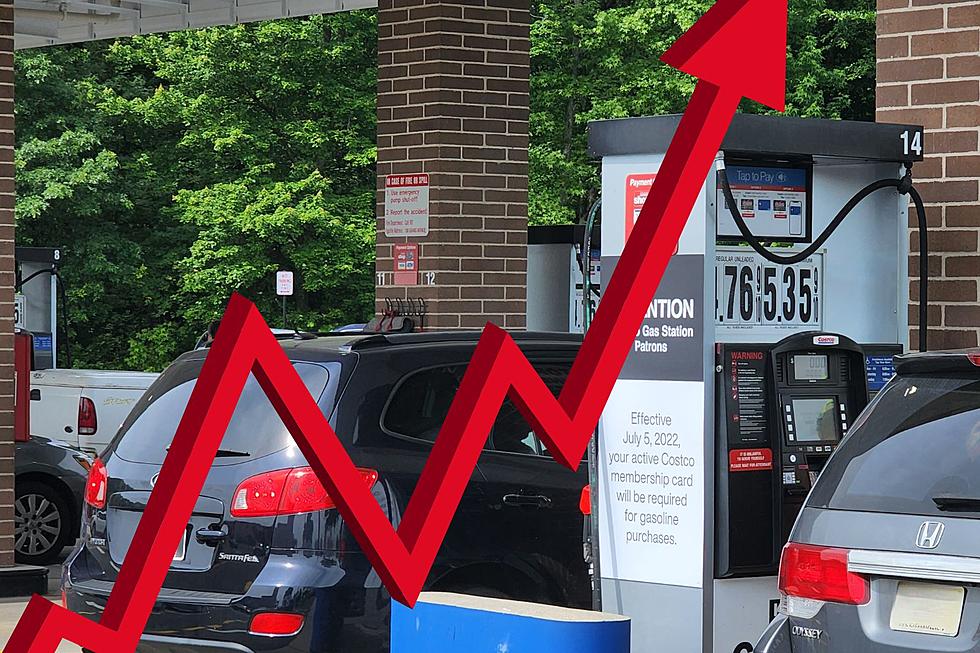 Jump at the pump in NJ is short lived, oil analyst says
Gas pump at Costco in North Brunswick (Dan Zarrow, Townsquare Media)
The heat wave on the Gulf Coast is limiting production
Jet and diesel fuel are also up
Demand will drop further in August and push down prices
---
New Jersey drivers got sticker shock at the pump when prices jumped an average of 23 cents a gallon in just two days.
Prices had slowly been going up a few cents only to drop back down before the increase late in the week. With the absence of the usual suspects that can drive up prices like a hurricane or unrest in an oil-producing area what's the cause of price spikes this time?
"It's kinda like Jason or Freddy Krueger in those horror movies. You know, when you think you curbed inflation for energy prices, they go higher. And we're seeing that right now," Tom Kloza, the global head of energy analysis for the Oil Price Information Service told New Jersey 101.5. "And it's not anybody's fault. It's the fact that OPEC+ did cut crude oil production. And this intense heat is limiting some of the refining capability at the Gulf Coast and elsewhere."
OPEC+ are the members of OPEC plus allied oil-producing countries including Russia.
As of Friday, the average price in New Jersey according to AAA was $3.65. A week ago it was $3.52 and a month ago $3.46. The cheapest gas in the state is in Monmouth and Ocean counties and the Central Jersey counties of Somerset, Hunterdon, Mercer and Middlesex. Most expensive is across North Jersey.
Kloza said diesel fuel is also up by 50 cents a gallon in the past month along with jet fuel.
One usual factor not pushing up prices is demand in the United States which traditionally goes up in the summer. Kloza said people are driving much less than they did in the summer between 2016 and 2019 saving about a half-million barrels a day.
Short-lived increases
Kloza thinks the increases are short-lived and could start heading back down as soon as August as much as 20-25 cents per gallon as long.
"August is typically a tough month for gasoline because people in the south and midwest go back to and you don't have quite as much demand. Then the formula for gasoline changes around the middle of the month where you could put in a lot of cheap hydrocarbons to make motor fuel," Kloza said.
However, as the most active part of the hurricane season approaches, all bets are off if the season gets active, especially in the Gulf of Mexico.
"We're just not in a situation where we've got a buffer of extra gasoline to live off of if you have probability cones threatening Texas or Louisiana," Kloza said.
Report a correction | Contact our newsroom
LOOK: Do you know these 50 famous acronyms?
This list from
Stacker
features a collection of the most common acronyms and their meanings. Popular abbreviations include establishments like ACLU, YMCA, ad the AARP.
NASCAR racing at Pocono Raceway just a step away from the Garden State
Last weekend, I took a trip to Pocono Raceway in Pennsylvania to check out the NASCAR action. It's more than racing. It's a huge three-day party where people from all over the country come to camp, party, and watch great racing.
All of celeb chef David Burke's NJ restaurants, bakery
David Burke, who grew up in Hazlet, has deep New Jersey roots. The multi-award winning chef has a range of restaurants and one landmark bakery across NJ.