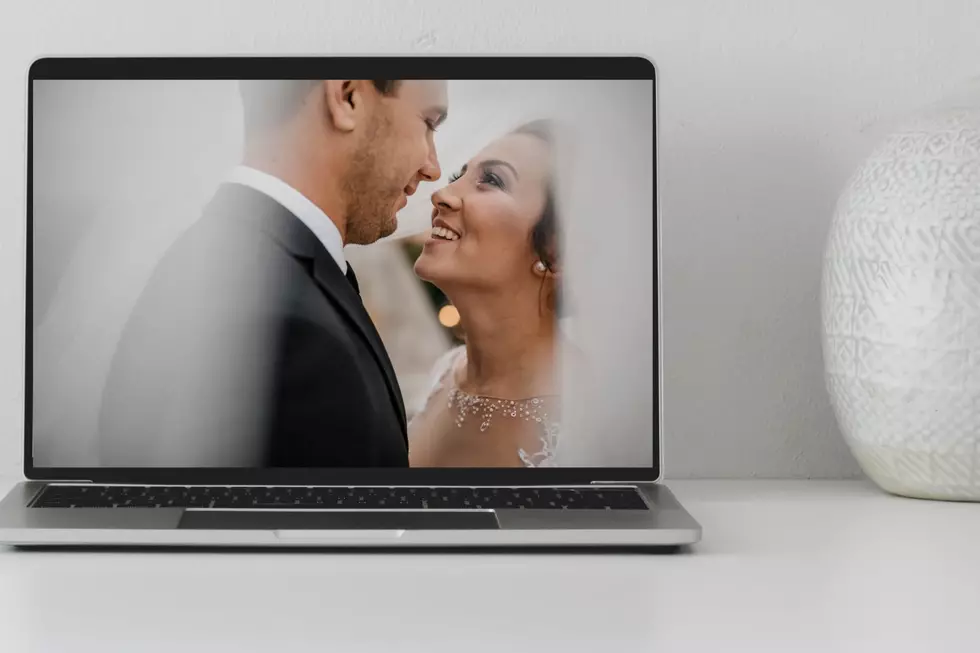 Logon and say 'I do' – Virtual weddings may become permanent in NJ
Canva/Townsquare Media illustration
💻 NJ could permanently allow virtual weddings
💻 8,000 fewer weddings were held in NJ during 2020
💻 Proposal would eliminate the need to appear in person to get a marriage license
---
Pandemic restrictions changed a lot of things in New Jersey and it certainly made many of us more comfortable with conducting business virtually on platforms like Zoom and Teams.
During the height of the pandemic, even weddings were being held remotely. That may become a permanent option in New Jersey.
Gov. Phil Murphy signed an executive order in 2020 that permitted state residents to virtually obtain marriage licenses and hold virtual ceremonies without having to appear before an officiant or government official in-person.
Those permissions expired when Murphy lifted he pubic health emergency.
Assemblyman Don Guardian (R-Atlantic City) has introduced a bill (A2347) that would permanently legalize virtual weddings in New Jersey.
"Virtual weddings are convenient and cost-effective," Guardian said in a statement, "This is one pandemic-era concept that everyone can come together on. It deserves a permanent blessing here in New Jersey."
Guardian says making virtual weddings permanent and allowing people to obtain marriage licenses remotely just makes sense, "Allowing people to livestream their love for one another is the modern alternative to traditional big gatherings."
He says it also make sense if immunocompromised family or friends would not want to attend a large in-person gathering. "This bill is about giving people choices," Guardian said.
It's not clear how many virtual weddings were conducted during the pandemic, but the total number of weddings did fall in 2020 versus 2019. Guardian cited statistics from the New Jersey State Department of Health showing 8,000 fewer marriages were performed, down 17%.
This bill would also apply to civil union ceremonies.
Assembly Judiciary Committee members voted unanimously to advance the bill last Thursday. It is not known when it would be scheduled for a full vote.
Eric Scott is the senior political director and anchor for New Jersey 101.5. You can reach him at eric.scott@townsquaremedia.com
Click here to contact an editor about feedback or a correction for this story.
carbongallery id="63325125727ff3280c95d88c"]
Say you're from Jersey without saying you're from Jersey
These are everyday expressions that only someone from New Jersey would get. What else should be on this list?
LOOK: 31 breathtaking images from NASA's public library
In 2017, NASA opened the digital doors to its
image and video library
website, allowing the public to access more than 140,000 images, videos, and audio files. The collection provides unprecedented views of space.
Stacker
reviewed the collection to select 31 of the most breathtaking images, including the first from the James Webb Space Telescope. Keep reading to see these stunning images, curated with further information about the captured scenes.