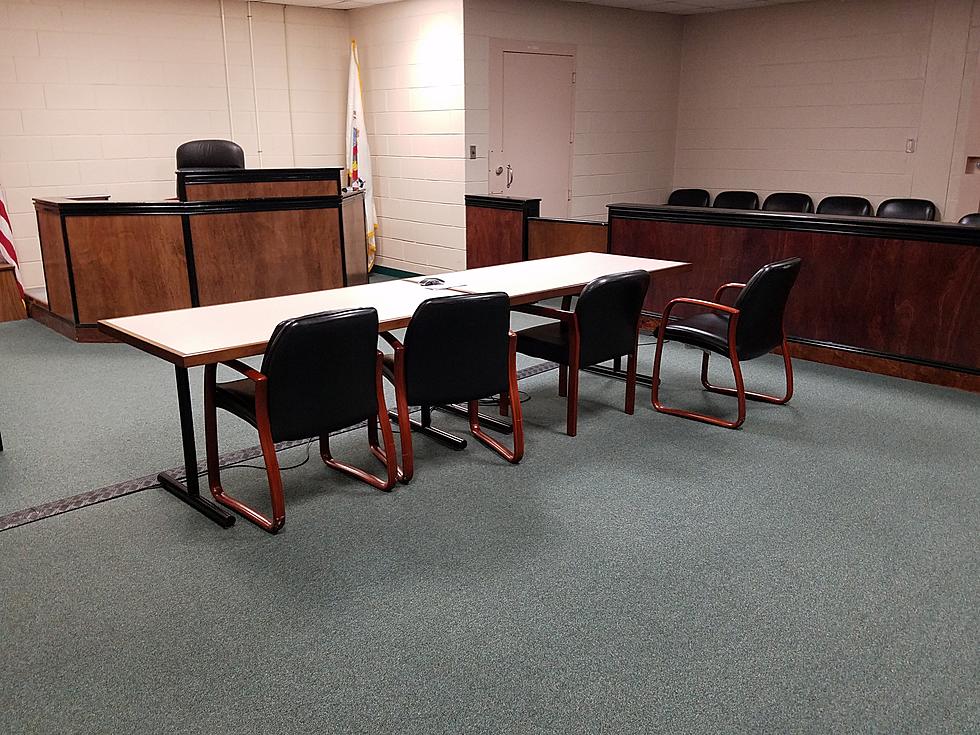 Long Branch Police Officer accused of groping, pleads guilty
Court room at the Monmouth County Correctional Institute. (Vin Ebenau, Townsquare Media New Jersey)
Long Branch Police Officer Patrick Joyce, Jr., 35, of West Long Branch and a 12-year veteran of the Long Branch Police Department, pleaded guilty to the petty disorderly persons offense of Harassment before Monmouth County Superior Court Judge Paul Escandon, as part of a plea agreement with the State.
Joyce's plea agreement calls for a probationary period to be determined by the court at sentencing, mandatory outpatient treatment, and a forfeiture of his current post as a police officer and all future public employment in New Jersey.
The charges stem from an incident at Jack's Goal Line Stand, a city bar where a private party was hosted following the promotion of four city police officers, on Friday, February 1, 2019.
Joyce has since admitted that he offensively touched a 21-year-old woman during the event.
As a result of the charges, Joyce was suspended by the Long Branch Police Department, and he will lose that post as part of his plea agreement.
"The vast majority of law enforcement officers perform their duties with integrity and honor. However, when a police officer takes advantage of the very citizens they are sworn to protect, it erodes public confidence and violates the public's trust. Such behavior will never be acceptable or tolerated," Prosecutor Gramiccioni said.
The guilty plea marks the seventeenth law enforcement officer prosecuted by this Office since Prosecutor Gramiccioni took office on July 1, 2012.
"We want to thank the Monmouth County Prosecutor's Office for their efforts in this case, and hope the conclusion closes the door on a painful chapter for the victim and the Long Branch Police Department. We can only hope that the victim and the victim's family finds closure in the outcome. There is no place in law enforcement for anyone who commits these offenses, and the Long Branch Police Department will not tolerate inappropriate conduct by any of its members," Long Branch Police Chief Jason Roebuck said.
Joyce is scheduled to be sentenced on June 7, 2019 before Judge Escandon.
The case is assigned to Monmouth County Assistant Prosecutor Melanie Falco, Director of the Office's Professional Responsibilities and Bias Crime Unit.
Joyce is represented by Robert Norton, Esq., of Westfield.
More From The Jersey Shore: