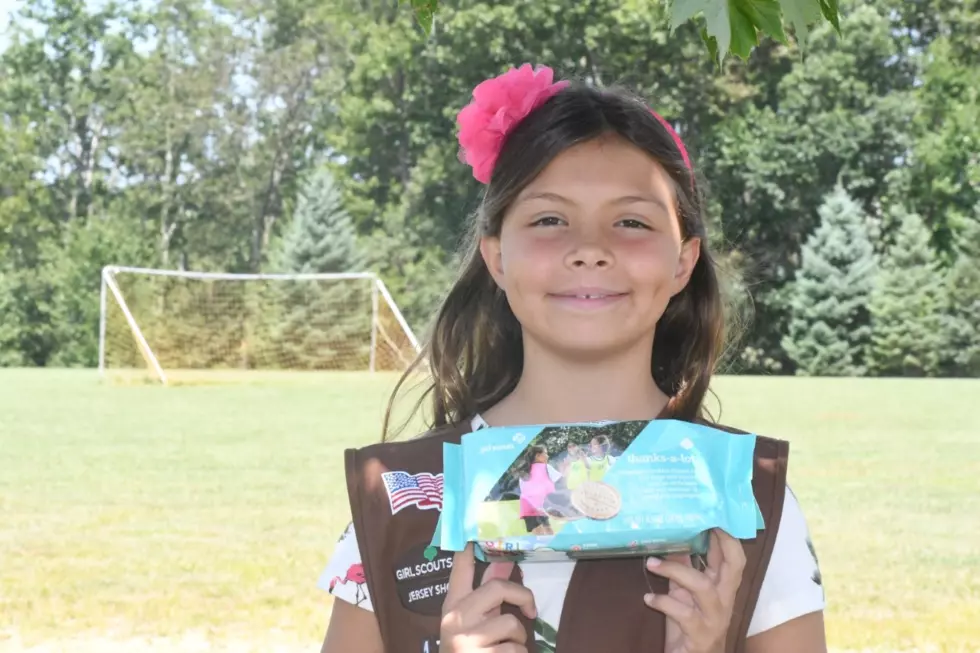 Middletown Girl Now Has Her Pic on Girl Scout Cookie Boxes
(Photo of Brenna courtesy of Andrea Plaza)
Not only has the newest flavor of Girl Scout Cookies just been revealed, an adorable Belford 8-year old's photo is now on the Girl Scout Cookie Box!
Brenna is a third grader in Middletown and now famous for her picture being on a box of those delicious cookies!
The Girl Scouts of the Jersey Shore have just launched the 2020 Girl Scout Cookie Season and Brenna had to keep this secret for months.  But now all of her family and friends (and all of us!) get to see her picture on boxes of "Thanks-A-Lot" Girl Scout cookies! In fact, her picture will live on cookie boxes for years to come! (Thanks-A-Lots are shortbread cookies dipped in fudge.)
AND NOW FOR THE NEWEST GIRL SCOUT COOKIE: (insert drum roll...)
I can't wait to try them!!!
So get ready for 10,000 Monmouth and Ocean County Girl Scouts to knock on your door selling cookies. Last year Girl Scouts of the Jersey Shore sold over a million boxes of cookies, with Thin Mint being the top-selling cookie.
All money made from the sale of cookies remains right here to support local troops by fueling leadership experiences and community projects. After all, the Girl Scout Cookie Program is the largest girl-led entrepreneurial program in the world!
.As for Brenna, she has been a Girl Scout for 4 years (in a Brownie troop.) She had no idea she would be chosen to be on a cookie box and was totally surprised when she was picked.
Brenna likes baking, photography, hiking, bicycling, soccer and roller skating. Her favorite school subject is math. She loves dogs, and has one named Cooper. She is looking forward to selling cookies with her troop and especially likes the Booth Sales in her community. (I wonder if I saw her selling cookies in front of the Middletown Starbucks one time....)
AND HERE IS SOMETHING ELSE NEW AND FUN:
The TopCookie Dessert Showdown on Feb. 6th! This exciting event brings together the restaurant community and the girl Scouts of the Jersey Shore with a dessert challenge at Asbury Lanes where 5 competing restaurants will create a dessert with Girl Scout cookies!
You'll have a chance to vote for the People's Choice Award by purchasing votes at $1 a vote. So who are the competitors?
-- Ohana Grill, Lavallette
-- Cuisine on the Green at Atlantis, Ocean County Center for Culinary Arts
-- Nichola Creamery, Atlantic Highlands & Fair Haven
The celebrity judges include Chef David Burke, a world-renowned celebrity chef hailing from the Jersey shore, along with Patty Caneda of Caneda's White Rooster, our friend Tom Hayes of NJNG, among others.
Tim McLoone will emcee along with Steve Bidgood of Salt Creek Grille. This sounds like a great event to add to your calendar and I will blog all of those details as soon as they become available.