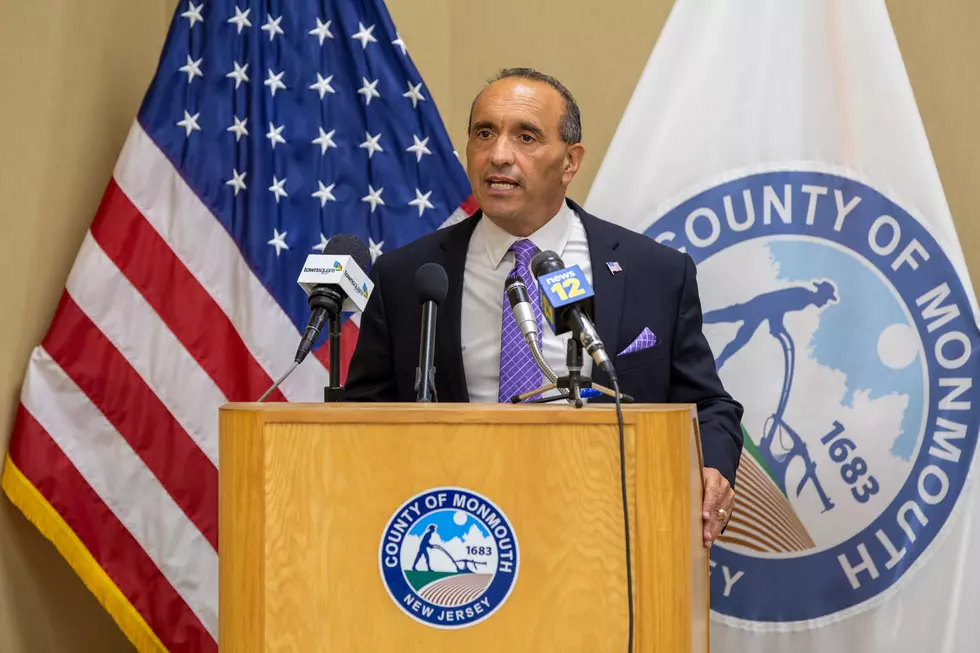 Monmouth County Freeholders introduce new program to help residents financially recover
Monmouth County Freeholder Director Tom Arnone addresses the media and reporters. (Monmouth County Government)
Enter your number to get our free mobile app
The Covid-19 Coronavirus pandemic has drawn comparisons to a rollercoaster with the amount of cases being reported with trends going up and down like a rollercoaster does as various speeds and sizes leading to business and school closures over the spring.
Now, as a new academic year is underway more cases are starting to pop up in New Jersey and elsewhere and Monmouth County Freeholders are trying to determine where those cases are coming from.
This pandemic has also affected people's health, well-being, finances and employment status.
The Freeholders have also rolled out a new business initiative to help Monmouth County residents as well.
"Since March, our unemployment applications are up to 105,000 in Monmouth County alone, these numbers are staggering, and we have a total number of unemployed in our county of 42,000," Monmouth County Freeholder Deputy Director Sue Kiley said at a press conference.
Throughout the pandemic, the Freeholders have been using federal CARES Act funding and begun other programs including Monmouth ACTS to help residents swim through uncharted waters, by Assisting Communities Through Services.
"We have people who have never been on unemployment before, they have no idea how to access the system, they have issues that go from being able to find food to put on their tables to child care to paying utility bills to being on unemployment looking for a job or looking to develop new skills to get a new job," Kiley said. "The initiative has several components to it. We have created a service network working with all of ten provers in the community and working with our own social services department and we're focusing on key area where we're going to help individuals. They are financial assistance and support, financial coaching, income tax assistance, housing assistance, workforce development or training and employment assistance, nutrition assistance and then child care which is a big  issue now as people are looking to go back to work but the schools are on hybrid schedules or the children are learning from home."
To connect with the Financial Recovery Initiative, you can visit www.MonmouthACTS.org/FRI or call call 732-683-8959 to be connected with a member of their Financial Recovery team.
Contact tracing efforts are underway looking to determine where the spread is and how many of the cases reported for Monmouth County occurred within Monmouth County especially for college age students.
"I'm going to say it over and over and I'm going to say it numerous times to the State of New Jersey, please convey to me the numbers of our out of state college students...the ones that are in Alabama, the ones that are in South Carolina, the ones that are in North Carolina, the ones that are in Georgia, the ones that are in Florida, are those numbers part of my count? It's my understanding initially they are and they're taking off but let's be realistic, the first thing people are looking at is those numbers. I just want people to have accurate information," Monmouth County Freeholder Director Tom Arnone said. "That's all I'm asking. I've asked the state four times and received no answer on that."
Since indoor dining was allowed to resume, Freeholder Director Arnone explains that the rise in positive cases isn't coming from them being open.
"I commend each and every owner of those businesses because of what they're doing and none of our cases have been attributed to those types of businesses," Arnone said. "These people, these business owners can't afford to have another shutdown so they're doing everything possible to continue to make sure they're doing the right thing so cases aren't attributed to their type of business."
As the cold weather settles in over the next few weeks, outdoor dining will not be as attractive to customers which is one of the reasons Freeholder Director Arnone is pushing for an increase seating amount for indoor dining.
"They should be open to 50-percent and we should continue to give them the ability to survive," Arnone said. "People have to realize that it's survival for these people, they're paying rent, they have personal lives and personal bills outside that business there and so you're not just losing one component. If they're doing the right thing, they're doing everything that's asked of them, there's no data that shows they're contributed to these higher cases...then why wouldn't we want to reward them for their good efforts."
You can follow Vin Ebenau on Twitter and Instagram and email news tips to vin.ebenau@townsquaremedia.com.
Enter your number to get our free mobile app
Things I Am Looking Forward To Doing Post-Quarantine