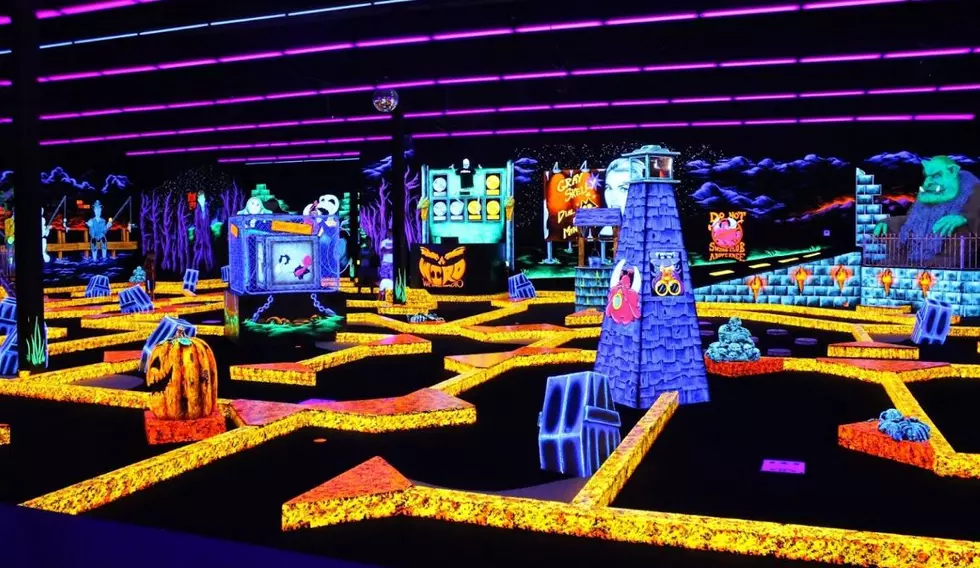 You Can Play Glow-In-The-Dark Monster Mini Golf In Eatontown
Google Maps
Our options are very limited during the COVID-19 Pandemic....but I just found a perfect activity that you and the kids can enjoy.
The place itself is called Monster Mini Golf but mini golf is far from the only thing they offer.
Enter your number to get our free mobile app
The entire facility is located in a state-of-the-at, indoor, climate-controlled facility that is under the luminescent glow of black lights.
That's right...the entire place is a glow in the dark attraction and there is also killer beats playing!
And you'll never guess what the entire facility is it is filled with.....yes, you guess it: MONSTERS!
As you play, you will get to," interact with the creatively fun and animated monsters at every twist and turn! They move, they talk, they walk and they squawk!"
I am intrigued....what does a squawking monster sound like?
Here is what the CEO/Founder of Monster Mini Golf, Christina Vitagliano, had to say:
"Our vision is to provide every guest – whether they're 5 or 95 – the most unique, affordable, engaging, and FUN family entertainment option! We aim to break the mold on how miniature golf, and family entertainment in general, is viewed and experienced. With over 30 centers and growing, Monster Mini Golf is your go-to destination for one-of-a-kind family entertainment!"

 
Let's take a look at their Monstrous attractions:
Monster Mini Golf
This 18-hole mini golf course is guaranteed to give you the time of your life...no matter your age. Personally, I have never played mini golf with monsters lurking at every corner but I would love to give it a shot.
Little Monster golfers cost $11.00. Big Monsters cost $12.00. And Senior & Military Monsters cost $10.00 with a valid ID.
Lazer Maze
How fast can you make it through this mysterious room with music, lighting effects and dynamic laser beams blocking nearly all paths? This maze forces you to think strategically and the quicker you make it through, the better your score will be.
Will you make it to the Top 10 of their Monstrous Leaderboard?
For one play, it only costs $3.00, two plays cost $5.00 and ten plays cost $10.
Monstrous Gaming Arcade
This killer arcade offers games that will appeal to both young and old. Games featured include Skee Ball, Glow Air Hockey, Deal or No Deal, Basketball Hoops, Jurassic Park, Spongebob Squarepants, Big Bass Wheel and Down-a-Clown.
And yes, this facility is taking COVID-19 safety precautions: face masks and social distancing are required, hand sanitizer is readily available throughout the building and equipment is regularly sanitized.
They are located at 749 Hope Road in Eatontown and their phone number is (732) 544-2200.
Monday – Thursday: 2pm – 9pm
Friday: 2pm – 10pm
Saturday: 12pm – 10pm
Sunday: 12pm – 8pm
And as a 28 year old woman, I must say.....this sounds freaking awesome and I would totally bring my friends on a Friday.
LOOK INSIDE: Kid Rock Is Selling His Grand $2.2 Million Detroit Mansion