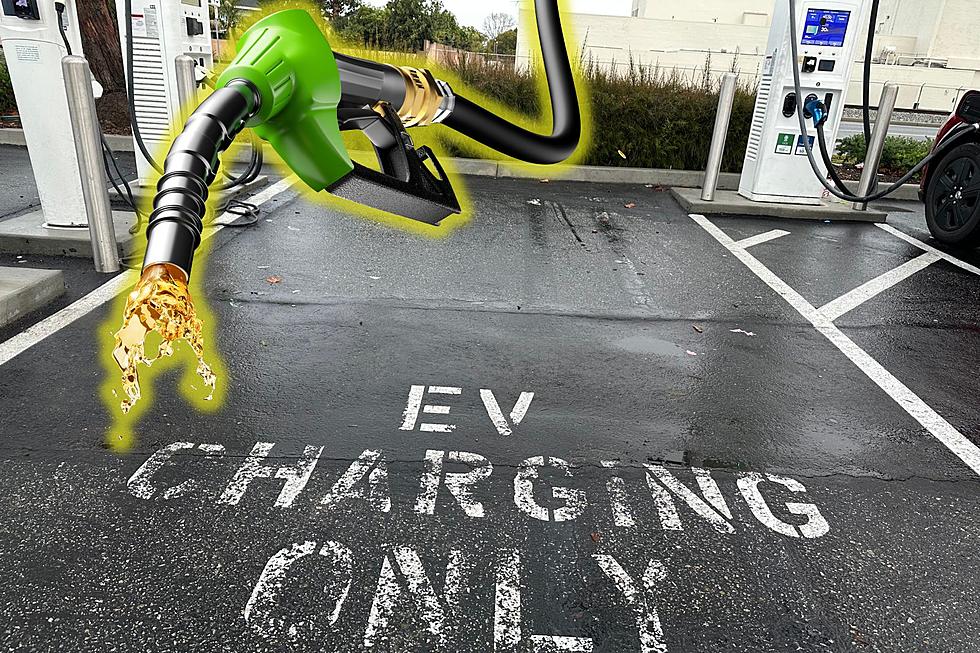 New Jersey files plan to phase out gas-powered cars by 2035
(Canva)
⛽ NJ takes step toward phasing out the sale of new gas-powered cars
⛽ Plan would mean all zero-emissions new car sales by 2035
⛽ Critics say lack of EV charging stations, power grid support are big issues
---
New Jersey has taken a step toward phasing out the sale of new gas-powered vehicles by 2035.
Gov. Phil Murphy has filed the Advanced Clean Cars II proposal, first adopted by California, with the state Office of Administrative Law.
Once the Office has published the proposal in the New Jersey Register, a public comment period would run through late October.
If adopted by December, consumers wouldn't be able to buy a new, gas-powered car in New Jersey in 12 years — and the requirement would start with model year 2027.
Supporters have pointed to recent extreme weather events as just one indication that emissions need to be reduced, as quickly as possible.
Critics have raised immediate concerns about the state's power grid and pricing new vehicles out of range for many lower to moderate income drivers.
Overall power grid readiness?
State Senator Declan O'Scanlon said that an electric car mandate was "way premature" in New Jersey, when asked his reaction by New Jersey 101.5 on Tuesday.
O'Scanlon, a Republican, said right after California imposed its own mandate, that state had issues with its electrical grid and told people not to charge their cars.
He said such difficulties were "humiliating" for those pushing the policy.
The New Jersey Business and Industry Association released a statement that also questioned the power grid's readiness for such a drastic shift.
"We do know that EV sales will increase. However, such a steep ramp-up in electric-only vehicles over 12 years in New Jersey seems impractical, if not impossible, when you consider the lack of charging infrastructure and planning for it," according to NJBIA Deputy Chief Government Affairs Officer Ray Cantor.
He continued "Such a policy also begs the obvious question of where all this increased electricity will be sourced from."
Demand for EV in NJ not nearly the same as CA
The New Jersey Coalition of Automotive Retailers — which represents about 500 franchised car and truck retailers statewide — also was not a fan of the governor's action on the proposal.
"This heavy-handed government approach is likely to backfire," NJ CAR President Jim Appleton said, in a lengthy written statement, adding that franchised dealerships already offer "more than 40 vehicles with a plug and, in just a few years, that number will grow to 140 options in every vehicle category and at every price point."
NJBIA also pointed to the current lower sales of EVs in the state, compared with the West Coast.
"The 2035 directive to only allow EVs to be sold in New Jersey, will likely start in earnest with model year 2027 vehicles – with a mandated target of having 43% new EV sales. That percentage will increase each year heading to 2035."
New Jersey's EV sales, however, were currently only at about 7%, according to the NJBIA.
There has been a state goal to have 330,000 registered passenger EVs by 2025.
As of the end of last year, there were 91,560 electric vehicles on the road in New Jersey.
Extreme weather events a sign of urgency
When asked about the ambitious timeline of the Advanced Clean Cars proposal — Environment New Jersey Director Doug O'Malley pointed to some devastating extreme weather events.
A string of ozone alert days this summer; the horrendous flash flooding this past weekend in Warren County and the return of visibly unsafe air quality amid the raging Canadian wildfires.
"The climate crisis is coming home," O'Malley said, adding transportation is the largest source of air pollution and emissions in the state.
"Nobody is suggesting New Jersey do nothing to address emissions," the head of NJ CAR said in his statement.
"If we choose to not adopt ACCII, New Jersey would eventually be subject to the more stringent EPA plan recently proposed by the Biden Administration, which addresses our emission concerns while offering more flexibility for automakers and preserving consumer choice," Appleton added.
Availability of EV charging stations
The state coalition Charge EVC has set a goal for EV chargers — 500 Level 2 public community chargers by 2025.
"It should be as easy to find an EV charger as it is a 7-Eleven or a Wawa or a gas station," O'Malley said to New Jersey 101.5.
He added that's not the case now, but that's going to change very quickly.
The state recently announced the EV Tourism Charger Program, which provides incentives for the installation of EV chargers at tourism destinations across the state.
Such destinations can include hotels, downtowns, parks and other historical sites.
Overnight lodging establishments also have the opportunity to apply for up to six Level-Two chargers and two DC Fast chargers through the state program.
O'Malley said that while NJ has started to make investments in electrical infrastructure — "We will need to do more."
There are federal dollars coming — from a bipartisan law passed almost two years ago — that would also help fund more EV chargers around the state, he said.
Senator O'Scanlon said that a massive upgrade needs to be done not only to the state's electrical grid, but also to the availability of EV charging stations before any push toward an electric future is made.
Regional approach to EV proposal?
O'Scanlon said without a regional approach, New Jersey changing its vehicle sales policies could reap very little benefits if other neighboring states don't adopt the proposal, too.
While NY has already adopted the Advanced Clean Cars II plan, Delaware has been in the process of receiving public comments on the proposal —and got thousands of comments against it, according to Delaware Public Media.
Pennsylvania has not been mentioned as anywhere close to adopting the same plan to phase out new gas-powered small and medium vehicles.
Instead, PA has its EV Mobility Plan that recommends supporting the installation of at least 5,000 new EV charging ports at 2,000 sites by 2028.
There also has been the Drive Electric PA Coalition, to promote electric vehicle adoption across Pennsylvania.
A 2019 executive order also established a statewide goal to reduce greenhouse gas emissions 26% by 2025 and 80% by 2050, compared with 2005 levels.
Costs of new EV vehicles; offset by lower maintenance?
"While we should all work to reduce carbon emissions, the ban of gas-powered cars in such an expedited time frame does not take costs or feasibility into account – and it is likely to result in a major increase in New Jersey residents who actually won't be able to afford to drive," Cantor continued in the NJBIA response.
"If targets are not reached under this mandate, it's likely there will be a sizable penalty or surcharge imposed on the buyer of every non-EV car sold. So, we will see the real-world impacts of costs much sooner than 2035," he added.
NJ CAR also voiced concerns about affordability.
"Rising new and used vehicle prices are a major driver of inflation and adopting this policy will be like throwing fuel on the fire," Appleton said in his response.
He continued "The governor's plan to adopt ACCII would limit New Jersey consumer choice, drive up new vehicle costs and ultimately frustrate our shared goal of transforming the current vehicle fleet from internal combustion engine to EV."
Electric vehicles already have seen some price reductions already, and there are EV rebates for new vehicles, plus a hefty federal tax credit.
The state has now offered a rebate of up to $4,000 for electric vehicles with a Manufacturer's Suggested Retail Price (MSRP) under $45,000 — and incentives up to $1,500 for vehicles with an MSRP between $45,001 and $55,000.
Once an EV is owned, maintenance and operating costs are considerably less, O'Malley pointed out — such as not needing regular oil changes.
He said the push to shift all new car sales to EVs by 2035 would help the availability of used EVs on the market — as most drivers still buy pre-owned vehicles in NJ.
"While we should all work to reduce carbon emissions, the ban of gas-powered cars in such an expedited time frame does not take costs or feasibility into account – and it is likely to result in a major increase in New Jersey residents who actually won't be able to afford to drive,"NJBIA's Cantor said in his statement.
After the public comment period, expected to run through the fall, the next big deadline would be for the state to actually adopt the plan by December, O"Malley said — in order not to miss a model year.
Report a correction | Contact our newsroom
See the Must-Drive Roads in Every State
LOOK: See how much gasoline cost the year you started driving
To find out more about how has the price of gas changed throughout the years, Stacker ran the numbers on the cost of a gallon of gasoline for each of the last 84 years. Using
data from the Bureau of Labor Statistics
(released in April 2020), we analyzed the average price for a gallon of unleaded regular gasoline from 1976 to 2020 along with the Consumer Price Index (CPI) for unleaded regular gasoline from 1937 to 1976, including the absolute and inflation-adjusted prices for each year.
Read on to explore the cost of gas over time and rediscover just how much a gallon was when you first started driving.
Pictures of a $16.5M private island home being sold by NJ doctor
Pictures of a $16.5M private island home being sold by NJ doctor
LOOK: Where people in New Jersey are moving to most
Stacker
compiled a list of states where people from New Jersey are moving to the most using data from the U.S. Census Bureau.
From coast to coast: The 20 best regional fast-food chains to try
From burgers to subs and even creamy milkshakes, these tasty fast-food chains, compiled by
Stacker
, are a must-try on your next road trip.