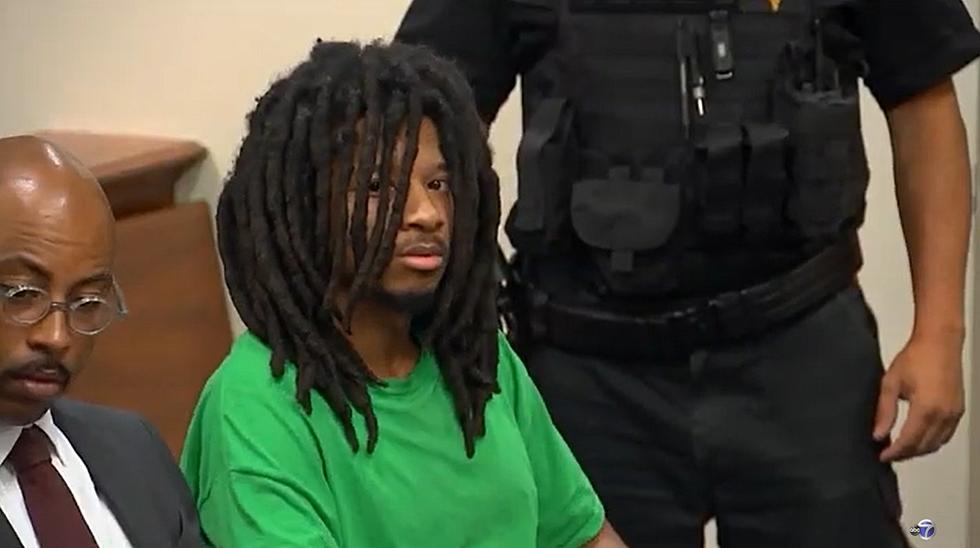 Mother of slain NJ councilwoman arrested for attacking murder suspect in court
Rashid Ali Bynum at his arraignment in Middlesex County Superior Court 8/28/23 (ABC 7 Eyewitness News via YouTube), Eunice Dwumfour (Linkedin)
🚨 Rashid Ali Bynum made his first New Jersey court appearance Monday
🚨 His lawyer called the evidence in the case "circumstantial"
🚨 Eunice Dwumfour's parents saw their daughter's accused killer in person for the first time
---
NEW BRUNSWICK —Emotions ran high as the accused killer of Sayreville councilwoman Eunice Dwumfour pleaded not guilty to murder and weapons charges at a court hearing Monday
With her family in the courtroom in Middlesex County Superior Court, the attorney for Rashid Ali Bynum entered a not-guilty plea and said that the circumstantial evidence was not enough to hold his client in jail pending trial.
Superior Court Judge Joseph Paone denied the motion, calling Dwumfour's death "brutally horrific."
Prosecutor's evidence against suspect
Middlesex County Assistant Prosecutor Amber Gibbs laid out the evidence and said investigators have proof via cell phone pings and E-ZPass activity that places Bynum in New Jersey on Feb 1,  the night Dwumfour was shot.
The prosecution also has 14 shells found that night that match a gun found in Bynum's possession, according to Dwumfour family attorney and former legislator John Wisniewski.
"The state also pointed out that he had had a previous gun charge while he was in Virginia, had failed to show up for one court hearing. And I think there was at least one restraining order placed against him by somebody who feared that he might commit some violence," Wisniewski told New Jersey 101.5.
Emotional day in court
The prosecution confirmed that Bynum and Dwumour first met several years ago when he was recruited to join Dwumfour's church, Champions Royal Assembly. Bynum moved in with Dwumfor and her daughter in New Jersey, according to the report, but was told to leave the church when he did not follow their rules. He returned to his home in Virginia.
Wisniewski said he continues to represent the family's interests in the case because English is not the first language of her parents Prince and Mary Dwumfour. He is not part of the prosecution's team.
"They are immigrants not very familiar with the U.S. judicial system. English is not their first language so they have me present to explain what's happening, provide them guidance and serve as an intermediary. They're very emotional about this. It was the first day that mom and dad had laid eyes on the man accused of taking their daughter's life," Wisniewski said.
Victim's mother admonished by a judge
Dwumfour's mother threw a bottle of water at Bynum in the courtroom and was charged with disorderly conduct, according to Wisniewski, who did not know what exactly prompted the throw. He only heard a thud and thought someone fainted or took ill.
Mary Dwumfour was admonished by the judge about that behavior not being acceptable in the courtroom. One more outburst she may not be allowed to attend future hearings, Wisniewski said Paone told Mary Prince.
The Middlesex County Sheriff's Office took it a step further and handcuffed Mary Prince behind her back as they led her away for processing.
"Yes, that kind of conduct shouldn't be allowed in a courtroom but handcuffing her hands behind her back and leading her out of the courtroom as if she were no different than the man who was accused of taking her daughter's life was a bit of an overreach by the Sheriff's Office," Wisniewksi said. "And I would hope they would apologize to her for that transgression."
Bynum is charged with first-degree murder, second-degree unlawful possession of a weapon, and second-degree possession of a weapon for an unlawful purpose. He is being held at the Middlesex County Adult Corrections Center. His next court appearance is at the end of October.
Report a correction 👈 | 👉 Contact our newsroom
Visiting the Twin Lights in Highlands, NJ: Photos
A virtual tour of the historic Twin Lights National Landmark. Please note that this particular tour was conducted in 2021 while COVID restrictions were still in place. Since then, all mask and COVID related restrictions have been lifted.
The biggest private info breaches in NJ health care
As of August 2023, these are the top data breaches reported by hospitals and health care institutions in New Jersey in the past 24 months. These cases are under investigation by the Office for Civil Rights of U.S. Department of Health and Human Services.
Clever method NJ boardwalk rides use that get you spending more
It's almost like using credit cards and not realizing how much you're spending.