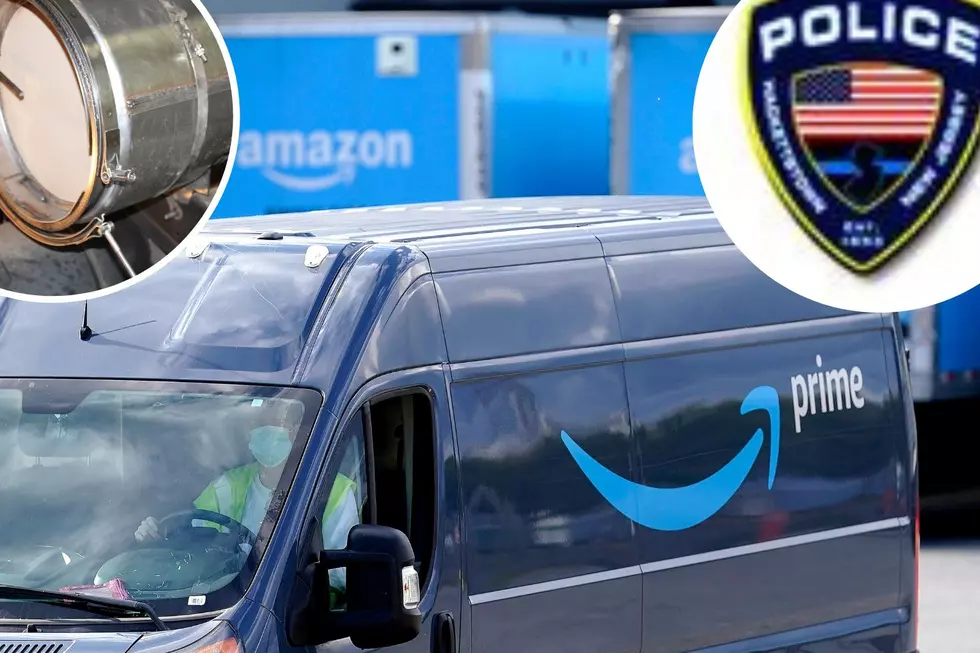 Scrap metal thieves hit 18 Amazon delivery vans in NJ
Amazon delivery van catalytic converter (AP Photo/Steven Senne, File), Hackettstown police shield
🚨 More arrests, more catalytic converter thefts
🚘Why are catalytic converters stolen?
🚗 How to protect your car's catalytic converter
---
HACKETTSTOWN — Thieves stole 18 catalytic converters from Amazon trucks during the weekend.
Police Lt. Darren Tynan said the coveted catalytic converters were cut from the delivery trucks parked in a lot along Willow Grove Street sometime between 8:30 p.m. Saturday and 10:15 a.m. Sunday.
The property is a small industrial area home to a paving company and a large parking lot.
Tynan asked anyone with information about the thefts to contact Hackettstown Police at 908-852-3300.
🚘Why are catalytic converters stolen?
The converters are attractive for the rare metals they contain. They have been stolen from lots and neighborhoods all around the state including from as many as 60 trucks parked at the Lakewood Industrial Park during the Fourth of July weekend.
A school bus yard in Moorestown was hit for nine catalytic converters in September.
Making in-roads against thefts
Five New Jersey residents were charged in November as part of a nationwide catalytic converter theft ring across five states. Police in Monmouth County arrested four Camden residents in December as they were removing catalytic converters from vehicles on Kneeley Boulevard in Ocean Township.
A bill that would prevent recycling companies from purchasing a catalytic converter unless it is attached to a vehicle was unanimously passed by the state Senate in October. Sellers would have to provide the VIN of the vehicle it came from and proof of ownership of the vehicle. An exception would be made for sellers who are used automotive parts dealers or automotive repair companies.
The bill is currently in the Assembly Law and Public Safety Committee.
🚗 How to protect your car's catalytic converter
Bordentown police offered some tips on preventing catalytic converter theft
Park your car in a garage or well-lit area.
Install security cameras in the area where you normally park.
Adjust the alarm on your vehicle to activate from vibrations. Thieves use a saw to cut out the catalytic converter so those vibrations would activate the alarm.
Engrave your VIN number onto your catalytic converter to make it easier to identify in case it does get stolen.
Install a catalytic converter-specific security device.
Dan Alexander is a reporter for New Jersey 101.5. You can reach him at dan.alexander@townsquaremedia.com
Click here to contact an editor about feedback or a correction for this story.
NJ mayors who make 6-figure salaries
As of 2023, there are at least a dozen full-time mayors around New Jersey making six-figure salaries for their positions.
Newark, Woodbridge and Elizabeth have helped lead the pack. Jersey City, Paterson, Edison and Wayne more recently adjusted their pay for the elected post.
13 Musicians Who've Served in the US Military
The Worst Marvel Moments of 2022
We picked the low points of a year of Marvel Cinematic Universe films and series.