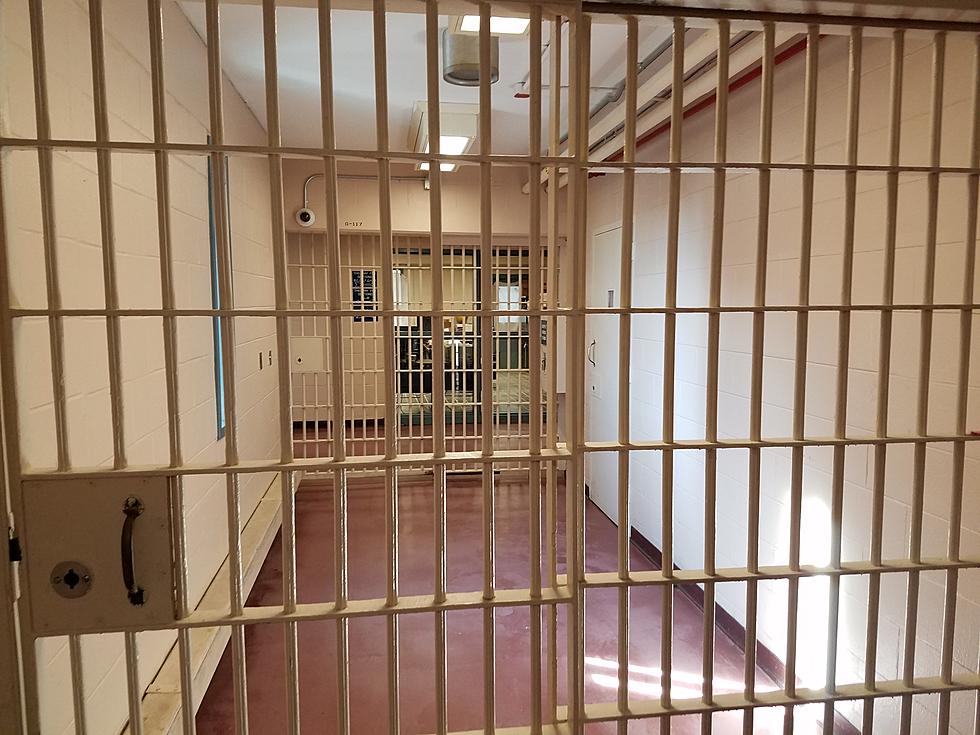 Two Virginia residents charged with brazenly attempting home invasion in New Jersey
Prison door at the Monmouth County Correctional Institute. (Vin Ebenau, Townsquare Media New Jersey)
Two Virginia residents are behind bars in Monmouth County, New Jersey for their alleged roles in a brazen attempt at a home invasion and robbery in Marlboro Township earlier this year.
Acori Knox, 21, of Hampton, Virginia and Lauren McNeil, 24, of Newport News, Virginia stand accused of orchestrating a home invasion at a property in Marlboro Township.
Acting Prosecutor Santiago said an investigation by the MCPO-Major Crimes Bureau and Marlboro Police learned that McNeil was one of the people staying in this particular home at the time as a guest during which time she exchanged text messages with her boyfriend -- Knox -- and together they planned to "restrain the homeowner while robbing him of cash and personal effects."
Then on September 24, Knox and McNeil set out to carry out their home invasion and robbery by going through a back patio door while carrying an AK-47 style rifle, but, they were unsuccessful, and, then took off.
During that time the police were called and arrived around 5:30 am to learn that Knox took off in a dark-colored Cadillac sedan with Virginia license plates.
The vehicle was located by a Marlboro Police patrolman and pursued it but the chase was broken off due for public safety reasons including excessive speed.
On Wednesday of this week, Knox and McNeil were arrested without incident in Newport News, Virginia and are awaiting a trip back to New Jersey, specifically Monmouth County Superior Court for a detention hearing.
Knox and McNeil are both charged with second-degree Conspiracy to Commit Burglary, second-degree Conspiracy to Commit Robbery, and second-degree Attempted Burglary and Knox is also charged with first-degree Attempted Robbery, second-degree Eluding Police, and three second-degree weapons offenses, according to Acting Prosecutor Santiago.
Both could be looking at 10-20 years in prison.
"This case has been marked by consistently stellar investigative work throughout, from a swift initial response that very well may have prevented a far worse outcome all the way through the identification of these suspects and their arrests yesterday," Acting Prosecutor Santiago said in a written statement. "It's also a prime example of how powerfully effective collaborative efforts involving multiple agencies can be, all in an overarching effort to ensure that public safety is maintained throughout our communities."
"The Marlboro Township Police Detective Bureau worked hand in hand with the Monmouth County Prosecutor's Office and the Newport News Police Department to close this investigation rapidly," Marlboro Township Police Chief Peter Pezzullo said in a written statement. "I am extremely proud of the dedication and diligence of Detective (Edward) Ungrady and all the Marlboro Officers involved in this case. This joint operation exemplifies how multiple law-enforcement agencies can work as one and accomplish great results."
Acting Prosecutor Santiago said that this case has been assigned to Monmouth County Assistant Prosecutor Caitlin J. Sidley of the MCPO Major Crimes Bureau.
If you have any information that can help with this investigation and case, you're asked to call Monmouth County Prosecutor's Office Detective Aaron Shaw at 800-533-7443 or Marlboro Township Police Department Detective Edward Ungrady at 732-536-0100.
Here are New Jersey's Most Wanted Criminals
The 25 Most Dangerous Cities in New Jersey
The 25 Most Dangerous Roads in New Jersey
Help Find These 62 Missing New Jersey Children
The most heinous New Jersey murders that shook our communities