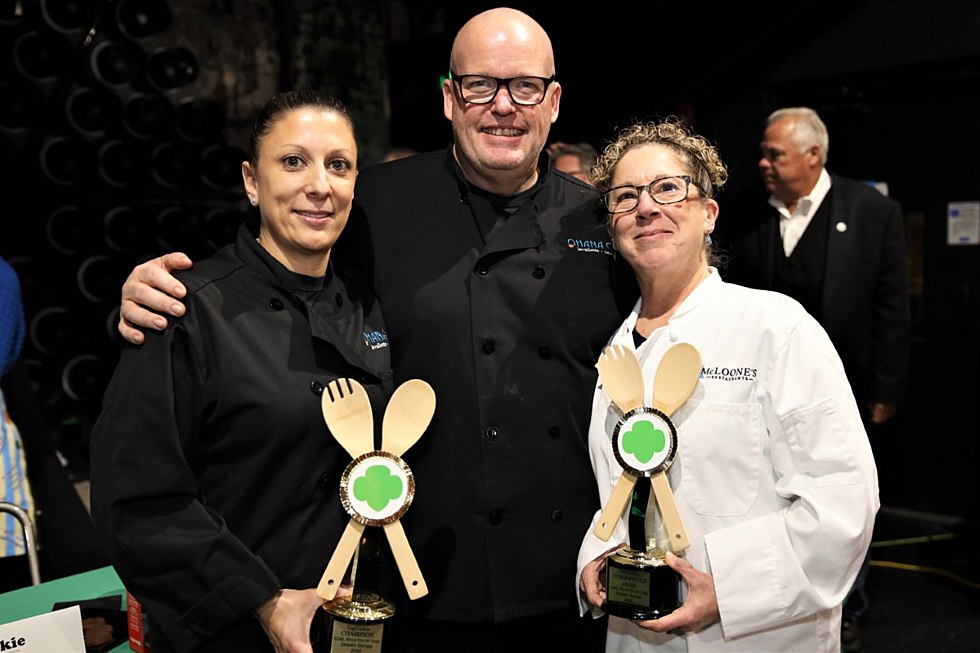 Winners of Best Girl Scout Cookie Recipes at "TopCookie"
The judges' choice winner was Ohana Grill owners Dana and James Costello. Voted #1 by the public was McLoone's pastry chef JoAnne Macalik. Photo courtesy of Andrea Plaza.
Hundreds of Girl Scout Cookie fans came out to sample and vote for their favorite dessert recipes made from these fantabulous cookies. It all took place at Asbury Lanes and I loved all the deliciousness!
Five Jersey Shore restaurants dished out tasty desserts at the TopCookie culinary competition to benefit Girl Scouts of the Jersey Shore.
A celebrity panel of judges was led by world-renowned chef David Burke along with our friend Tom Hayes from NJNG and several others.
The People's Choice Award went to McLoone's Restaurants' pastry chef JoAnne Macalik. It was a Tiramisu take on Tagalong cookies that literally melted in your mouth!!! It was my favorite...but my VERY CLOSE SECOND favorite was an ICE CREAM made with TreFoil Girl Scout Cookies from Nicholas Creamery!!!!!
The Judges' Choice Award went to a cheesecake and pistachio double-feature made with Samoa cookies by Ohana Grill owners Dana and James Costello. Sooooooooo good!!!
Also competing were Talula's, which whipped up an unique croissant with Do-Si-Dos. And students from the Ocean County Center for Culinary Arts Training, who train at Cuisine on Green at Atlantis, made a delicious macaroon with Thin Mints!
What a fun night out this was :)  Thanks to everyone who came out to support our local Girl Scout troops and restaurants!