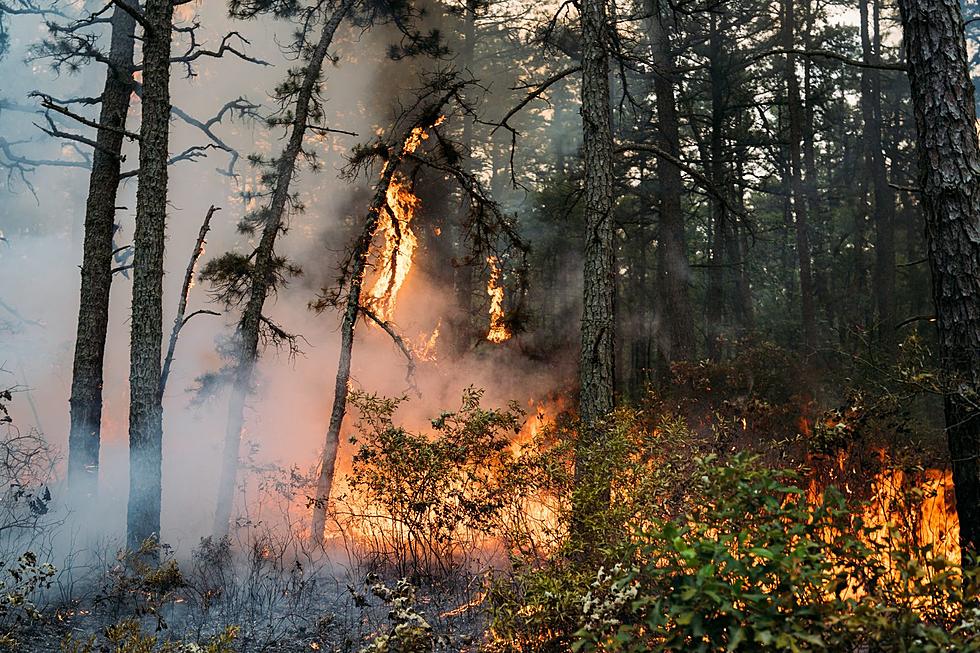 Another wildfire contained in Burlington County, NJ
Acorn Hill Wildfire in Woodland Township (NJ DEP)
🔴 2023 has been a very active year for major wildfires in New Jersey
🔴 It's the second wildfire in a week in the Brendan T. Byrne State Forest
🔴 The wildfire caused smoke low to the ground
---
WOODLAND — Firefighters quickly got a good handle on the second wildfire in the Brendan T. Bryne State Forest in the past two weeks. By Tuesday, they had it full contained in less than 24 hours.
Since April, at least five wildfires have burned within Burlington County, starting with the 257-acre River Road wildfire in Washington Township.
The Acorn Hill Wildfire in Woodland was reported early Monday afternoon and by 6 p.m. the New Jersey Forest Fire Service reported it was 60% contained with 200 acres burned. It was 100% contained as of 10 a.m. Tuesday after consuming 246 acres.
Firefighters utilized a backfiring operation to burn fuel ahead of the main body of fire. Until there is significant rain, crews will remain on site to monitor control lines for possible flare-ups. Smoke from the fire will also hang low to the ground because of weather conditions and be smelled for several days.
New Jersey 101.5 Chief Meteorologist Dan Zarrow said a "blocked" storm system will funnel clouds and pockets of rain into New Jersey over the next 7 days. About 2-4 inches of rain could fall during that time, according to Zarrow.
Several structures in the Brendan T. Byrne State Forest Campground threatened by the fire were not damaged. Coopers Road, the Glassworks Trail and local state forest roads were closed by the fire.
Second fire in the Brendan T. Byrne State Forest
It's the second fire within a week in the Brendan T. Byrne State Forest and the fifth in Burlington County in the past two months.
The City Line Wildfire consumed 850 acres in the Browns Mills section of Pemberton Township, largely away from populated areas. At the same time, the Buzby Boggs Wildfire burned close to a neighborhood in Evesham.
At the beginning of June, the Allen Road Wildfire in the Bass River State Forest burned 5,475 acres while the Flatiron Wildfire, which was started by lightning, torched 210 acres in Medford
Report a correction 👈 | 👉 Contact our newsroom
LOOK: Famous actors from New Jersey
Stacker
compiled a list of famous actors born in New Jersey from IMDb.
NJ county fairs are back! Check out the 2023 summer schedule
A current list of county fairs happening across the Garden State for 2023. From rides, food, animals, and hot air balloons, each county fair has something unique to offer.
(Fairs are listed in geographical order from South NJ to North NJ)
These are the best NJ high schools for sports
Stacker
put together a list of the best high schools for sports across New Jersey — using data from Niche that included sports championships, family surveys, student enrollment, athletic participation rate and sports options. Here's the top 25.