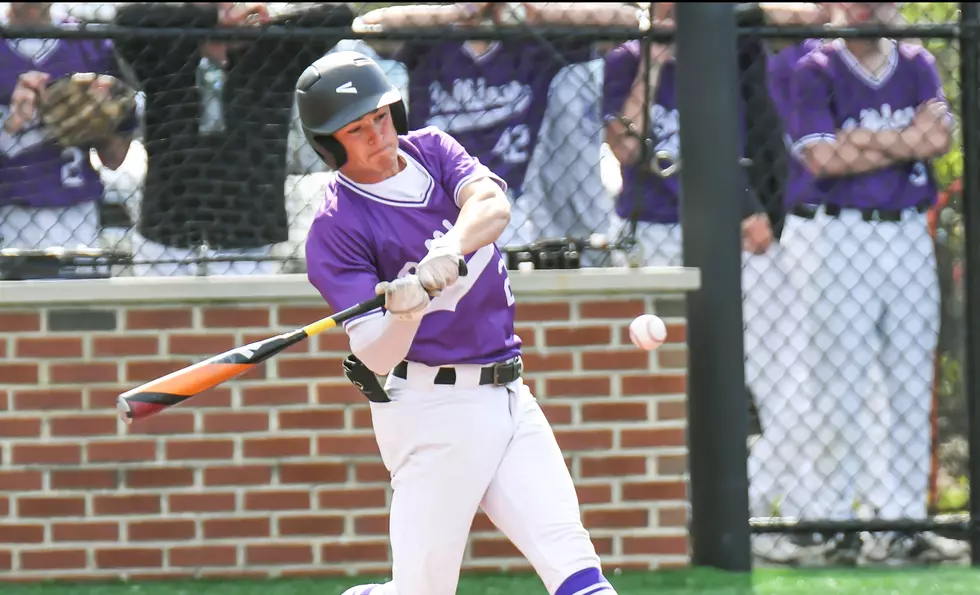 Baseball – Doherty's Walk-Off Hit Sends Rumson-Fair Haven Back to Shore Conference Semifinal
Rumson-Fair Haven senior Brian Doherty. (Photo: Tom Smith | tspsportsimages.com
RUMSON -- Brian Doherty hasn't played much centerfield this season due to a shoulder injury that he has only recently put behind him and on Saturday morning in the Shore Conference Tournament quarterfinals against St. John Vianney, he showed some rust at the position.
At the plate, however, Doherty has never been more comfortable, especially when the game is on the line.
After his misread in center helped St. John Vianney tie the game two innings earlier, Doherty delivered a two-out, game-winning RBI single through the left side in the bottom of the seventh and the top-seeded Bulldogs walked off with a 3-2 win over the No. 9 Lancers to secure a spot in the SCT semifinals for the second straight season.
While Doherty was the hero in the seventh, senior leftfielder Johnny Bruno was the offensive star for Rumson-Fair Haven and junior right-hander John Goodes was sharp again in improving to 7-0 on the mound. Bruno went 3-for-3 with a solo home run in the fourth, while Goodes pitched a complete-game, four-hitter on 82 pitchers with one walk, four strikeouts and one earned run allowed.
In the bottom of the seventh, Rumson loaded the bases thanks to an error, a sacrifice bunt, an intentional walk with two out and a hit-by-pitch with two out. Doherty then jumped on the first pitch he saw from senior reliever Dan Afflitto and shot it into left field for the winning hit, sending the Bulldogs to Tuesday's SCT semifinal against Red Bank Catholic.
"Coach (Owen) Stewart told me I was going to get a fastball in the zone early in the at-bat," Doherty said. "I got a pitch right down the middle and I just hit it hard and it got through."
In his prior two plate appearances against Lancers left-handed starter Nick Ferraioli, Doherty was retired on balls hit in the air to the right side. He went up with a more aggressive approach facing Afflitto for the first time.
"The last two days, I haven't had much success at the plate," Doherty said. "I got back to taking a short stride and seeing anything in the zone and being aggressive with it. It's great early in the game to work pitch counts, but in a situation like that, you don't want it to get deep into the count and leave it up to a tough strike three call or a pitcher's pitch in the dirt."
Doherty's winning hit made up for one of two defensive miscues that helped St. John Vianney tie the game at two in the fifth. The rally started with a throwing error leading off the inning that developed when first baseman Matt Rigby strayed too far from the bag on a groundball to second baseman Aaron Del Tin, which forced Goodes to cover and try to corral a wide throw while in the move.
Doherty then misjudged a line drive by St. John Vianney senior Antonio Kurtz that took off over Doherty's head after he came in on it off the bat. Kurtz sped into third with a triple and despite being held up at third initially, junior Andrew Zottar scored from first without a play.
"I was in the outfield all last year and this year I was working through an injury, but I'm back now," Doherty said. "I just misread a ball. I got a bad jump on it and I wasn't able to recover. Credit to Goodes for picking me up and keeping them there."
Goodes stranded runners on first and second with a flyout and a strikeout to end the top of the fifth inning -- one of four instances in which Goodes worked out of a jam with two runners on. Rumson shortstop Charlie Tallman started two double-play groundballs, with the first coming to end the second and the second getting Goodes out of a first-and-second, one-out jam in the seventh.
"Our pitching has been unbelievable all year," Doherty said. "John Goodes was awesome again. It should have been no runs if not for me, but I had to make it interesting.
Tallman also gave Rumson the lead with an RBI double in the bottom of the third inning to score third baseman Griffin Shenman after he walked and took second on a sacrifice bunt by Del Tin.
Bruno took the biggest swing of his 3-for-3 day in the bottom of the fourth, when he scalded a solo home run to right-centerfield that landed just shy of the bleachers.
"I've been super aggressive on fastballs and really just trying to hit the ball hard wherever its pitched," Bruno said. "There's not really much thinking that goes into it, I'm just looking to hit it hard somewhere and it's been going well lately."
Bruno was the only Rumson hitter with a good read on Ferraioli, who pitched six strong innings on 105 pitches, allowing two earned runs on four hits and two walks while striking out seven. Ferraioli struck out back-to-back batters to end a one-two-three first inning and struck out the side in order in the fifth before finishing off his start with a scoreless sixth.
Saturday's game was played less than 24 hours after the teams attempted to play the quarterfinal game on Friday, but were thwarted by poor weather conditions. With the game tied, 0-0, on Friday in the bottom of the fifth, Rumson got a baserunner when a St. John Vianney outfielder dropped a fly ball while battling the fog that settled on the field. The umpires called the teams off the field and upon consulting with the radar that showed thunderstorms moving in over the next several hours, they called the game completely.
"It didn't feel like we were starting from scratch today," Bruno said. "It felt like we had some good momentum coming off of yesterday. We knew they would have to change pitchers and we had Goodes ready to go. We felt like this was a battle and yesterday was part of the battle. We had to come back today and just stay on them."
For the second time during the SCT, a game had to be restarted from the first inning after advancing into the fifth inning. Barnegat was leading Southern, 2-1, in the top of the sixth of their first-round matchup, but because the score was 1-1 at the end of the fifth inning, it was considered to be a tie and, thus, had to be restarted, per Shore Conference Tournament rules. The Shore Conference Tournament rules do not allow for suspended games.
St. John Vianney threw junior ace Aiden Cody 83 pitches on Friday after he threw 56 on Tuesday in a win over Colts Neck, so he was unavailable. Rumson, meanwhile, used junior Jackson Hinchcliffe for 54 pitches and refrained from bringing Goodes in from the bullpen, which made him fresh and available on Saturday.
"Hinchcliffe yesterday was huge, canceling out their ace," Doherty said. "That's not going to show up in the stat sheet but that's a big reason we were able to win today."
Hinchcliffe and Wake Forest commit Charlie Jones will both be available on Tuesday against Red Bank Catholic, with Jones the expected Bulldogs starter. Jones took the loss at Count Basie Park on May 10, when Red Bank Catholic handed Rumson its first loss of the year, 3-0. Sophomore Declan Leary pitched a four-hit shutout with 10 strikeouts and no walks and is also expected to take the ball again for the Caseys, which ended a four-game winless streak against Rumson with that win.
"RBC has been the big brother to us for the last decade and I think last week was the first time in a while they got up for a game more than we did," Doherty said. "Under the lights, on the home field, they hadn't beaten us in a couple years, so I think they came out fired up and outplayed us. Shore Conference semifinals, we're both going to be fired up."
Box Score
Rumson-Fair Haven 3, St. John Vianney 2
| | | | | | | | | | | |
| --- | --- | --- | --- | --- | --- | --- | --- | --- | --- | --- |
| | 1 | 2 | 3 | 4 | 5 | 6 | 7 | R | H | E |
| SJV (16-5-1) | 0 | 0 | 0 | 0 | 2 | 0 | 0 | 2 | 4 | 1 |
| Rumson-FH (18-2) | 0 | 0 | 1 | 1 | 0 | 0 | 1 | 3 | 5 | 2 |
Pitching
| | | | | | | | |
| --- | --- | --- | --- | --- | --- | --- | --- |
| St. John Vianney | IP | H | R | ER | BB | SO | PC |
| Nick Ferraioli | 6 | 4 | 2 | 2 | 2 | 7 | 105 |
| Dan Afflitto (L, 1-1) | 0.2 | 1 | 1 | 0 | 1 | 0 | 16 |
| | | | | | | | |
| --- | --- | --- | --- | --- | --- | --- | --- |
| Rumson-Fair Haven | IP | H | R | ER | BB | SO | PC |
| John Goodes (W, 7-0) | 7 | 4 | 2 | 1 | 1 | 4 | 82 |
Top Hitters
| | |
| --- | --- |
| St. John Vianney | Game Stats |
| Antonio Kurtz | 2-3, 3B, RBI |
| Matteo Pasculli | 1-3 |
| Kyle Pollack | 1-3 |
| | |
| --- | --- |
| Rumson-Fair Haven | Game Stats |
| Johnny Bruno | 3-3, HR, R, RBI, SB |
| Brian Doherty | 1-4, RBI |
| Charlie Tallman | 1-3, 2B, BB, RBI, SB |