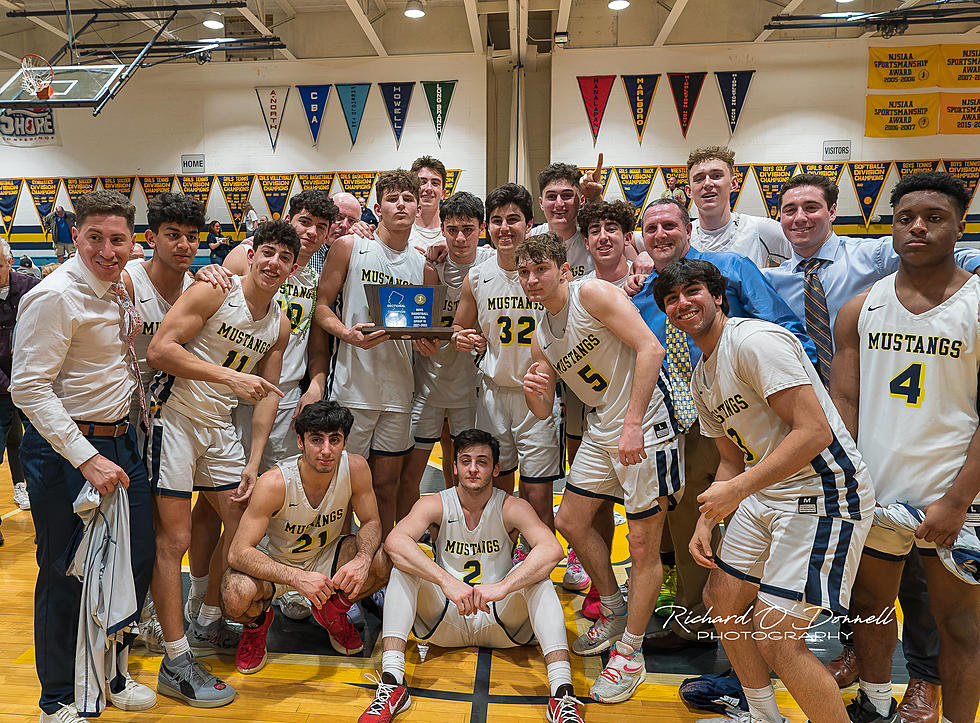 Boys Basketball – Marlboro Overcomes Championship Game Demons to Win First Sectional Title
Marlboro celebrates its first NJSIAA Central Jersey Group IV championship. (Photo: Richard O'Donnell
MARLBORO -- Home-court advantage is supposed to provide comfort to those teams that earn it during the NJSIAA Tournament and with an 11-0 record in its home gym, Marlboro had every reason to feel that comfort.
At the same time, that very same home court was the site of a moment that has haunted Marlboro's five senior starters for two years and late in Friday's Central Jersey Group IV championship game against Trenton, it looked as though the Mustangs would be faced with the prospect of having their collective hearts broken again.
This time, however, there would be no heartbreak for the home team. Instead, Monday's game ended with the biggest on-court party in Marlboro basketball history.
Senior Jack Seidler led another well-rounded offensive effort from the top-seeded Mustangs with 21 points and Marlboro closed out No. 7 Trenton, 75-67, to end two years of unrest with the program's first ever sectional championship in boys basketball.
"I can't even describe it," Seidler said. "It feels amazing, especially after the way sophomore year ended and last year ended, we were so hungry. All offseason, we couldn't wait to get back in here. It's crazy how fast it went by and now we're here at the end and accomplishing all of our goals. And we're still hungry for more."
Each of Marlboro's last two seasons ended with losses on last-second shots by the opponent. In 2020, it was South Brunswick defeating Marlboro, 72-71, on a layup at the buzzer to win the Central Jersey Group IV while denying Marlboro a title in its first ever sectional final appearance.
"It just feels so great to get back everything that got taken away from us by one shot both times," senior Jay Ratner said. "The South Brunswick buzzer beater, that sticks with us and stuck with us every single day since it happened. Same thing with Manasquan (last year), so we wanted to come out here and get a clean sweep and get back everything that we lost."
One year after the devastating loss to South Brunswick, the Mustangs upset Ranney to reach the championship game of the Shore Conference Playoff Championship Pod and took undefeated Manasquan into overtime, only to lose, 58-56, on another layup with one second left.
"How we felt after that game two years ago, it was the worst feeling and no one that works as hard as we do deserves that," senior Zack Molod said. "Just being on this court, I knew I never wanted to see that happen again, especially because it happened right in front of my face. I was in that game after Jay fouled out and I was worried about it happening again this year, but we were never letting that happen this time. It's the worst feeling of our lives and then we had it happen again last year."
Seidler added seven rebounds and four assists to his championship line, Molod added 20 points, five rebounds and six assists despite battling foul trouble throughout the game. Ratner pitched in 13 points, nine rebounds and four assists, senior Vin Spatola added eight points and three assists and senior Jon Spatola rounded out the starting five with eight points, six rebounds and three assists.
Marlboro also got a big basket from junior A.J. Schwartz, who filled in for Molod for between seven and eight minutes of action. Seidler found Schwartz for a layup to extend Marlboro's lead to 52-49 late in the third quarter.
With Trenton hanging around throughout the game, taking the lead, 55-54, with 6:50 to go and pulling even again at 62 with exactly four minutes to go, Marlboro would have to sweat out the final seconds of another championship game if it didn't take over during the stretch run.
If Marlboro's seniors were still haunted by those two championship losses, they didn't show it during the final four minutes. Seidler finished a drive to the basket and the Mustangs came up with a critical stop on the other end.
"We have been playing together so long and we know each other so well," Seidler said. "When the game got tied and when they took the lead, we got it together and we just said, 'We're not going out like this. We're not losing this last home game, no repeat of sophomore year.' Right after that, we got a couple big buckets, everybody came through and we came out with the win."
Next up, it was Ratner who drove into the paint via the left baseline and banked in a tough shot to stretch the Marlboro lead to 66-62.
Seidler followed with two free throws after Marlboro drained more than a minute off the clock and on the next possession, he found Vin Spatola for a basket, plus a foul to make it an 8-0 run and 70-62 with 1:18 left.
Although Marlboro labored from the foul line in the last 1:18 (5-for-11), the Mustangs continued to stop Trenton on the other end of the floor, which it had trouble doing throughout the first 28 minutes of action.
"We couldn't stop them," Marlboro coach Mike Nausedas said. "They were going downhill to the rim and we could not stop them. They were getting layup after layup and then they weren't finishing. We got lucky, we got some rebounds, we fought and that was the game, because they got to the rim at will."
Trenton could not stop Marlboro either during the game, particularly during the first quarter. Marlboro went off for 23 points in the first eight minutes, although it only led by four points. The Mustangs were ultra-efficient on offense despite getting only two points apiece from Seidler and Jon Spatola.
Molod and Ratner led the offense in the first quarter, with Molod scored nine and Ratner pouring in seven.
"The past two years, I think me, Vin and Jay have taken it upon ourselves to work as hard as we can to get better offensively," Molod said. "We understand Jack and Jon can score whenever they want, but when they get us open, we needed to build that same confidence so that when we're all in there together, you can't stop us."
As it happened, those were the two Marlboro players who had to overcome foul trouble, particularly Molod. The senior guard picked up two fouls in the first four minutes and managed to make it to halftime still at two fouls, despite only sitting for a little more than a minute during the first half.
In the third quarter, however, Molod picked up his fourth foul with 2:37 left, sending him to the bench for the next six minutes.
"I have been in that position before, I just had to play smart and trust my teammates like I have been," Molod said. "They kept handing me the ball and I kept feeling good, so I just didn't even worry about the fouls. That probably came back to bite me in the third quarter.
"I don't know what it is about championship games and catching foul trouble, but when I go on the bench, it may seem like I'm frustrated, but I have all the faith in my teammates."
Ratner, meanwhile, had three fouls while trying to deal with Trenton's 6-foot-2 interior junior menace, Davontay Hutson.
"When we got into foul trouble, it's hard to play physical defense," Ratner said. "We had to weather the storm as the game went on and just had to play harder-and-harder as there was less time on the clock."
While Marlboro boasted an all-senior starting five, Trenton got its scoring entirely from juniors, led by Hutson. After torching Jackson Memorial for 24 points in a 57-56 sectional semifinal win, Hutson scored 24 again on Monday to lead all scorers.
With 3:15 to go, however, Marlboro got a big stop when Hutson snatched and offensive rebound but was too strong on the putback -- a surprise development after being so proficient in the paint throughout the game.
"Davontay Hutson, it was crazy the number of shots he made around the rim," Ratner said. "As a guy who loves defense, I was so confused how the ball kept going in and he kept finishing. He was great around the rim, but once we were up by four and six, it was just one miss and then hit our free throws from then on."
"That's a great team and a young team," Nausedas said. "They are going to be here next year."
Trenton will be battle-tested, motivated contender in 2023, much like Marlboro has been throughout this season. The Mustangs improved to 27-2 Monday and have now won WOBM Christmas Classic, outright Class A North division, Shore Conference Tournament and Central Jersey Group IV championships for the first time in program history -- all in a span of a little more than two months.
Up until this season, the only year on Marlboro's boys basketball banner in the gym in 1971, representing the year Marlboro won a share of a Shore Conference division title.
"I don't think anything has really set in yet, the fact that we have won everything that we have this year," Nausedas said. "When I got here ten years ago, this was nothing. I'm not trying to say I'm Pat Riley or anything, but when I got here, I looked over at that banner and said we need to start adding to that. To be able to say we did it feels pretty good."
Nausedas knew he wanted to create a championship culture for Marlboro boys basketball when he took over the program 10 years ago and after the past two, he just hoped the culture was there despite the hardware being missing.
With another championship on Monday, this year's senior group validated the championship culture created by some of Nausedas's teams that did not quite finish it off -- from the 2016-17 team that reached the Shore Conference Tournament final for the first time in program history, to the 2020 team that came up just short of Class A North and Central Jersey Group IV championships.
"We have had some bumps in the road since I have been here," Nausedas said. "There have been some ups and downs, some battles, lots of different personalities and to look back how we got here, it's pretty awesome."
Monday's win was especially meaningful for Ratner, whose older brother Alex was the captain and lone senior starter on the 2019-20 squad. Alex is also the second-leading scorer in program history, with Seidler passing him for first on the all-time Marlboro boys basketball list earlier this season.
"I know he wanted us to win it and it feels good to win it for him," Jay Ratner said of his older brother. "He is the best player in school history, with Jon and Jack up there too. We wanted to get it for him, for coach and for all of us who lost that day."
When Marlboro's players and coaches wake up Tuesday, the attention shifts from celebration back to preparation. Next up, Marlboro will travel to Egg Harbor Township High School Wednesday to take on South Jersey champion Lenape, which topped Cherry Hill East to win its first sectional championship since winning the overall Group IV title in 2009.
This Mustangs team has already cemented itself as the best team in school history and if the Mustangs can overcome the Indians and Rutgers commit Derek Simpson on Wednesday, they will begin to inch up the ranks of the best teams in Shore Conference history.
"We want to play at Rutgers and if we want to get there, we have to go through a very, very tough opponent in Lenape," Ratner said. "They are a great team, Derek is very good and we've got to figure out how to lock him up. That's kind of the plan now: celebrate tonight, but tomorrow, go back to practice and try to win another one."
Neptune and Asbury Park are the only Shore Conference boys programs to ever win an overall Group IV championship and the last time one of them did so was Neptune in 1981. Asbury Park -- now a Group I school -- last won the Group IV title in 1943, although it has since won overall group championships in Groups I and II.
"We're going to enjoy this, definitely," Seidler said. "We'll rest our legs a little bit. We've got a couple goals still left. We want to play at Rutgers and we've got one more game to do that, so we're going to come out firing and give it everything we've got, because we don't want to go home yet."