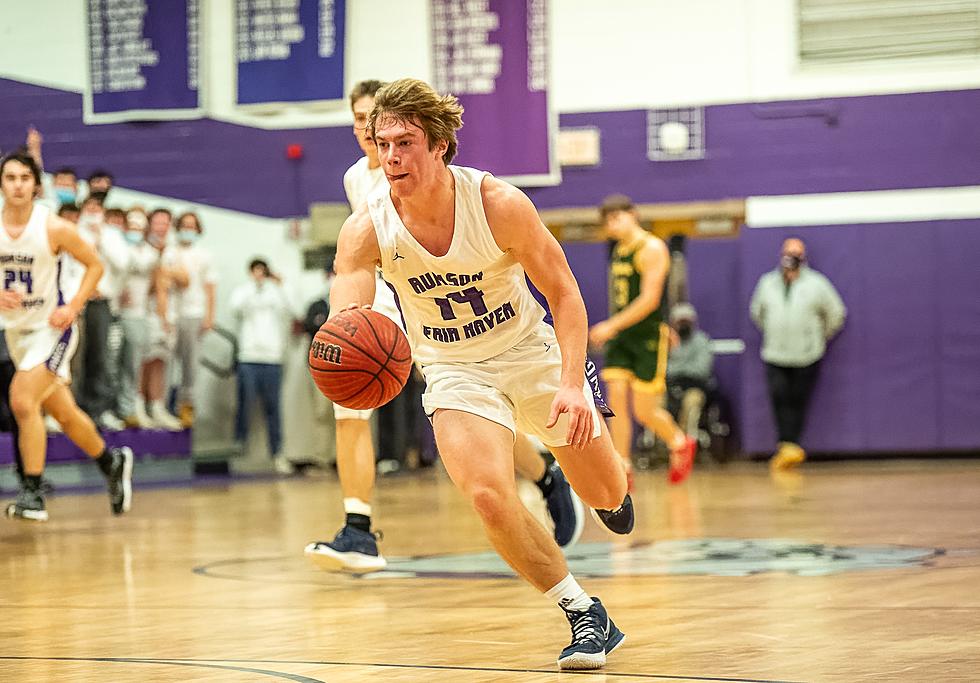 Boys Basketball – Rumson's Season Ends at the Hands of Juggernaut Camden
Rumson-Fair Haven senior Geoff Schroeder. (Photo: Tom Smith | tspsportsimages.com)
EGG HARBOR TWP. -- The 2021-22 Rumson-Fair Haven boys basketball team made a pretty good case as the best team Chris Champeau has coached in his 13 years at the helm of the program.
Unfortunately for this year's Bulldogs, on Wednesday, they ran into the best team Champeau has seed in his 13 years of coaching high school basketball.
Two nights after winning the program's third NJSIAA Central Jersey Group II championship in six years, Rumson-Fair Haven ran into Camden -- the No. 1 team in the state and the highest-ranked public-school program in the country -- and went down to the Panthers, 77-43, to end its season Wednesday night.
"I'm proud of our guys," Champeau said. "We hung in there. If we played any other public school, I think it would have been a different outcome. We just happened to run into one of the best high school teams in the history of New Jersey."
Rumson actually got off to an encouraging start, going up 8-4 by the midway point of the first quarter thanks to a pair of three-pointers by seniors Cal Famula and Trent Sloan, as well as a layup by senior Geoff Schroeder off a find by Sloan.
After that, though, Camden exploded with a 23-0 run over the next nine minutes, which gave the Panthers a 27-8 lead.
"It's the pressure," third-year Camden coach Rick Brunson said. "We try to pressure teams with our length and our speed and if teams figure it out, we adjust."
Camden led, 32-12, in the last minute of the first half before a three-pointer by Owen Sullivan capped the second quarter and ignited an 8-0 run that cut the Panthers' lead to 32-20 early in the third.
Once again, though, Camden had a major answer, authoring an 18-2 run to stretch its lead to 30 of the first time, 52-22.
"What happens when you are playing a long, fast team, an open look, even though it looks open, is a little rushed," Champeau said. "In your mind, you think 'Where are they coming from?' and it throws you off. I just felt like the game plan was solid, but it started to get away from us a little bit."
Junior Cian Medley scored a game-high 20 points for Camden, while former Ranney star and All-Shore guard Elijah Perkins poured in 10 of his 12 points in the first half.
For Perkins, Wednesday was a reunion of sorts in that he has grown up playing against against several of Rumson's best players.
"I expected a hard-fighting team," Perkins said. "I have been playing against them since probably elementary school. It was basically like going out there against my friends and competing."
Junior D.J. Wagner, meanwhile scored eight of his 11 points in the second half while facing a box-and-one defense from Rumson-Fair Haven for most of the game.
"Our whole thing was box-and-one D.J., sag in, not let them get easy buckets on the inside and let them shoot threes," Champeau said. "If we had to press them, au revoir: they are bigger faster stronger. So we packed it and hell, we were down 12 in the third quarter and D.J. didn't really beat us."
"The good thing about our team is D.J. is going to be D.J. but on any given night, we might have two or three different guys stepping up," Brunson said. "It sucks because there is a lot of talent to try to get on the court, but these guys are all unselfish and they all accept their role on the team, so it makes my job as a coach easier."
Seniors Scott Gyimesi and Schroeder each scored 11 points to lead Rumson-Fair Haven, with Gyimesi also grabbing nine rebounds for the Bulldogs.
"Scott and Geoff, they are three-and-four year starters, great leaders, humble kids and that's how you build a program," Champeau said. "Around guys like that and they have carried the tradition on for us. I'm proud of this group."
Camden moves on play Newark Central in the Group II final Sunday at Rutgers. Since winning the Tournament of Champions in 2000 -- the last public school to win the T of C -- the Panthers are 0-8 in group championship games.
With this group however, the 22-year drought is on the verge of ending. Wagner is considered the top guard in the country for his 2023 class, junior seven-footer Aaron Bradshaw and more athletes in Dasear Haskins, Rasheer Fleming , Medley and Perkins.
As the T of C favorite, Camden has steamrolled through the Group II bracket and has focused on keeping its edge during practice so that if the Panthers are n the T of C, as they and most expect, the step up in competition won't phase them.
"It starts in practice," Perkins said. "Our best opponent is ourselves. We're just battling everyday, playing against D.J., Cian, Aaron, Dasear – up and down the line, it's going to be competitive. Our hardest battles are in practice."
Since coming off the bench on a Ranney's 2019 Tournament of Champions championship, Perkins has earned Shore Sports Network All-Shore selections in each of the the past two seasons, including a First-Team nod last year.
While the Tinton Falls native is still relatively new to his current high school team, Perkins is the one player on the team who has played in and won the Tournament of Champions.
"I'm definitely coming in as a different role," Perkins said. "Freshman year, I was just trying to learn every day and get my feet in the water. Now, sine I have been down that road, coach Rick always says, 'Just chip in and tell them everything you know about it.' I have really tried to take the role that Scottie and Bryan had when I was a freshman and trying to help guys figure out how to go about it."
As for Rumson, there would be no shocking upset courtesy of the Bulldogs, but it did provide some comfort to Champeau and his team that, unlike in 2017 and 2018 -- when Rumson lost to Camden and Haddonfield in back-to-back Group II semifinals -- they know they lost to, what is likely, the best team still playing this postseason.
"I have never seen a team like this and I have been here for 13 years," Champeau said. "But our big game was Monday night in front of our home town. This would have been a great Hoosiers, shock-the-work moment, but it didn't happen.
"Today was the first bus ride for all of them because of COVID. We have never been on a bus as a group, so for a lot of these guys, that was a first-time experience as a team. The resilience and perseverance of these guys over the last two year, to fight through all the crazy stuff going on, to win a section championship, I'll remember this team."