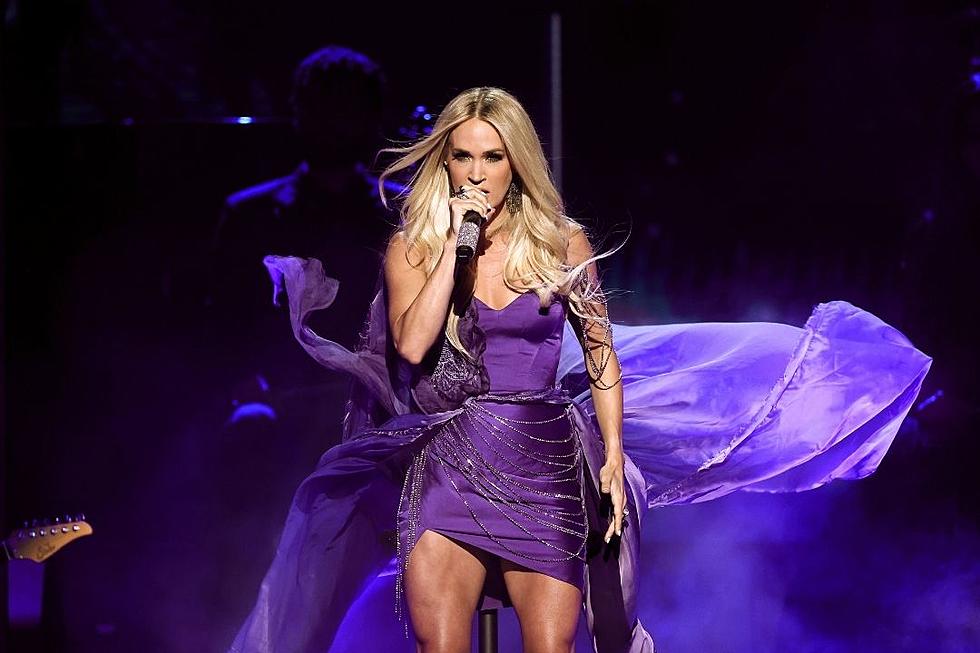 Carrie Underwood New Song 'Denim & Rhinestones' Takes Fans to the Disco [Listen]
Rich Furry, Getty Images
Surprise! Carrie Underwood has released the title track of her newly-announced album, Denim & Rhinestones.
Written by Underwood and frequent collaborators Hillary Lindsey, Josh Kear and David Garcia, the amorous song melds country lyricism with an effervescent, pop-disco production. The hitmaker opens by evoking sentimental memories of various things that naturally go better together — which also includes a shoutout to the iconic Dolly Parton.
"Like jet black and a Cadillac / Like Tennessee and a bottle of Jack / Dolly and a tape deck on the way back to home sweet home / Like Mama and the kitchen / Cooking supper on the stove / Like a sweet tea and a lemon / We go together like denim and rhinestones," she sings in the first verse, before breaking out in the chorus.
"You're the smooth and I'm the shine / We're the neon, dancing all night / Denim and rhinestones / You're the cool and I'm the fire / No, we're never going out of style," Underwood confesses as she beams with pride for the steadfast relationship she has.
Melodically, the breezy production of Underwood's "Denim & Rhinestones" sets the perfect musical backdrop for a couple to dance together in a disco bar. It's a jaunty and spirited tune, but with a light enough tempo for listeners to also slow groove to.
"Denim & Rhinestones" is the title track of Underwood's ninth studio album, due out June 10. Last month, she unveiled the LP's lead single, "Ghost Story," which saw its debut live performance at the 2022 Grammy Awards last Sunday (April 3).
Denim & Rhinestones is available for pre-order now.
See the Top 50 Carrie Underwood Songs — Who Should Be No. 1?
See Inside Carrie Underwood's Nashville Mansion:
See Inside Carrie Underwood's Beautiful Post-American Idol Home: