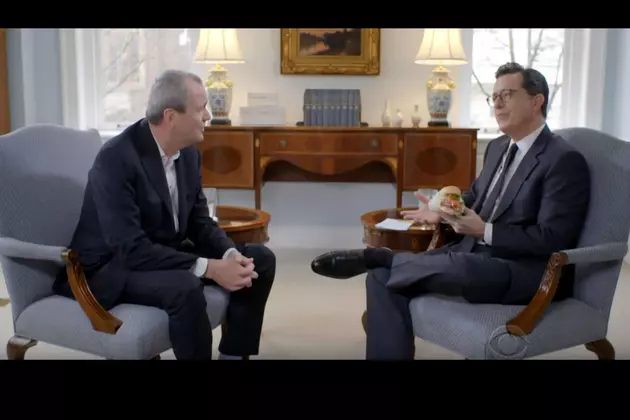 Stephen Colbert, Gov. Murphy & Jon Stewart on if Central Jersey exists
Colbert, Murphy & Stewart on big NJ debate (The Late Show with Stephen Colbert via Youtube)
One of New Jersey's timeless 'in-house' fights has made it to late night. Specifically, whether Central Jersey is indeed a 'real' region, wedged between the agreed upon North and South. Late Show host and Montclair resident Stephen Colbert rounded up Monmouth County's own Jon Stewart and Governor Phil Murphy to help sort out our squabble. There's also a few other folks on-camera, with some digs directed at all sides. You can watch the video piece below.
Ok, I have to share a few personal notes, upon review:
-Yes, it seems to have been shelved for a bit, as there's snow outside Colbert's window. To be fair, it could have been taped as recently as March.
-Governor Murphy has earned a bit of a reputation for dad jokes. His offering of the 'Taylor pork' compromise should be added to the tally.
-Some of the Youtube comments are worth reading. TheCstar07 commented "Central New Jersey is as real as Wakanda." Kevin Connaghan pointed out the extra irony of the Governor living in Middletown, where there's "2 high schools, North and South." And, ACkinman was glad Murphy avoided compromise slang on 'sub versus hoagie', saying "If he called it a Soagie, I'd have flipped my table."
Proud Jersey Girl Erin Vogt's first reporting gig involved her Fisher Price tape recorder. As a wife and momma of two kiddies, she firmly believes that life's too short to drink bad coffee.  A fan of the beach, Dave Grohl and karma, in no particular order.