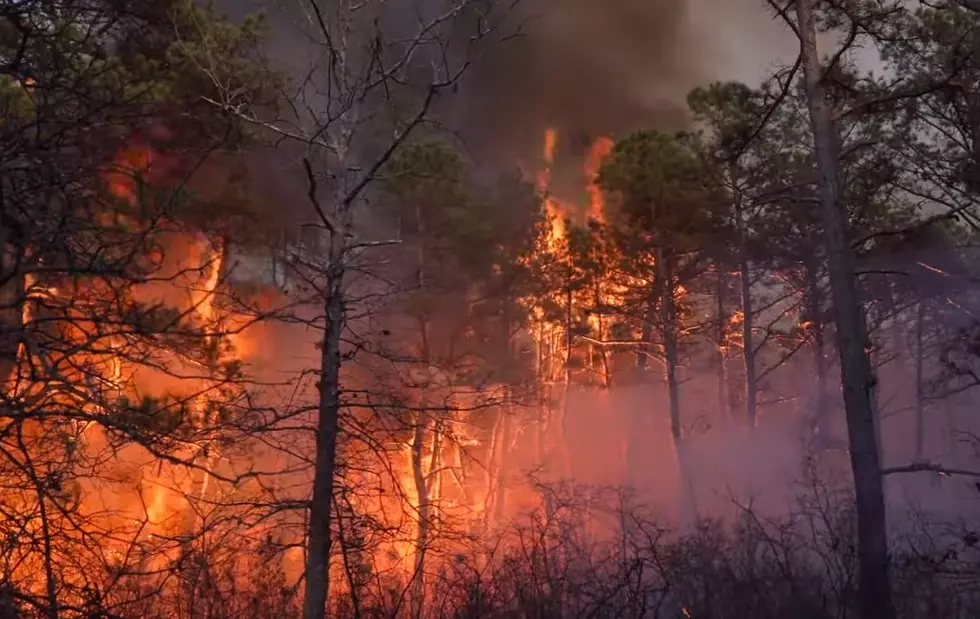 Fire Crews Battling 600 Acre Wharton State Forest Wildfire
Stock fire footage/screenshot/NJ Forest fire Service
A fire that broke out Sunday in Wharton State Forest is now impacting 600 acres and is 10% contained, according to the New Jersey Forest Fire Service.
The wildfire began in a remote section of Wharton State Forest along the Mullica River.
The first word about the wildfire came at 12:24 pm Sunday in a tweet from the New Jersey Forest Fire Service, saying the fire had consumed about 100 acres.
By 7:30 pm Sunday, the Forest Fire Service estimated that the fire had now increased in size.
The New Jersey Forest Fire Service continues to fight a wildfire fueled by dry and breezy conditions in Wharton State Forest - Washington, Shamong, Hammonton & Mullica Townships - which has reached 600 acres in size and is 10% contained.
Forest Fire Service crews continue to conduct a backfiring operation to aid in containment.
Much of the Pinelands was under a high risk of fire today with the dry and breezy conditions making for ideal fire weather.
Because of the wildfire, Batsto Village, the Mullica River Campground, and Mullica River Trail are closed.  Boat launches along the Mullica River are closed from the Atsion Recreation Area to Batsto Village.
All associated hiking and mountain bike trails are closed to visitors, according to the NJ Forest Fire Service. Pinelands Adventures has suspended kayak and canoe trips. The Paradise Lakes Campground has been evacuated.
The NJ Forest Fire Service says six structures in the Paradise Lakes Campground are threatened by the fire. Volunteer firefighters from Atlantic and Burlington counties are onsite providing protection to the buildings.
There are no reported injuries.
Photos of Some of South Jersey Firefighters Most Memorable Fires
Photos of South Jersey firefighters fighting fires and coming to the rescue when called.
Amazing South Jersey Restaurants You've Seen Featured on TV