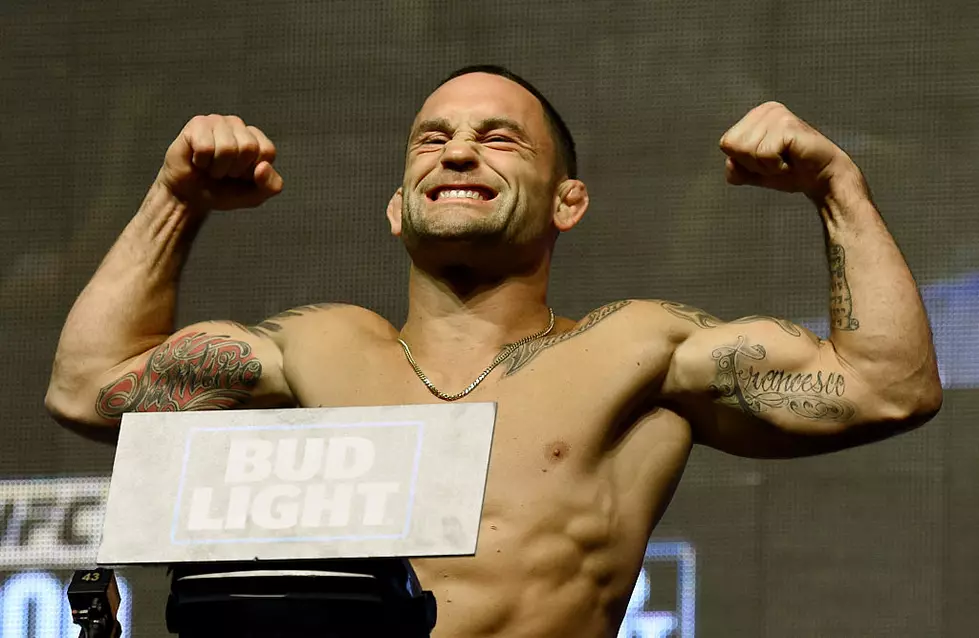 Frankie Edgar discusses Toms River, NJ roots, UFC career, and what's next
Frankie Edgar (Ethan Miller/Getty Images)
It's been a long, successful, and storied, MMA/UFC career for Toms River native and Toms River High School East Alumni ('00) Frankie Edgar who is now taking time out to reflect on all those who've helped him get to this point and what's next.
It all started when Edgar was 13 years old with wrestling and then into high school where he wrestled under legendary and hall of fame coach Warren Reid.
"I was lucky to be in Reid's presence and end up in his room, to be honest with you, he's a special individual, and obviously the only coach at high school east, still there. He has a storied career himself and he's just such a hard-nosed guy and an old-school kind of guy and just taught you the basics of how to get it done, how to be gritty and that stuck with me forever," Edgar tells Townsquare Media.
It was in the wrestling room at east, where his athletes learned to be tough as well and do what was asked of them.
"A story I always tell about Reid is he would get on us for a little bit, maybe guys were slacking in practice -- he got up, he said 'man, if my coach told me to run through a wall, I'd run through a wall' -- and I was like, 'point to the wall man, I'm running. I knew to get it done, he was like go hard or go home, there's only one speed to do this and he's still that guy, he still works out every day, he's still coaching every day -- he's a special person," Edgar said.
The workouts in high school were physically demanding but prepared Edgar and so many others over the years for success.
"I remember it like the back of my hand -- run 2.2-miles, then you go 12-sets of stairs, come in and do pullups, Oklahoma 12's which is like a circuit with a crowbar, do your lift, jump rope, and then you come and practice for about 2.5-hours," Edgar said. "If you put the time in if you did everything Reid wanted you to do, you were 100 percent prepared for that match."
In the years that have followed, Edgar has continued to prepare on all fronts and workout hard doing what he needs to to get ready for a fight -- about 8-10 weeks of prep -- and continue to build on strength and endurance.
In addition to strength and endurance, he has developed a phenomenal ability to read his opponent in the octagon.
When he is in the octagon, he knows what needs to be done and goes after it.
"I'm not a big videotape guy, I watch everybody I fight, just because I'm a fight fan, so I always watch fights, so I know the style of the guy I'm going to fight because most times I've seen them fight before but I'm not a big guy to sit down and dissect everything but my coach Mark Henry -- he's like the mad scientist, he sits there and breaks down everything and conveys it to me, texts me in the middle of the night, some stuff I should look out for, some stuff I should exploit or do well myself," Edgar. "I like to worry about what I do most, it's good to know what he does good to have your team have you aware of some things to watch but I got to worry about myself mostly."
Win or lose, Edgar is always self-evaluating what he can do to build on what works and improve areas that need to be improved.
"You could learn from fights you lose and you win, you got to look and see how your opponents are exploiting you in a fight and say 'okay, how can I adjust to make sure that doesn't happen again, you always got to learn from past fights," Edgar said.
Through a compiled record of 24-10-1 over the years in UFC, Edgar has found some dominance in the octagon including some titles along the way.
One of the big ones was in 2010 at UFC 112 as he defeated one of the toughest opponents he ever faced in B.J. Penn.
"That was obviously one of the most memorable moments of my career reaching that top spot, being the best in the world is something I strived for since I was a kid, the first time I strapped the wrestling shoes on, so, to finally realize, to taste that achievement was amazing and to get it from a guy like B.J. especially -- and we became friendly over the years, we fought three times -- when I fought him at that time, he was like the boogieman, he was literally running through everybody in the 55-lb division, knocking 'em out, licking their blood off his gloves, and he had like an aura about him," Edgar said. "I remember, I knew I wanted the title, I knew that's the guy I wanted to fight but when you finally got it, it's like Woah, I'm actually going to fight B.J. Penn, wow. It took some self-convincing to know I could beat him too because the media wrote me off, which I don't blame them, I was kind of a nobody at the time, I think I might have been an 8-1 underdog at the moment."
Edgar has fought some tough opponents over the years including Penn, and there are still a few he recalls as just the toughest of the toughest.
"I'd say (Jose) Aldo -- Aldo was very fast, quick guy, hits hard, good feet, hard to take down. Max Holloway, a very big, long-range guy -- I think both of them are solid, solid fighters -- even (Corey) Sandhagen, it was kind of a quick fight I had with him, didn't quite get to mix it up with him but he's definitely a special guy," Edgar said.
It's been a long and successful career for Frankie Edgar, but even after losing both his fights in 2021, he's eager to get back in the octagon, at least one more time.
"I'm in the gym, I'm always training and I'll probably get in there before the end of the year, I'm hoping to," Edgar said. "This past year was a little rough, obviously two losses, I had two surgeries that year too. Now I got a couple of good months under me, been feeling pretty good, so maybe jump in there for another one before the year's over."
What happens after that next fight?
"Honestly, if I could, I'd fight forever, I really would, I enjoy it, it's not working to me, but I don't want to be selfish to my family so I probably got one more in me," Edgar said.
You can listen to the full conversation Frankie Edgar had on 'Shore Time with Vin and Dave' on 94.3 The Point and 105.7 The Hawk on Sunday with myself and Dave Crossan, right here.
Here Are Some of The Benefits of Playing High School Sports
KEEP READING: NJ Athletes Who Played Games In NFL
KEEP READING: NJ Athletes Who Played/Coached in NBA and MLB