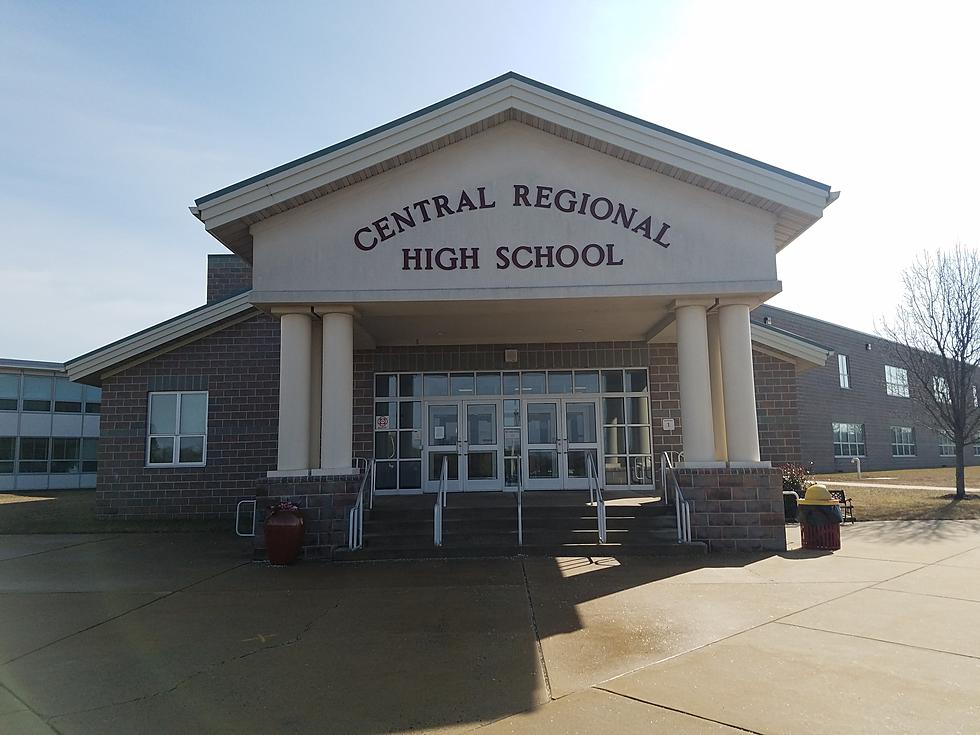 From Central Regional to Hollywood: How Parlapanides brothers made it big
Central Regional High School. (Vin Ebenau, Townsquare Media NJ)
Enter your number to get our free mobile app
Dreams aren't just the scenes that play in our heads when we're sleeping at night but the thoughts that drive us everyday backed by the support and mentorship of our family, friends, teachers and other community leaders growing up who have your back but more so instill in you the lessons you need to achieve success.
Vlas and Charley Parlapanides (their brother Dr. Triantafillos 'Tommy' Parlapanides is currently the Superintendent of Schools at Central Regional) have gone from the beautiful sunrises, sunsets and sunny summer afternoons in Ocean County and the Jersey Shore to the sunny skies and palm trees in California, because they've made it as Writers/Producers in Hollywood and are still climbing to new success levels while also never forgetting their roots.
"We love where we grew up, we feel that we were very blessed and very fortunate to have been raised in Seaside Park, to have been raised in a working class family and there are so many values that were instilled in us and ones that we still hold dear to this day," Vlas tells 92.7 WOBM News. "We love reminiscing and thinking of the Jersey Shore and our time at Central Regional."
"We feel very blessed to have grown up in Ocean County and it's an amazing place to raise a family," Charley tells 92.7 WOBM News. "Now that we're fathers, we really appreciate how lucky we were because, what was great was that it was still this small town, blue collar feel but New York was 1.5 hour away, Philly was 1.5 hour away and the summers at the Shore were great and just magical, magical times."
While we're growing up and pursuing our dreams and goals in life, there are certain few people who come along who want to help us along the way or even just provide those words of encouragement and a way to tackle the challenges ahead.
"We wouldn't be where we're at now without the people we got to know and meet growing up because they instilled the work ethic that we feel has helped us succeed in this business," Charley said. "I'll never forget Mr. Mike Clemente at Central Regional who was my history teacher and also our basketball coach and the football coach. One of the things I always tell people who ask 'what does it take to be a writer?' and I always tell them that if you want to write, you have to love to read. It's like saying I want to practice basketball without dribbling, you can't do one without the other. I remember reading 'The Guns of August' in his (Mr. Clemente's) class and he was really someone who encouraged us to read and I loved history and that just made a mark on me."
"No matter what advice you're given, it's what you see that really resonates and what we saw in Mr. Clemente was that he loved what he was doing," Vlas said. "That was something that was important, to stay true to ourselves and to find what we truly love and then pursue it."
Vlas also had more than one influence he feels helped guide him on the journey through life and was one of those guiding voices who recognized the potential he had to do well.
"Miss Caffora was my Spanish teacher, she was great, another person who was passionate about what she did, she loved what she did, she was so good at what she did and she wrote me a letter of recommendation and helped me get into Villanova," Vlas said. "When I read it, I was a little taken a back because I guess I felt it wasn't merited and she I feel was someone who saw something in me that I hadn't seen up until that point."
Their parents have always played a major role in of course raising the brothers but also instilling in them important life lessons and letting them know, they weren't going through any of their challenges or pursuit of dreams alone.
"We were blessed to have parents who believed in us and part of being successful is having someone believe in you and we had those parents but getting that affirmation from Miss Caffora for me was very helpful," Vlas said.
The lessons and stories learned by reading books and absorbing all the information in the classroom helped them develop their skills as writers, producers and expanded their creative minds but growing up at the Jersey Shore taught them how to have a thick skin and a no quit mindset.
"The biggest thing that we took from growing up in New Jersey was just being tough and not taking No for an answer and believing in yourself," Charley said. "That blue collar, tough New Jersey mentality just helps your survive in this business."
That tough New Jersey mentality has helped them overcome the rejection of the business and pushed them to work even harder over the years, all leading to multiple TV series, shows and documentaries including the show they just wrapped up called 'Blood of Zeus' which premieres on Netflix October 27.
The series is centered around one of the illegitimate children of Zeus, and his son Heron, who is tested and challenged to save the world.
(Article continues below 'Blood of Zeus' trailer)
"Greek mythology is not like the Bible, they didn't have an ecumenical council where they all sat down and said 'this is the one definitive version and this is going to be chapter and verse of these stories'," Charley said. "With Greek mythology there's lots of different versions of these stories. What we pitched was an oral tradition and because it was an oral tradition, some of these stories were never transcribed and some of them were lost and this is one of those lost stories."
The challenge was selling the idea to producers and using the character Heron helped the pitch become successful because he is someone many people may not know about with an interesting tale to tell.
"In Greek mythology half the characters are illegitimate sons of Zeus. Our main character, Heron, is one of them, but Heron just means 'Hero' in Greek so we created an original story where this person whose been told he's a bastard his whole life, he's told he's worthless and no good, finds out that he's the son of Zeus and wants nothing to do with Zeus because he feels like his mother and he have suffered and have lived as helots, which is the lowest class in the Greek world, but Zeus needs him to help undo some of his sins," Charley said.
Heron and Zeus are not the only familiar characters you'll recognize either when watching this show, especially if you are familiar with Greek mythology and/or watched the children's cartoon movie 'Hercules' growing up.
"We have the beloved characters that are so popular...we have Zeus, we have Poseidon, we have Hera, we have Hermes and Apollo and Heres," Vlas and Charley said.
There's also a deeper look into other characters, faiths and story lines as well in the series that all predate the Marvel characters and stories of the X-Men.
"Before them, there were the Olympians, they were the first superheroes," Charley said.
Vlas and Charley discuss more about their Ocean County roots and their new show, 'Blood of Zeus' in the video conversation here:
You can follow Vin Ebenau on Twitter and Instagram and email news tips to vin.ebenau@townsquaremedia.com.
Enter your number to get our free mobile app
Things I Am Looking Forward To Doing Post-Quarantine