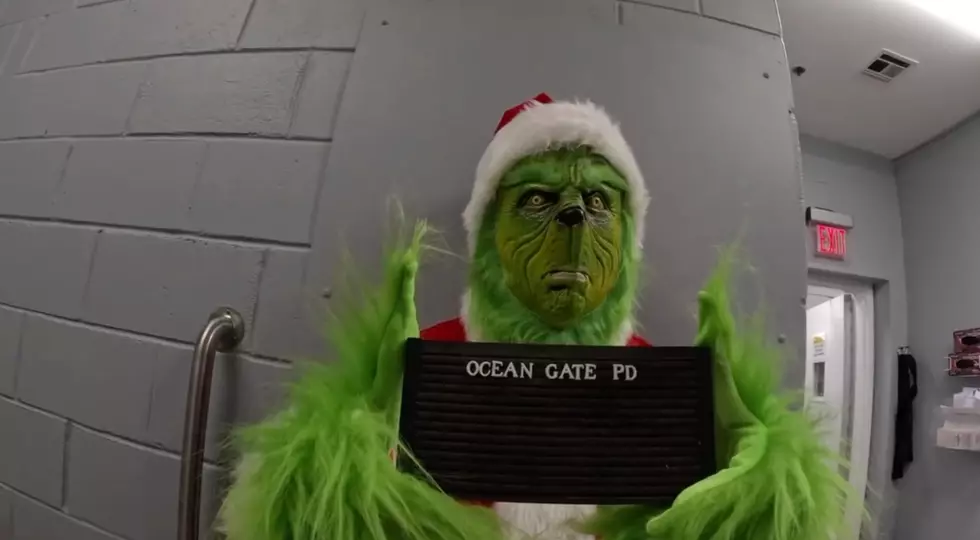 Come see Grinch perform community service after arrest for Theft in Ocean Gate, NJ
(Photo Courtesy: Ocean Gate Police Department)
The Grinch has committed one of the more brazen efforts to steal Christmas we may have ever seen here in Ocean County.
Ocean Gate Police have released surveillance video of the Grinch making his way into the municipal building on Ocean Gate Avenue and, with the lights out, trying to steal Christmas.
Police officers quickly arrived to apprehend the Grinch before he got away, placed him in handcuffs without incident and then they escorted him into a patrol car and over to police headquarters for processing.
Following his arrest, Ocean Gate Police Detective Lt. Vincent LaRocca said that he was charged with Theft and sentenced to Community Service.
"Chief Michael Kuchta wanted him to give back to the community and wanted him to hand out cookies and hot chocolate to the children, so that's what he's sentenced to do Thursday at 4:30 pm," LaRocca said.
All are welcome from within and outside the borough of Ocean Gate to bear witnesses to this community service and get some cookies and spread some Christmas cheer.
"We want everyone, as many people as possible -- all towns are welcome -- bring all the children, adults, everybody," LaRocca said. "We're just trying to get as many people together as we possibly can."
In addition, there will be ways that you can help with some community service as well.
"Anyone who wants to bring toys for the children, we will give out to the families in town that need them, so, toys are always welcome, you can bring them to the police department that day and we can hand them out as needed," LaRocca said. "If any families are in need of toys, they can come to us and let us know, we have a running list."
Everyone is asked to arrive by 4:30 for this event on Thursday outside of the Ocean Gate Municipal Building.
"All the police will be out here and then we'll bring the Grinch out, probably around 5:00 pm and let him start his community service," LaRocca said.
You can watch the video of the Grinch being arrested, right here.
Beautiful Christmas Homes On Display For The Holidays in Ocean County
Take a Peek at Some Beautiful Homes Decked Out For Christmas in Shawn Michaels Neighborhood in Little Egg Harbor, New Jersey.
5 Christmas Fun Ideas To Do With Teenagers
Peek Inside Colts Neck's Iconic "Christmas House"