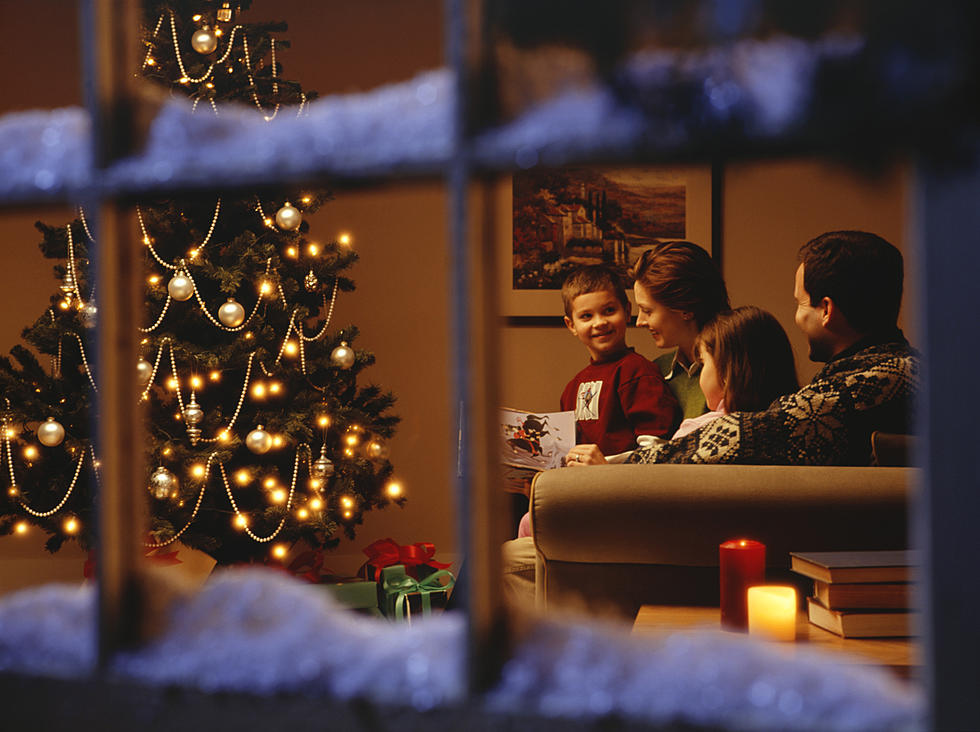 Here are the most heartwarming ways to make Christmas special with your kids in New Jersey
Getty Images
It's the most wonderful time of the year!
Doesn't Christmas make you feel like a kid all over again? There's so much excitement, anticipation, cookies and other goodies, gifts, Santa, family visits!
There's a lot of emotions and expectations that kids have in the weeks and days leading up to Christmas Day and then again when they wake up that morning.
Parents want to make Christmas special for their kids in the way that they enjoyed it growing up or perhaps, find ways to build on it for their own sons and daughters.
There's a bunch you can do to make Christmas time special and educational for the kids and ways to do it as well.
Dr. Stacy Doumas, Chief of the Division of Child & Adolescent Psychiatry at Jersey Shore University Medical Center with Hackensack Meridian Health, joined us on 'Shore Time with Vin and Dave' on 94.3 The Point and 105.7 The Hawk on Sunday morning to share some great ideas with all of you.
How can you afford to do Christmas activities in New Jersey this year?
During these difficult financial times for so many people and families right now, it's more challenging this year to make Christmas special on that front.
Perhaps, it's a way to step back and really focus on the important lessons of Christmas.
"I think that we really want to remember that the holiday traditions are so much more than the money spent on them, they're really about our time together whether that's with family or friends, and, the thoughtfulness that we put into what we do," Doumas said. "That might be time that we spend with other people in laughing and reminiscing. We want to capture that magic of the season and this time of year. We could find much less expensive ways to do that and the kids might not even know the difference."
One such example would be how you go out with the family to see all the Christmas lights.
"Instead of maybe an expensive light show this year -- because those can get very, very expensive -- maybe you go out and walk around the neighborhood and pick out your favorite houses or maybe you look up houses online that have great light displays and you go for a car trip and you find which are the family's favorites," Doumas said.
Another way to save money during the Christmas season is taking a look at your traditional expenses.
"Maybe you forgo all those individual gifts you were giving to co-workers, friends, extended family, adults, and, if you still want to spend time with them, you can do an inexpensive white elephant gift exchange, and then you can spend an hour playing games, swapping gifts with maybe a $5 or $10 gift that you have to bring," Doumas said. "And, if you used to serve food or go to an expensive restaurant, maybe you do a pot luck meal at your house so that everybody can be involved."
How you can help manage kids expectations at Christmas.
Whether or not things are difficult financially this year, kids are still kids and they have joyful expectations and wishes for how they want to spend Christmastime and what Santa may bring them as well.
There's a few things you can do for your kids to help them be happy and joyful and realistic all at the same time.
"I think we always want to listen to our kids hopes and dreams, but, always working to keep their expectations realistic. I think that that's something you kind of do year round with children, but, this is the time of year we (parents) also want to -- share in that excitement, I think we want to make sure that we're jumping in with them and feeling excited, maybe slow it down a little bit and help them understand all the joy that can also be found in the preparation, whether that's shopping or baking or decorating or preparing things that are going to make someone else happy or doing for others," Doumas said.
Cooking and baking with the kids is a perfect way to spend Christmastime.
"A lot of times, you can get the older kids involved if you put out the gingerbread houses or even graham crackers and stuff to make your own gingerbread houses and cookie decorating -- sometimes they'll all try to compete a little bit," Doumas said. "There's so many fun things that kids can do this time of year, whether it's things like baking or listening to music, letters to Santa, making ornaments -- some of the craft stores have $1 or $2 crafts that they can make -- game night, there's just so many things."
You can listen to the full conversation that we had on 'Shore Time with Vin and Dave' with Dr. Stacy Doumas on ways to spend Christmas with the kids and family this year, right here.
Conversation Part One:
Conversation Part Two:
5 Christmas Fun Ideas To Do With Teenagers
LOOK: Here are the 25 best places to live in New Jersey
Stacker
compiled a list of the best places to live in New Jersey using data from
Niche
. Niche ranks places to live based on a variety of factors including cost of living, schools, health care, recreation, and weather. Cities, suburbs, and towns were included. Listings and images are from
realtor.com
.
On the list, there's a robust mix of offerings from great schools and nightlife to high walkability and public parks. Some areas have enjoyed rapid growth thanks to new businesses moving to the area, while others offer glimpses into area history with well-preserved architecture and museums. Keep reading to see if your hometown made the list.
Beautiful Christmas Homes On Display For The Holidays in Ocean County
Take a Peek at Some Beautiful Homes Decked Out For Christmas in Shawn Michaels Neighborhood in Little Egg Harbor, New Jersey.