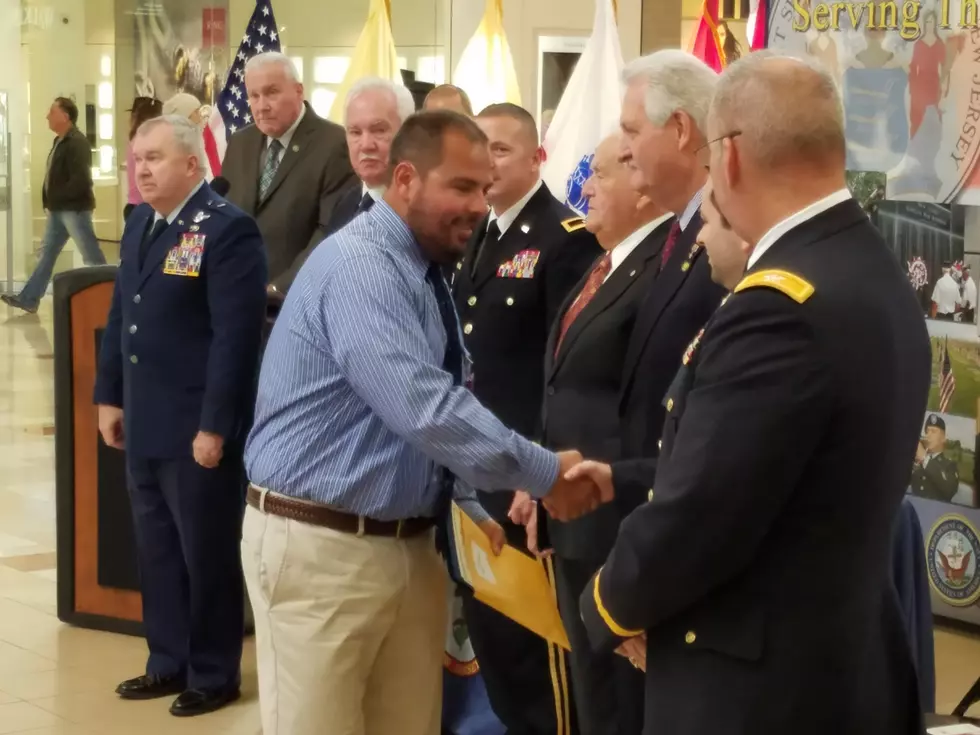 How we can better understand the challenges facing Veterans and honor their service
Military Veteran honored with medal in ceremony at the Ocean County Mall. (Vin Ebenau, Townsquare Media)
There's also more that we can do to help them by honoring their service with a daily gesture of gratitude and appreciation for their service regardless of when and where they served.
John Dorrity, who wears a number of hats in service to veterans, is the Director of the Ocean County Veterans Services Bureau, is a former Commander of the National Association of County Veterans Service Officers, is currently the President of the New Jersey Association of Veterans Service Officers but he says his fondest title is being a Vietnam War veteran.
Dorrity also serves on the Toms River Veterans Commission.
He explains that one of the biggest challenges facing Veterans today is making sure everyone understands the 3 departments within the Veterans Administration so they can receive the proper benefits.
There is the Veterans Benefits Administration who handle claims, insurance and education.
There is the Veterans Health Administration which cover the hospitals, clinics and vouchered medical services.
Then there is the Memorial Commission who help lay Veterans to rest and comfort their families.
Dorrity has been going to Claims Court for 40-years now on behalf of Veterans with a 95-percent winning percentage he said of helping service men and women win their claims and get the benefits.
In that time, Dorrity explains that there could be all the evidenced needed to win the case but Veterans biggest frustration is the timing of it, with no clear time frame of when they will be heard.
"In my lifetime I've seen it take a year for claims to process and prosecute through a decision good, bad or indifferent," Dorrity tells 92.7 WOBM News. "If it's good, that's great but if it's bad then I have to file a notice of disagreement and appeal and that's when it becomes cumbersome. You take a case that I can say on average will take a year or less."
He explains that the V.A. has done a better job with post 9/11 Veterans because these service men and women are coming back home with their medical records. It wasn't always the case with some of the older Veterans.
Now, for those Veterans who may lose their first case and appeal, comes another waiting period of uncertainty.
"If you have to go into the appeals process, in the old legacy type of appeal which is prior to January 1 of 2020, you could wait four years to see a Judge," Dorrity said. "I can only expedite it if the Veteran is at least 75 or the claimant/spouse is 75 or you'd have to be homeless or terminally ill or be in serious financial stress."
That's no longer the way things work though.
Nowadays, a Veteran has to provide more evidence to help speed things up including overdue bills, foreclosure notices and eviction notices.
On the plus side, while a Veteran is waiting, they can enter into the Virtual V.A. program.
"It's an I.T. move into the future where we hold a hearing through the Cloud on the computer," Dorrity said.
The move, ramped up due to Covid, can lower the wait time from around two-years to in some cases about 120 days.
There continues to be challenges facing veterans today though involving disability and compensation claims, how long it takes to be heard and what's needed to receive aid.
Evidence is the key to everything and having as much as possible to prove that an injury or medical condition you have know is a direct result of time spent in the military.
Danielle Cardoso, the Ocean County Veterans Services Officer for the New Jersey Department of Military and Veterans Affairs, that in some cases the V.A. will help you gather evidence if it's a strong enough claim.
"The V.A. is under law obligated to help you look for evidence if the claim is strong so if when you were in the service you complained of back pain and were voicing those complaints in service and now you have current back issues, then that's a substantiated claim that the V.A. then has to help you connect one and one," Cardoso tells 92.7 WOBM News.
However, if you didn't say anything or the proper individual didn't write down that you had some kind of pain in the service, you're on your own to find evidence.
"If you were in the service and had back pains and you didn't talk to anyone about it or they didn't put the complaint in your record, maybe you went to sickbay to complain about something and that person for whatever reason didn't write it down, especially for those who served a long time ago when records weren't kept as well, so maybe there's a scribble of something but nobody can read what it says now," Cardoso said. "The V.A. then isn't going to help you connect the dots so then it's on you to find your own doctor to say 'I think this was caused by service' and write a strong NEXUS letter to connect one and two together, which is difficult to do. It makes it harder to win those (disability) claims."
It's more the V.A. following the letter of the law than them saying no all together.
"They have to follow the law so if it's written there needs to be more evidence to prove this injury was caused by service and they don't have that, and it's no fault of the Veterans that they don't have that, but if they don't than it's not a claim the V.A. is going to be able to approve," Cardoso said. "At that point, you would have to appeal which can go all the way up to a judge. Once you have a hearing with a judge you can give your own testimony which then becomes fact because it's under oath."
That makes it easier to have a claim approved but the problem there goes back to the top of the article here in waiting for years to see a judge.
"At one point Veterans were waiting 5-7 years to see a judge," Cardoso said.
You only have a year to appeal a decision that doesn't go in your favor and if that time comes and goes, you would then have to re-open the claim all together and you would still need evidence.
One of the other challenges associated with disability claims and appeals comes if there's no evidence or not enough and you have to go out on your own to collect what you need to try and win the claim.
Cardoso explains that in order to file a claim you have to fill out an application (VA form 21-526ez) which helps start the process for looking at the injury in question and then you have to undergo a Compensation and Pension exam.
"If you put in a claim for your knee for example, the V.A. is going to send you to a doctor to evaluate your knee which helps them how much disability they're going to give you if they grant the claim but that doctor also has to give a medical opinion on if they feel based on the evidence and talking with the Veteran that this jury came from service," Cardoso said.
She explains that the V.A. has been contracting those exams out in recent years so Veterans don't necessarily have to go all the way up to the V.A. hospital in East Orange or down in Philadelphia.
As we honor those who have served, helped and protected us in the Military and as Veterans, we owe them a tremendous debt of gratitude, appreciation and should be doing what we can to help them.
Veterans who fought in Vietnam continue to recover as well and not just from any physical injury or wound they suffered but from the emotional scars they suffered, not just in Vietnam but in America, that haven't fully healed.
"When I came home from Vietnam in 1970, I went to Oakland, California then to San Francisco to come home and I got smacked in the face by a little old lady while I was in uniform," Dorrity said. "There were some people there that didn't agree with the Vietnam War, and I get that, what those people never got was that you have to separate the Warrior from the War, and I have no regrets about anything I did in Vietnam."
It wasn't any easier for Dorrity when he physically got back home either especially by people he grew up with in the community.
"I was ostracized mostly by the people I went to school with and a lot of other people," Dorrity said. "Everybody can talk a mean game but the guy or girl that's out there, now, in the field has to handle this stuff and they don't want to be there...who the hell wants to put themselves in the middle of danger?"
Many just wanted to serve their country, they weren't interested in the politics surrounding the War in Vietnam.
"We weren't fighting for the silly notions that came out of Washington or out of this country or from the media...I cared more for my gunner and my co-pilot and my pilot than I did about what the vote was in Congress that day," Dorrity said. "We were fighting for each other."
While issues with the Veterans Administration have resolved over the years, it wasn't always a welcoming experience for many Veterans and their families.
"After I came home (from Vietnam in 1970) I went to the V.A. for a job and for help and they told me 'We can't help guys like you' and I looked around and said 'Who the hell are you talking to, it's just me here, what did I do? I'm just looking for a job' and they couldn't help me," Dorrity said.
He then went to the State for assistance and "they basically threw me out too."
Since the Gulf War, Dorrity feels that things have changed and thawed in certain unappreciation for Vietnam War era Veterans.
"If someone would have said 'thank you for your service' back then it would have meant more than it is now, and I'm not saying people don't mean it now, I do but when people say it now, I don't know how to respond to them," Dorrity said.
There's been a lot of positive changes of mind, emotion and business for Veterans and the way people look at Veterans and Dorrity hopes that continues for years to come as well.
"What can people do to honor Veterans? We can think. We can tell them we appreciate what they did," Dorrity said. "Everyday is Veterans Day to anyone who served in the military, every single day."
You can follow Vin Ebenau on Twitter and Instagram and email news tips to vin.ebenau@townsquaremedia.com.
More From Townsquare Media Monmouth-Ocean:
Enter your number to get our free mobile app
Things I Am Looking Forward To Doing Post-Quarantine