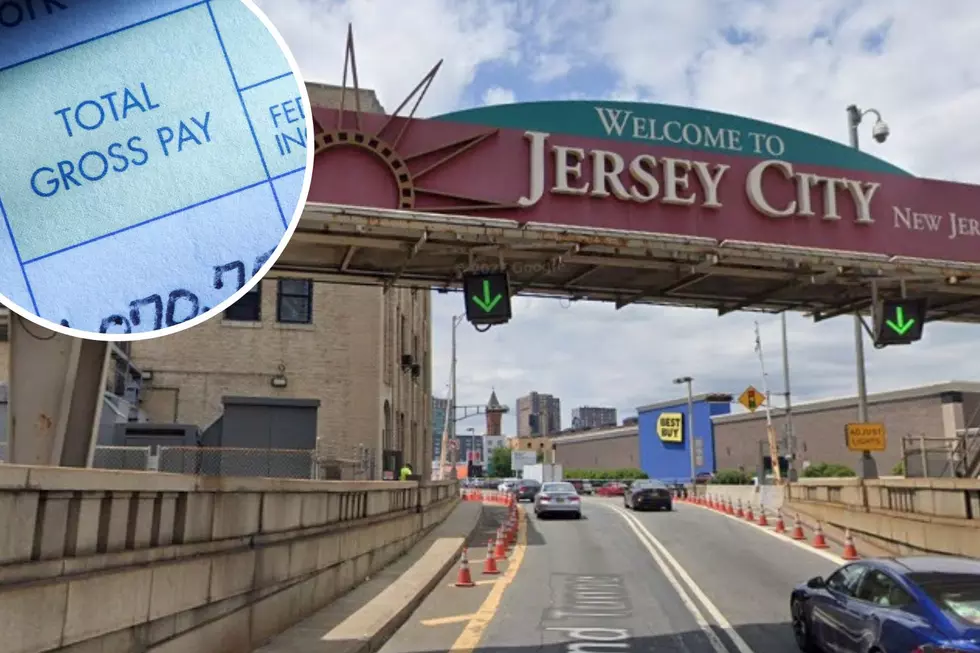 Jersey City, NJ still having trouble paying public safety workers on time
Welcome to Jersey City sign at the Holland Tunnel (Google Street View)
💲 Jersey City switched to a new payroll company at the beginning of the year
💲 A complicated schedule for public safety worker overtime was blamed for problems
💲 The city will cover any fees, overdrafts, and penalties incurred by an employee
---
Despite promises that problems that plagued Jersey City's payday two weeks ago would not happen again, some checks were still not right Friday.
The first payday under a new payroll company did not go well as many city checks were incorrect or funds were not available, especially for public safety workers. City Business Administrator John Metro said the Treasury Department worked all weekend to cut supplemental checks and make sure everyone got paid.
"At the next pay period, we have mechanisms in place to make sure it doesn't (happen again). We saw there weren't necessarily these issues with the fire department so we're going to follow that same model. We're committed to getting it right this time," Metro said.
It appears Metro and his team need more time.
The system is almost there
Police union president Joe Cossolini told The Jersey Journal that the new payroll would be 95% correct but is working with city officials to achieve 100%.
Employees again found problems with their checks on Friday but not as many as the first week, one unnamed employee told The Jersey Journal.
Another worker told the Jersey Journal that their check is missing hours, especially overtime. That was the biggest problem with payroll during the first week.
"The bigger issue with police was that we were dealing with over 25 schedules due to specialized units and different technicalities," Metro told City Council. A "finger punch" system that sent data to the wrong place contributed to the problem.
A city spokeswoman and several city council members on Friday morning did not respond to New Jersey 101.5's request for more information.
Dan Alexander is a reporter for New Jersey 101.5. You can reach him at dan.alexander@townsquaremedia.com
Click here to contact an editor about feedback or a correction for this story.
25 True Crime Locations: What Do They Look Like Today?
Below, find out where 25 of the most infamous crimes in history took place — and what the locations are used for today. (If they've been left standing.)
Big companies that survived, and thrived, after bankruptcy
There have been some big name brands that declared bankruptcy and built back, stronger — some with New Jersey ties.
From an automaker to theme park company and mall food court staple, here's at least six successful restructuring stories.
Don't say it: 6 words & phrases that should be banned in NJ
Some very Jersey things that shouldn't be.