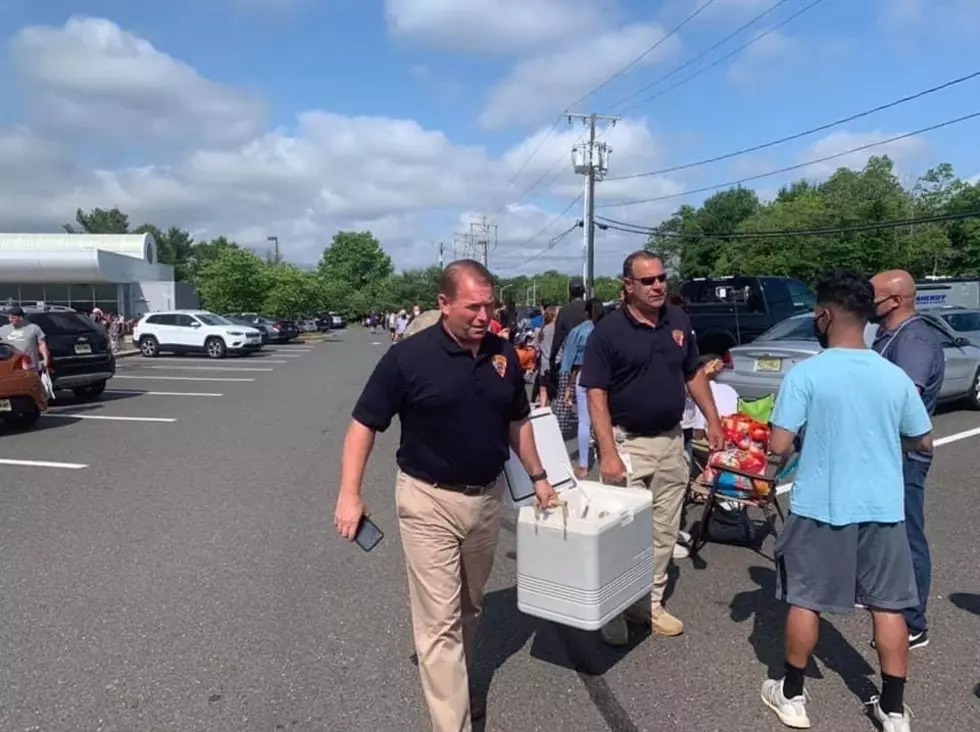 Sheriff Golden Brings Cold Drinks to Those in Long MVC Lines
(Photo courtesy of Sheriff Shaun Golden)
It's hot, it's humid, and the line at our Monmouth County Motor Vehicle Offices are out of control now that they have reopened. It's a nightmare.
It could be weeks or longer until these lines go down. But to wait over 5 hours in this heat is truly unbearable (and then some are still turned away!!!)
Monmouth County Sheriff Shaun Golden and Freeholders Director Tom Arnone are frustrated but not in charge of this situation. The governor and MVC need to work out this mess.
The Sheriff has come up with a list of ways that this travesty could have been prevented, or could now be improved (see below), but the only thing he can do for now is to deploy help with OEM staffers and police officers bringing ice cold relief and some tents for shade.
So, at MVC sites in Monmouth County, he's sent help to hand out cold water and ice pops just to keep people from passing out or becoming totally dehydrated as tempers mount and crowds (ironically) form.
Here are just some of the ideas Sheriff Golden has suggested:
-- Prioritize the older expired transactions and make notification of time slots
-- Break transactions down by segments alphabetically
-- Extend hours, add staff, and add locations using other state offices. (The governor has just announced that Saturday hours will begin a week from this Saturday.)
-- More online options for renewals
-- Waive road tests if students had private driving school instruction. Allow the professional driving school instructors to road test their students. (I personally LOVE this idea. So many teens who were banking on getting their license the day they turned 17 can not get a summer job because they can't drive themselves, and this is putting added pressure on families who were relying on their teens being able to earn their own money.)
Enter your number to get our free mobile app
Liz Jeressi's 5 Outdoor Restaurant Picks This Week