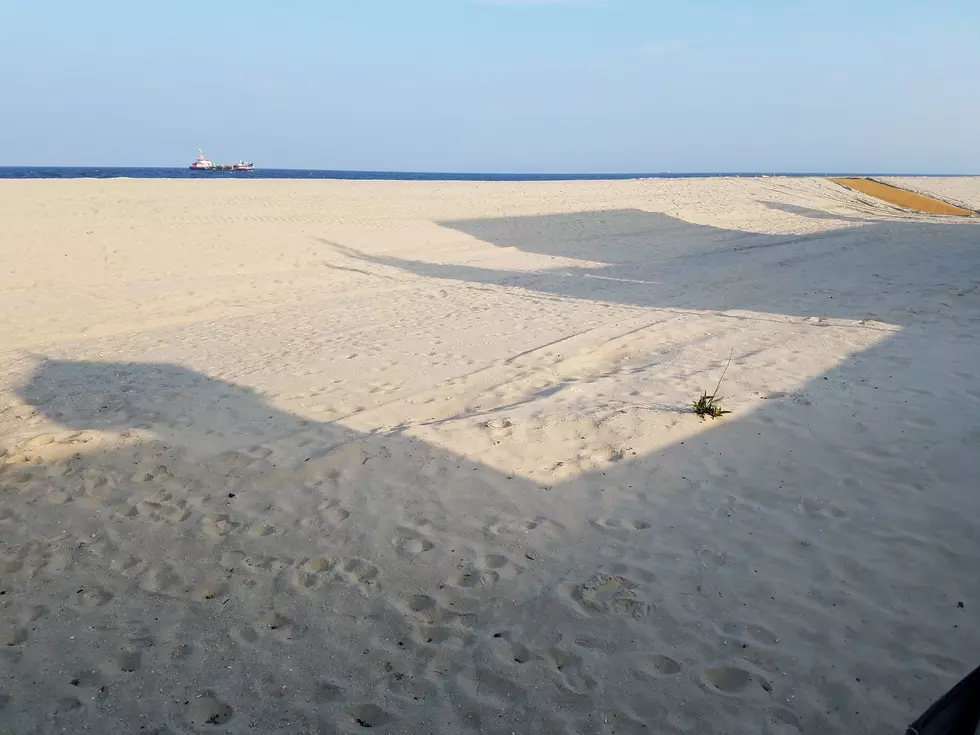 Ocean County, NJ government to help municipalities foot portion of bill for beach replenishment projects
Sand dunes on the beach. (Vin Ebenau, Townsquare Media NJ)
We are about to mark 10-years in about a months time since Superstorm Sandy ravaged the Jersey Shore and while conditions along the beaches have improved mostly over the years with higher dunes and other work being done, things are not all the way back.
It's been a 10-year battle for several municipalities who've run into unnecessary red tape in trying to build back up the beaches and provide protection for residents, homes, businesses, and the way of live in their Jersey Shore town and community.
Congressman Chris Smith, who represents a portion of Monmouth County and Ocean County in Washington D.C., was able to help secure some federal funds in January for these Jersey Shore towns in need of help.
"We've been pushing on beach replenishment and frankly, the Army Corps -- they are an amazing organization that do it right -- we've had meetings on the Shoreline a couple months ago, a couple months before that, couple months before that -- constantly trying to get more work done," Congressman Smith told Townsquare Media News in January. "We were running into a funding crisis with beach replenishment for the Manasquan Inlet to the Barnegat Inlet. They (the Army Corps of Engineers) were claiming that there was no money. I asked them, on January 5, by way of letter and correspondents and conversations to look at the infrastructure bill that had just passed that had a whole resiliency component to it, that that would be a great source of funding to do beach replenishment -- a five-year re-nourishment is what we're asking for."
Congressman Smith said that through the bipartisan Infrastructure Investment and Jobs Act­­ there was $30.2-million secured for beach replenishment work to be done here in Ocean County and the Jersey Shore.
So, after years and years of pushing for solutions to address beach erosion, dunes, and the sea life, municipalities in New Jersey, including here in Ocean County, will be getting beach replenishment work done.
The next challenge is paying for the rest of what is owed, and it's a hefty, hefty bill being doled out to the state and municipalities.
In Ocean County, the Board of Commissioners and 2022 Director John "Jack" Kelly announced that it's an estimated $60-million overall project beginning next year with the Army Corps of Engineers paying $30-million of that amount (thanks to Congressman Chris Smith) which would leave $30-million in the mailbox of the state and municipalities.
Commissioner Kelly said that Ocean County will foot about $4-million of that bill for the municipalities here along the northern barrier island -- Berkeley Township, Seaside Park, Seaside Heights, Toms River, Lavallette, Brick, Mantoloking, Bay Head, and Point Pleasant Beach -- that are getting work done starting next year.
"The county agreed to help the towns pay their share, splitting the $8 million local cost that otherwise would have been paid for only by the nine municipalities," Kelly said in a written statement. "We received a call from the local mayors and they asked us to help. There was an immediate consensus among the commissioners that we needed to help."
The issue was the focal point of a meeting between the County Commissioners and the aforementioned towns plus Point Pleasant Borough -- there for moral support, Commissioner Kelly explained.
It's not just Superstorm Sandy that left damage, there have been several storms of much less magnitude that have snarled Ocean County beaches in recent years as well.
"The beaches and dunes are vital to the protection of our towns and our residents," Ocean County Commissioner Deputy Director Virginia E. "Ginny" Haines said in a written statement. "The Board of Commissioners felt it was right to step in and help our communities bare this cost."
In this major beach replenishment project work will be done in the aforementioned towns in different allotments of funds:
· Bay Head: $714,000.00.
· Berkeley Township: $159,000.00.
· Brick Township: $450,000.00.
· Lavallette: $336,500.00.
· Mantoloking: $645,000.00.
· Point Pleasant Beach: $135,500.00.
· Toms River Township: $975,000.00.
· Seaside Heights: $375,000.00.
· Seaside Park: $191,000.00.
100 Best Jersey Shore Beach Views
Peek Inside The Mysterious Mansion On Middle Sedge Island
The Mysterious Mansion on Middle Sedge Island
READ ON: See the States Where People Live the Longest
Read on to learn the average life expectancy in each state.