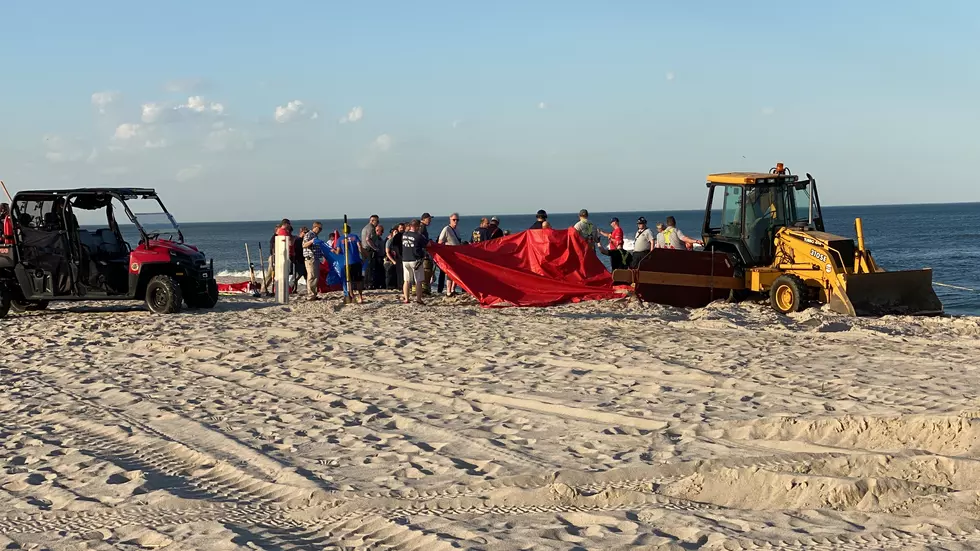 Ocean County, NJ officials urges caution on beaches following tragedy in Toms River, NJ
(Photo: Kyle Anthony, Townsquare Media NJ)
An investigation continues into the tragedy along the northern barrier island at Ocean Beach III in Toms River on Tuesday afternoon but local officials are beginning to urge all to be cautious and aware heading to the beaches in the days, weeks, and months to come.
What we now know, as of Wednesday afternoon, is that the two siblings were using frisbees to dig a hole in the sand, according to Toms River Police, and that the hole itself was approximately eight-feet deep.
18-year-old Levi Caverly of Union, Maine appeared to be in a crouched position, police said, when the sand collapsed around him and his 17-year-old sister who was standing at the time and was rescued and tended to at the scene without any physical injuries.
Toms River Police and Detectives were joined at the scene by the East Dover Fire Company, Ocean Beach Fire Company, Seaside Heights Fire Department, Seaside Heights Public Works Department, Silverton EMS, Hackensack Paramedics, Lavallette Fire Department, Lavallette Police Department, Lavallette Public Works, Ocean County Prosecutors Office, Ocean County Sheriff's Office, and the Toms River Technical Rescue Team.
"It was an amazing effort by all of our first responders and bystanders to try and rescue these children. Although our outcome was not what we had hoped for, we had great success in the rescue of one occupant," Ocean Beach Volunteer Fire Company Chief Drew Calvo said in a written statement on Wednesday. "The Ocean Beach Volunteer Fire Company and all of our first responders offer our deepest condolences to the victim's family and loved ones."
We are at a point in the year where beaches don't yet have lifeguards on duty ahead of Memorial Day weekend.
It's a reason why local officials in Ocean County are urging caution and safety for all who enter onto the beaches.
"When digging a sand hole, to be safe only dig one ankle or knee deep, so that if the sand collapses, you can easily escape," Chief Calvo said.
Chief Calvo also explained, in his statement, the inherent dangers of digging a hole any deeper than that to people on the beach is any number of scenarios following the Tuesday tragedy.
"We want to make sure this does not happen to someone else," Chief Calvo said. "We want everyone to be safe and have an enjoyable summer at our beaches."
Toms River Township Mayor Maurice "Mo" Hill released a statement as well on Wednesday following the tragedy on the sands of Ocean Beach III.
"Toms River is heartbroken for the Caverley family for the loss of young Levy. I can't imagine the pain that they must be experiencing. I commend all of our first responders who fought hard to save Levy and were able to rescue his sister.
I know that they are devastated that they could not rescue Levy.  The joy of saving the sister is mixed with heartbreak. The Jersey Shore is a place where families come to make memories, bond and enjoy all that the beach has to offer.
This tragedy is a reminder to us all to be vigilant for our loved ones safety in surf and on sand. Let me remind all of our beach goers, visitors and locals, to never dig more than knee deep in the sand. 
With all of the storms and beach replenishments we've had, beach sand is not compact.  Some call it "sugar sand."  Do not dig more than knee deep.  Doing so puts yourself and others at risk.
When our lifeguard are present they scan the beach during usual rounds for any digging lower than knee deep. They stop patrons from digging and fill the holes. They scan the beach at the end of shift for any holes left and then fills.
Tragically, this incident happened off-season when the beach was unprotected by our staff of lifeguards.  But even during the season, I implore all of our visitors, if you're going to dig, dig only knee deep."
First Responders Appreciation
How Firefighters training helped put out major fires
When Ocean and Monmouth County Police saved the day