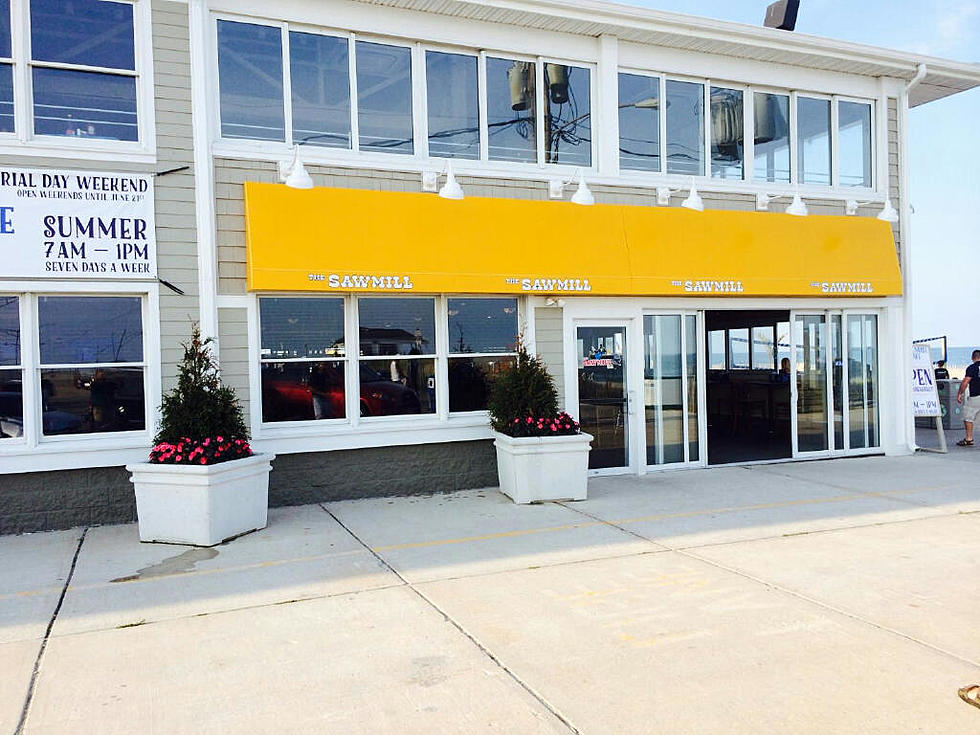 Sawmill among 3 Shore restaurants, 8 residents found violating executive orders
(732) 793-1990 1807 Boardwalk, Seaside Park, NJ 08752 SawmillCafe.com (Kevin Williams, Townsquare Media NJ)
There are eight Jersey Shore residents and three businesses facing charges or suspensions this week for violating Governor Phil Murphy's executive orders in place during the public health crisis.
Attorney General Gurbir Grewal and Colonel Pat Callahan, Superintendent of the New Jersey State Police, announced enforcement action taken this week on Friday afternoon.
The Division of Alcoholic Beverage Control issued charges against 20 bars, restaurants, breweries and liquor stores for violating executive orders related to COVID-19, announced AG Grewal.
All 20 face suspension of their liquor licenses for at least 10 days. Two other establishments were issued fines for lesser COVID-19 related infractions.
Under executive orders issued by Governor Murphy, businesses licensed to sell alcohol in the state are permitted to remain open during the COVID-19 state-of-emergency, but only for take-out or delivery services of food and alcohol.
No table or bar service is permitted, on premise alcohol consumption is prohibited, and alcoholic beverages "to go" must be in sealed original containers.
Here are the Jersey Shore establishments facing suspension for allegedly violating the orders:
Buteco Sports Bar in Long Branch
Old Glory Kitchen and Spirits in Keyport
The Sawmill in Seaside Heights
3-Jersey Shore residents are facing charges for alleged Assaults and Threats Against Police Officers, EMTs, or Others:
John Hendricks, 19, of Rumson, was charged by Middletown Police with terroristic threats during an emergency (2nd degree), aggravated assault on a police officer (3rd degree), resisting arrest (3rd degree), criminal mischief (3rd degree), and violating the emergency orders.
Andrew Jacome, 18, of Fair Haven, was charged with criminal mischief (3rd degree) and violating the emergency orders.
Colonel Callahan said that homeowners called police to report two people who were throwing rocks at their door, vandalizing their vehicle and exploding fireworks in their mailbox.
Police arrested Hendricks and Jacome.
Hendricks also allegedly attempted to flee and physically resisted arrest.
Callahan said that he allegedly screamed at the victim and threatened to return and burn their house down.
At police headquarters, Hendricks is accused of trying to kick police officers and spat on the floor, claiming he had the coronavirus.
Jaymee Tice, 37, of Point Pleasant Borough, was charged on April 26 by the Point Pleasant Borough Police with second-degree terroristic threats during an emergency.  Tice entered the driver's seat of an occupied vehicle while the driver was inside getting ice cream at Sundaes on Route 88.  The car owner saw Tice and returned to her vehicle. She managed to get Tice out, but Tice allegedly shouted at her, saying, "Do you want corona? Do you want to die?"
2-Ocean County residents were charged with alleged Violations of Executive Orders, Including "Stay at Home" Order, and Ordinances
Zachary Novosellar, 62, of Lakewood, was charged by Lakewood Police for hosting an engagement party at his residence on 14th Street.
Lakewood Police found 25 to 30 cars parked on the street and approximately 20 people standing in front of the residence, without social distancing.
Novosellar said he arranged for the parties to meet to pick up engagement gifts.
Janice Lauria, 52, of Point Pleasant, was charged by Point Pleasant Police with violating the emergency orders by ignoring repeated warnings from the police and allowing individuals to exercise in the gym she owns on Route 88, Anytime Fitness.
Violation of the emergency orders is a disorderly persons offense carrying a sentence of up to six months in jail and a fine of up to $1,000.
These violations are charged by summons, without arrest.
"We're cracking down on those who jeopardize public health and undermine public safety," Grewal said. "We have zero patience for those who spit on cops, gouge prices, or try to exploit this pandemic for their personal gain."
"Although law enforcement and medical professionals are on the frontlines of the battle against COVID-19, we are ultimately winning the war because of the extraordinary resolve and fortitude of New Jersey citizens who are doing their part day in and day out, abiding by the executive orders and sacrificing for the greater good," Callahan said.  "Those who choose to ignore the law and selfishly place others at risk will face swift law enforcement action."
Enter your number to get our free mobile app
READ MORE: Here are 10 ways to help others who are struggling right now