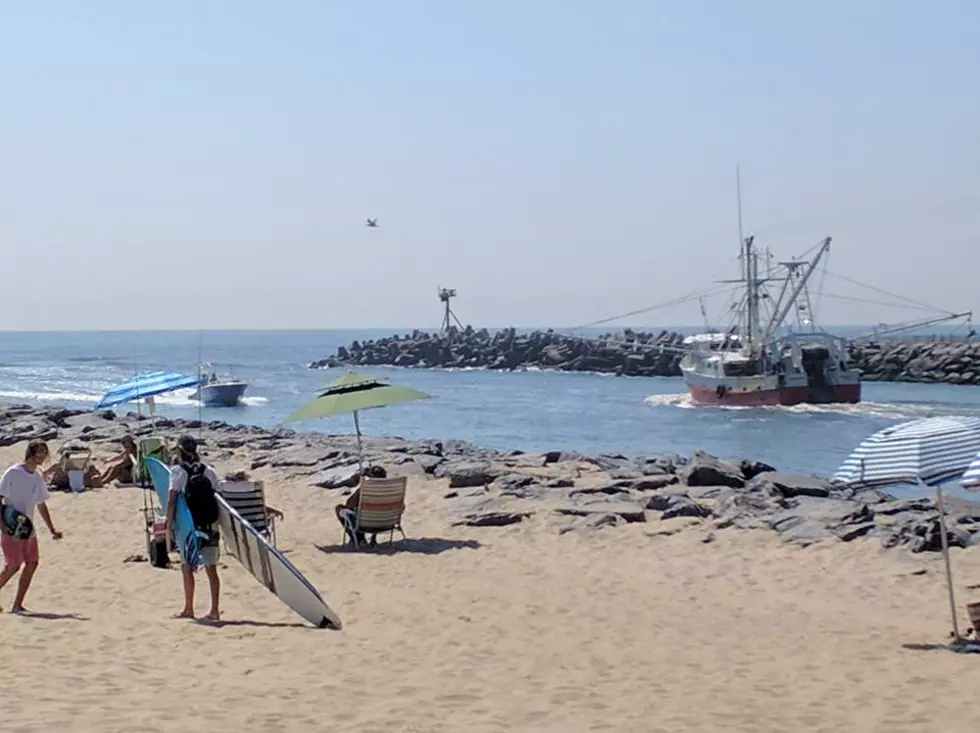 Some things going well for New Jersey coastline but many challenges still have to be tackled
Manasquan inlet (Bud McCormick)
When you look out to the ocean on a nice summer beach day, things seem relaxing, peaceful, and pleasant but on a rainy day, things at the Jersey Shore can sometimes look more meek and destructive.
While things have gone and are going well or better for the Jersey Shore environment and coastline, there are still some challenges ahead to improve the way of living for us and marine life, and so much more.
For a progress report on how things are going at the Jersey Shore, Tony MacDonald, the Director of the Urban Coast Institute at Monmouth University joined us on 'Shore Time with Vin and Dave' on 94.3 The Point and 105.7 The Hawk on Sunday morning.
To start, we go back in time, 10 years ago this month to the destruction and devastation caused by Superstorm Sandy on the Jersey Shore.
There have been improvements made in some areas, such as towns building up the dunes but other areas despite municipal efforts, were red flagged at the state or federal level when it comes to addressing beach erosion and concern.
There has been progress made since 2012 but there are still challenges that need to be addressed.
"We learned a lot and then we forget a lot, so, I think there is a certain kind of way that we live at the Jersey Shore that we're just so used to living that way and enjoy it so much, that we always want to hold on to it," MacDonald tells Townsquare Media. "I do think that we learned a lot, I would say the thing that's most apparent to me is that, in general, the public is much more aware and connects the storms with climate. That is a connection we were talking about but we didn't make a strong connection, so, I think there's a lot more awareness in the communities."
This will help individuals, communities, and others stay prepared for any future storms, MacDonald explains, so we can collectively respond better.
He is encouraged by the commitment level to address current issues and try and prevent future ones at the Jersey Shore.
"We've also seen some major commitments at the local and state level to actually try to elevate, not only awareness but strategies," MacDonald said. "We do have the state now that is committed to a climate resilience plan and an adaptation strategy, so, they're elevating that, they're developing programs to work directly with communities."
One of those partnerships includes the Urban Coast Institute at Monmouth University.
"We're working with the state and a lot of other partners to elevate not only the awareness of the risks but how communities might respond to them," MacDonald said.
There is a lot of work still to be done in the years of recovery following Superstorm Sandy.
"I think we've built a lot of things stronger, I think we're doing a better job at building, but that's mostly the new buildings or the people who have the money to elevate their buildings, so, we still have an awful lot at risk," MacDonald said. "I don't think we've quite learned that the easiest way to avoid risk is not to build in the way of the next storm. I do think that we have still not quite learned the lesson that we might actually want to build a little bit less in a homes way."
On the plus side, the beaches are in better shape than they were, MacDonald explained.
"From a beach perspective alone, we're in the best position we've ever been in," MacDonald said. "After Sandy, there was significant, significant money put into beach projects, so, I would say the beaches, in general, are probably in the best place they've ever been in, but, we have to recognize that that's not necessarily a long-term solution."
There has been a significant commitment to addressing beach erosion and other issues, and thanks to some funding on the way, beach replenishment work can get done in Monmouth and Ocean Counties, but more is needed.
One of the other problems exposed by Sandy is the issue of back bay flooding in that storm and some minor in comparison storms since then at the Shore.
"The problem is, we recognized after Sandy that a lot of the problems were in back bay flooding, a lot of the problems were actually flooding from the rivers, and, a lot of the damage wasn't done because of the flooding and back bay issues, so, all those communities that sort of got that secondary hit of all the flooding were the ones that were damaged the most," MacDonald said. "I think we recognize that we need to do a lot more on the back bays, a lot more with other things, and, that beach nourishment alone is not going to protect us against the next Sandy."
You can listen to the full interview conversation with Tony MacDonald on 'Shore Time with Vin and Dave' on 94.3 The Point and 105.7 The Hawk, right here.
Part One:
Part Two:
100 Best Jersey Shore Beach Views
37 New Jersey Restaurants So Good They Should Be Franchised
From the streets of Cumberland County to the sands of the Jersey Shore, there are many restaurants you know and love SO MUCH you think more people should be able to enjoy them.
The Most Succulent Seafood in Ocean County