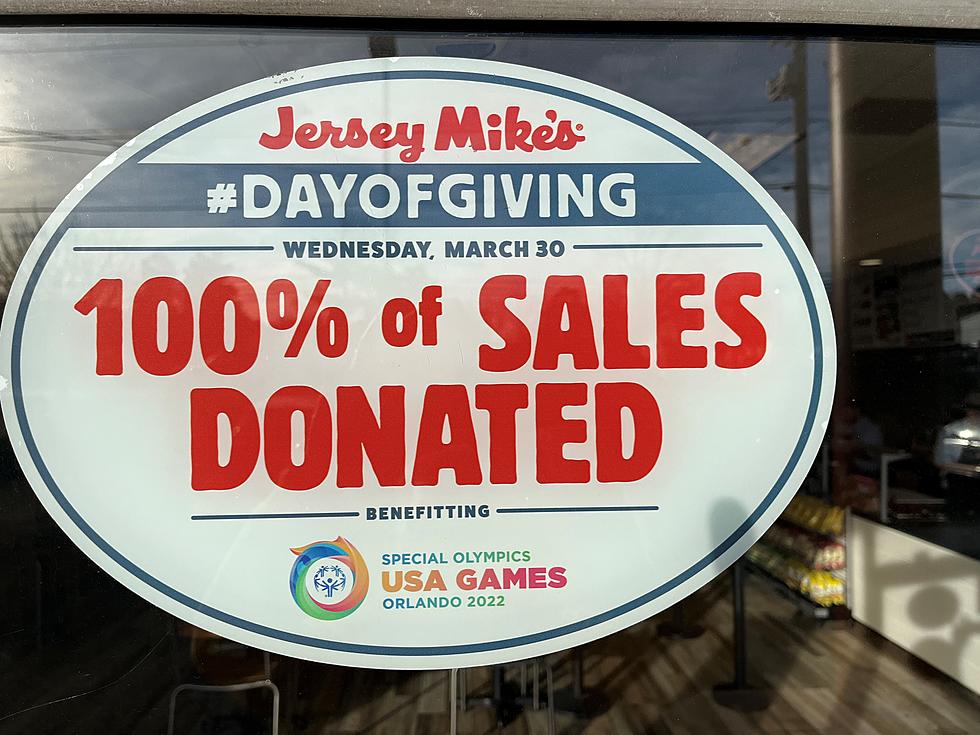 Support Special Olympics Wednesday at Jersey Mike's
Look for this sign at your local Jersey Mike's and buy subs and more
If ever there was a day to buy subs and more from Jersey Mike's then tomorrow is it.  Not just because they make great sandwiches (which they do) but because Wednesday is their annual "Day of Giving" which involves all of their approximately 2,200 locations across the country and is the culmination of the company's 12th Annual "Month of Giving" fundraising campaign.
In previous years the Manasquan-based company has had their individual franchises partner with local charities including hospitals, food banks, youth organizations and many others.  However for the first time all owners and operators nationwide are teaming up to support the same cause…helping local athletes attend the 2022 Special Olympics USA Games in Orlando, Florida.  Jersey Mike's is the presenting sponsor and there's a good chance you've seen a TV commercial featuring founder/CEO Peter Cancro whose involvement with the Special Olympics dates back to 1975 when he owned the original location in Point Pleasant.   Every four years more than 5,500 athletes and coaches from all 50 states come together to compete in the Special Olympics USA Games in 19 sports including swimming, gymnastics, basketball, tennis, track and field and many more.
Wednesday is the culmination of this month-long fundraiser as all stores nationwide will give 100% of the day's total sales (not profit) to help athletes achieve their dreams and goals by competing against others in Orlando from June 5-12.  Last year a record $15 million was raised and Jersey Mike's hopes to surpass that number.
So Wednesday make your plans to visit one of the three dozen locations in Ocean and Monmouth County.  Whatever you spend on hot and cold subs, chips, cookies, water and soda will be donated and will make a difference.  I have a lot of personal favorites…Club Supreme, Tuna, BLT, Famous Philly Cheese Steak…Roast Beef.  It won't be easy but I'll narrow it down to two…one for lunch and one for dinner.
The Jersey Mike's motto is Giving…Make a Difference in Someone's Life.  Wednesday is your chance to share in this..
20 Restaurants You Want To Eat At This Summer In Monmouth County