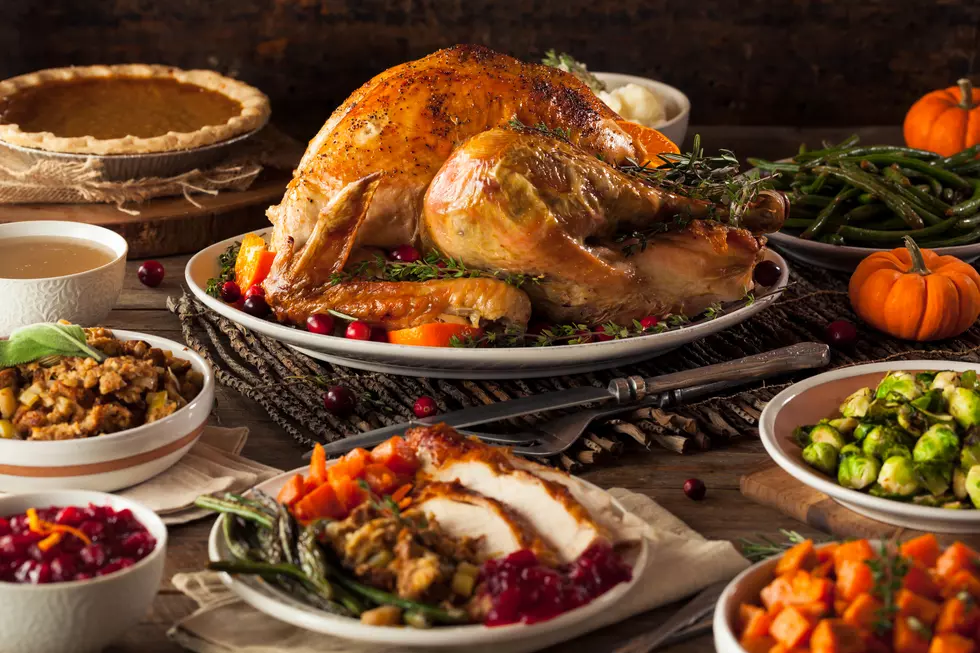 CDC Says To Bring Own Food & Drinks This Thanksgiving
bhofack2
We all saw this one coming.
The CDC has just released a new set of safety guidelines for families and friends to follow this upcoming Thanksgiving as COVID-19 cases continue to spike.
If the CDC had their way, everyone would be, "celebrating virtually or with members of your own household (who are consistently taking measures to reduce the spread of COVID-19)," because this type of celebration set up, "poses the lowest risk of spread."
But....enacting strict safety guidelines is the next best thing for now.
The first part is pretty of the guidelines are expected because it consists of what we have been hearing since March.
Do NOT have anyone attend your in-person Thanksgiving celebration if:
They have been diagnosed with COVID-19
They have been showing symptoms of COVID-19
They are waiting on COVID-19 viral test results
They  have been exposed to someone with COVID-19 in the last 14 days
They are at increased risk of severe illness from COVID-19 – including older adults, people with certain medical conditions that are at increased risk of illness, or live or work with someone at increased risk of severe illness.
When it comes to the celebration itself, the CDC is also urging residents to be careful about sharing food and drinks.
The CDC did state that there is "no evidence to suggest that handling food or eating is associated with directly spreading COVID-19," but it is possible to come into contact with the virus on various surfaces and then to touch your own mouth, nose or eyes and become infected.
We should remain aware of it since cases continue to spike.
So here is the second set of safety guidelines:
Encourage guests to bring food and drinks for themselves and for members of their own household only; avoid potluck-style gatherings.
Wear a mask while preparing food for or serving food to others who don't live in your household.
All attendees should have a plan for where to store their mask while eating and drinking. Keep it in a dry, breathable bag (like a paper or mesh fabric bag) to keep it clean between uses.
Limit people going in and out of the areas where food is being prepared or handled, such as in the kitchen or around the grill, if possible.
Have one person who is wearing a mask serve all the food so that multiple people are not handling the serving utensils.
Use single-use options or identify one person to serve sharable items, like salad dressings, food containers, plates and utensils, and condiments.
Make sure everyone washes their hands with soap and water for 20 seconds before and after preparing, serving, and eating food and after taking trash out. Use hand sanitizer that contains at least 60% alcohol if soap and water are not available.
Designate a space for guests to wash hands after handling or eating food.
Limit crowding in areas where food is served by having one person dispense food individually to plates, always keeping a minimum of a 6-foot distance from the person whom they are serving. Avoid crowded buffet and drink stations. Change and launder linen items (e.g., seating covers, tablecloths, linen napkins) immediately following the event.
Offer no-touch trash cans for guests to easily throw away food items.
Wash dishes in the dishwasher or with hot soapy water immediately following the gathering.
Man....I get the idea of social distancing and wearing face masks but bringing my own food to a Thanksgiving celebration? And what do suggest I do if I hate cooking?
I get we have to be cautious but man....my Mom's homemade cooking each Thanksgiving is one of the biggest highlights of the holiday.
There are also guidelines already laid out by the CDC in relation to staying our overnight or hosting overnight guests. Take a look at the guidelines HERE.
I know this is a lot to take in. But I do think the CDC just wants us to be careful as possible so we can be done with this pandemic already.
So do your best to celebrate while remaining safe and healthy.
Take a look at the original article at CBS46.com.
Things I Am Looking Forward To Doing Post-Quarantine