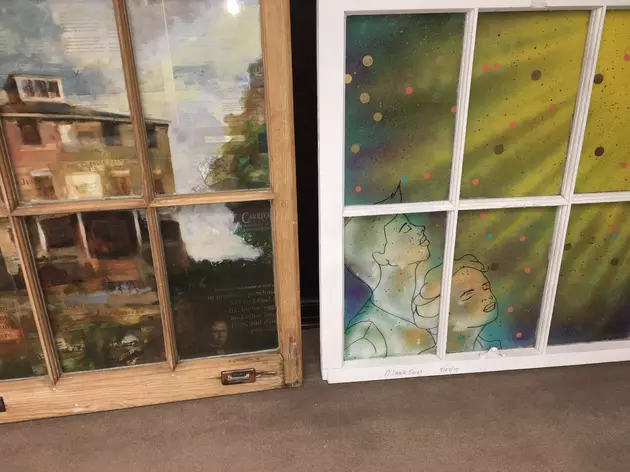 The new and improved ways of treating mental illness in New Jersey
To help create a compassionate environment, Carrier Clinic recycled windows of its old buildings to feature works from healing artists. (Dino Flammia, Townsquare Media NJ)
MONTGOMERY — Four nights a week, harpists roam the units of Carrier Clinic and play bedside for individuals battling the restlessness associated with a mental illness.
During the day, patients don headphones emitting acoustical sounds for 15 to 20 minutes, while sitting in a chair designed to focus on their chakras. Using a TENS (transcutaneous electrical nerve stimulation) unit, employees can stimulate one's hypothalamus into a normal state over an eight-day period.
Over 500 paintings, along with recycled windows (pictured above) and 3,000 new LED lights, help provide a healing environment for someone dealing with perhaps the darkest and most challenging moments of their life.
Known to be on the cutting edge of treatment strategies, the 350-acre behavioral healthcare campus is also in the development stages of breakthrough projects that could transform the way a manic or severely depressed individual gets on with their daily life, long after leaving the clinic's grounds.
The projects include a wearable device for clients, which emits six vitals on a second-by-second basis. After leaving the campus, professionals can track the data and predict if/when an individual may relapse.
Hoping to up the game in telepsychiatry, the nonprofit plans to embed facial recognition software that would allow psychiatrists to correlate facial expressions with diagnostic states.
"We take something that people feel is inferior and take it to the point that it could be superior to the normal experience," said Carrier Clinic President and CEO Don Parker. "We are comfortable with devices ... and all different kinds of ways of enriching our lives with technology. We need to learn how to use it with treatment."
MENTAL HEALTH IN NJ
New Jersey 101.5 is taking a special look at mental health issues, awareness and services in New Jersey — an effort to identify both the steps we can take together as a community, and individually to seek help.
— Thursday:
Defining the problem
— Friday: What care and services are available?
— Saturday: An afternoon with Pinups for Mental Health Awareness
— Monday: The stigma and how to overcome it
— Tuesday: What if a loved one refuses help?
— Wednesday: Receiving care ‹ and their lives are better for it
For the 900,000-plus New Jersey adults suffering from a mental illness (according to the latest statistics), the services and treatment available, and their effectiveness, have evolved significantly over time.
"In what I call the dark ages of mental health treatment, people were locked away in rooms in houses, and then later in a hospital," said Debra Wentz, president and CEO of the New Jersey Association of Mental Health and Addiction Agencies. "Today a majority of people who have mental illnesses live full lives in their communities."
And that's become possible through a broad continuum of treatment modalities, including alternative approaches such as those offered by Carrier, along with outpatient and day programs.
Treatment has moved away from a strict medical model, Wentz noted, and toward a holistic model that addresses social determinants of health — housing, transportation, child care and food insecurity, for example. If someone suffering from a mental illness is struggling to find a job or shelter, the odds of them attending a regular appointment are slim.
"Treatment also evolved greatly with the discovery in the 1990s of the newer anti-psychotic medications which enabled people to remain well," Wentz said. "There has also been a breakthrough in genetic medicine, which incorporates such areas as gene therapy, personalized medicine and the rapidly emerging new medical specialty, predictive medicine, and that entails predicting the probability of disease and instituting preventive measures to either prevent a disease altogether or significantly decrease its impact."
While the help is available, not all who suffer are lucky enough to access it.
According to Wentz, an annual average of 366,000 received mental health services between 2011 and 2015.
Though insurance coverage has expanded with the passage of state and federal laws, parity is not fully enforced, she said. The market is also dealing with a shortage of practitioners, which in turn means longer waits for individuals seeking mental health treatment.
"Many individuals in crisis go to emergency rooms, but so many of them are not well equipped to address mental illnesses," Wentz said.
From 2006 to 2013, ER visits for depression, anxiety or stress reactions increased 55.5 percent nationally, and increased 52 percent for psychoses and bipolar disorders.
"While New Jersey has great emergency screening centers that are available 24/7, they, too, have limited capacities and they're in need of additional resources to support mobile outreach and satellite offices," Wentz said.
Another barrier to individuals receiving the treatment they need — stigma. In our third part of this series, we'll discuss the reasons people may be reluctant to seek help, and whether the public perception of mental illness has made any strides.