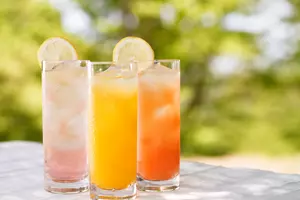 Top Bars At The Jersey Shore With The Best Refreshing Cocktails
kazoka30, Thinkstock
We got SLAMMED with the heat all at once so maybe you need some friendly reminders of the best places to cool off with a unique yet refreshing cocktail.
Well, we've got you covered.
Check out the impressive list below and let us know what you think!
Avenue
What To Try: Watermelon Smash - Fresh watermelon, agave syrup, a dash of tart from the lime, tequila
A bar overlooking the beach in Pier Village with a beach bar, rooftop bar, rooftop pool, oversized bed seating, and VIP tables.
McLoone's Pier House
What To Try: Raspberry Mojito - Tito's vodka, muddled fresh raspberries, mint, lime juice, simple syrup, and club soda
Oceanfront and upscale bar that is popular all year long but is absolutely bumping during the summertime.
The Robinson Ale House
What To Try: Jalapeno Pineapple Margarita - Don Julio, Cointreau, sour mix, orange juice, muddled jalapeno and pineapple.
This bar has a design of an ale house from the 1930's or 40's with a very festive bar scene and has quite the collection of craft beer.
Old Causeway
What To Try: 3 Hour Tour - Brinley's gold shipwreck coconut rum, pinch of fresh grounded ginger root, fresh lemon juice, and is served ice cold with a candied ginger.
This tavern is energetic and has amazing seafood, American fare, and has live music on weekends.
Parker's Garage
What To Try: Strawberry Basil Lemonade - a nice virgin drink with fresh strawberry juice, pure cane sugar, and a basil garnish that goes perfectly with a Parker's sunset and a plate of oysters.
This spot is a BYOB but has amazing food, virgin drinks, and view especially during sunset.
Salt Creek Grille
What To Try: Navesink Tea - Sweet tea vodka, lemonade, simple syrup, blackberries, and mint
This spot has amazing views of the Navesink River and some of the most friendly staff at the Jersey Shore!
Charlie's
What To Try: Guave Mojito - Bacardi limon, guava puree, fresh lime juice, hand-crushed mint, raw natural sugar, and club soda all served in a mason jar!
This spot is located just blocks from the beach and has outdoor decks so you can enjoy their food and refreshing cocktails while relaxing in the sun.
Drift House
What To Try: Watermelon Cucumber Martini - Hendricks gin, fresh lemon, watermelon, and cucumber
This spot is a triple threat with their celebrity chef, outstanding oceanfront location, and amazing cocktail list. There is no down side.
Barrio Costero
What To Try: Donde Esta Mi Pina? - Asbury Park gin, smoked pineapple, amaro, dolin blanc, and lemon.
Their restaurant name translates to "coastal neighborhood" and it is obvious that this phrase is embodies in their cooking and hospitality approach.
Reyla
What To Try: Reyla's Envy - tequila, mescal, cucumber, cilantro, pineapple, lime, and a house-made merlot salt rim.
This Eastern Mediterranean themed places has a food menu shaped by cuisines from Lebanon, Morocco, Turkey, Greece, and more! Add their carefully curated cocktails and you are set!
Black Whale
What To Try: Mint Strawberry Refresher - Saint Germaine Liquor, vodka, club soda, splash of lemonade, simple syrup, and a fresh strawberry
If you need to take a moment to duck out of the sun, you feel a sigh a relief come over you when you walk into their air conditioned yet relaxing atmosphere.
Check out the extensive list of refreshing spots at APP.com.