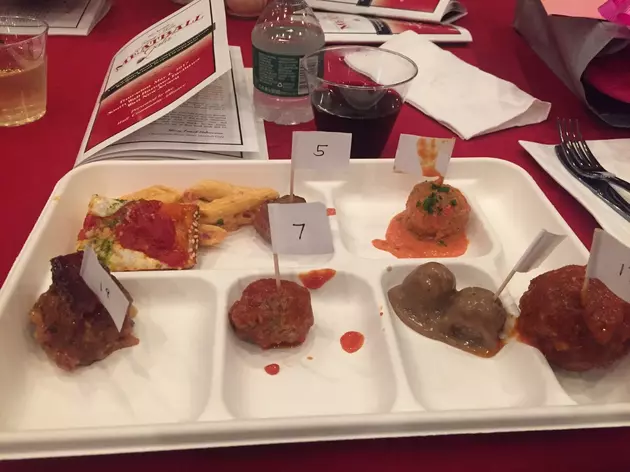 Best Meatball at the Jersey Shore: Results and Photos from this Great Night Out!
(Photo from liz jeressi)
Lou and I happily hosted the annual 5th Annual Meatball Gala in Wall Township last night, and here is the list of winners from the Monmouth and Ocean County competition!
Each year we host this fantastic event full of good meatball eating from wonderful area eateries. There is some SERIOUS judging from an esteemed panel, plus everyone who attends gets to vote. Here are this year's winners for Best Meatball in all the categories:
The RUNAWAY winner for BOTH the People's Choice Award and the judges pick for Best Meatball at the Jersey Shore: The Maple Bacon Bourbon Ball from Jersey Shore BBQ in Belmar!!!
But there were also some other big winners last night, and they had some totally delicious meatballs! Here they are:
Best Traditional Italian Meatball: Ponte Vecchio in Old Bridge
Best Seafood Meatball: The Southern Crab Ball from Simply Southern in Belmar
Best Asian Fusion: The Sweet and Sour Korean Ball from Hink's Turkey Farm in Manasquan/Wall
Best Innovative Meatball: The Breakfast Meatball from Turning Point in Wall
Best Gluten-Free Meatball: The Fried Meatball from Esposito's in Manasquan
Best Spicy Meatball: The Spicy Asian Meatball from Jimmy's Cucina in Brielle
Best International Meatball: The Chicken Cordon Bleu meatball from The Catering Wizard
Best Dessert Ball: The Tiramisu Ball from Fratello's in Sea Girt (I could have eaten about a hundred of them!)
Although the meatballs take center stage, this annual event (which sells out in advance every year) is actually for a GREAT cause called Project Graduation for Wall High School.
Wall High School Project Grad is an overnight event open to all students and graduating seniors.It's a way to keep the teens safe and allow them to have a great night out without alcohol, drugs, or car accidents. Many other schools that do this charge as much as $100 per guest.
Volunteers from the Wall Community Alliance spend all year raising the $15,000 - $20,000 cost of the Project Graduation Event. The Meatball Gala is the main fundraiser, and takes hundreds of volunteer hours to pull off.
So if you are interested in getting involved in next year's event, whether it's with your eatery's meatballs, as a volunteer, or purchasing tickets to attend before it sells out:  call 732-820-4792, email kmeyler@townshipofwall.com, or send donation checks to Wall Community Alliance, 1824 South M St., Wall, NJ 07719.