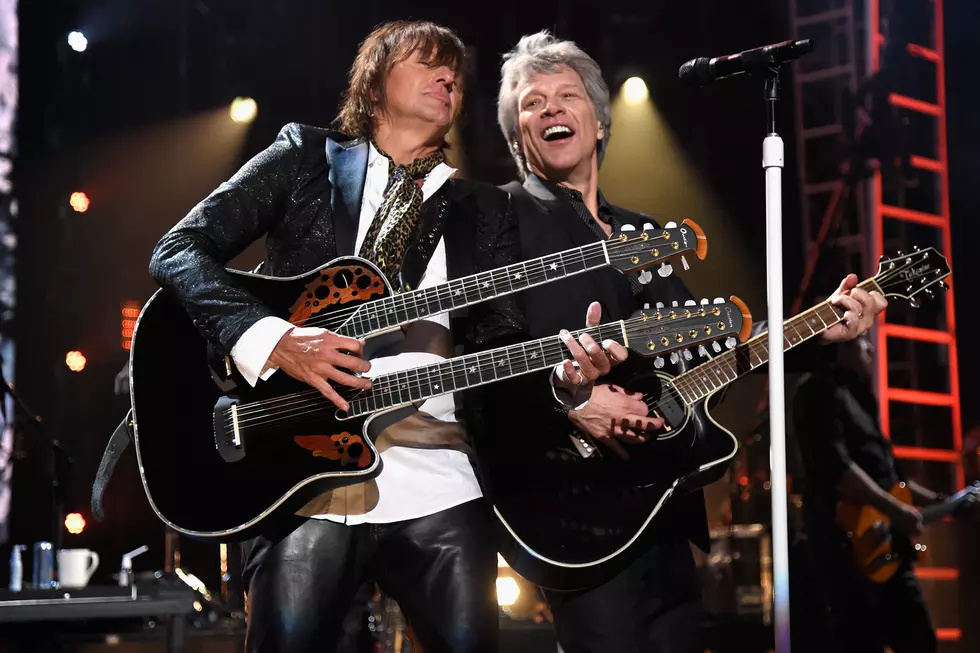 Bon Jovi Perform With Richie Sambora at the Rock and Roll Hall of Fame
Kevin Mazur, Getty Images
For the first time since March 17, 2013, Richie Sambora played with his old band Bon Jovi as they were inducted into the Rock and Roll Hall of Fame tonight.
Both Sambora and former bassist Alec John Such joined the band's current lineup for the entire performance, creating a one-night-only King Crimson-esque six-man double-bass, double-guitar lineup. Wisely, they didn't attempt "21st Century Schizoid Man," instead performing "You Give Love a Bad Name," "It's My Life," "When We Were Us" and "Livin' on a Prayer."
Despite being by far the most commercially successful band being honored tonight, oddly Bon Jovi was first to take the podium and stage. Perhaps part of the reason was that they were being inducted by notorious early riser Howard Stern. "I gotta go to fucking Cleveland," Stern explained when news of his participation broke. "I said, 'I'm gonna go, but I have to go to bed early.'"
Stern's speech - which in part compared Bon Jovi's record sales to various mass-fatality tragedies from across history - will be hard for the evening's remaining presenters to top in terms of both laughs and gasps.
Unlike most will-they-or-won't-they-reunite questions that lead up to the induction ceremony every year, Sambora's participation was settled quickly. Shortly after the Class of 2018 was announced, the guitarist revealed that he would be there. "It's the Rock and Roll Hall of Fame -- it'll be a joyous occasion," Sambora said. "I was there for 31 years and we sold 150 million records or something, and we put a lot of asses in seats in stadiums around the world and made a lot of people happy. I did so many different jobs in that band, so, yeah, I'm showing up for that. Everybody should have a smile on their face and a smile in their hearts and it should be a celebration of what we did."
Jon Bon Jovi was all for it, and said that the feud between them had been blown out of proportion. "He was my right hand for a long time," he said. "So there was never ill will, just like I told everybody. [He] just didn't show up anymore. We went on, but he was there for three decades and he should be there to celebrate the moment. So he'll be invited to join the rest of the band in all of the festivities."
During a break in Bon Jovi's 2013 North American tour, the band announced that Sambora would not be participating in the next leg due to "personal issues." Rumors that Sambora was fired because he was drinking again began to spread, but Jon said it was Sambora's decision and that he could return when he wanted.
But as they moved on without him, Sambora revealed that he left because he wanted to spend more time with his teenage daughter. As time went on, Jon seemed resigned to the idea of having permanently split with his longtime partner, but repeatedly insisted that there were no hard feelings between them.
In recent years, Sambora has been recording with his girlfriend Orianthi, releasing an EP, Rise, in September 2017, with a full-length album, Radio Free America, arriving on May 11.
The 2018 induction ceremony will be broadcast on May 5 at 8PM ET on HBO.
The Best Photos From the 2018 Rock and Roll Hall of Fame Induction Ceremony