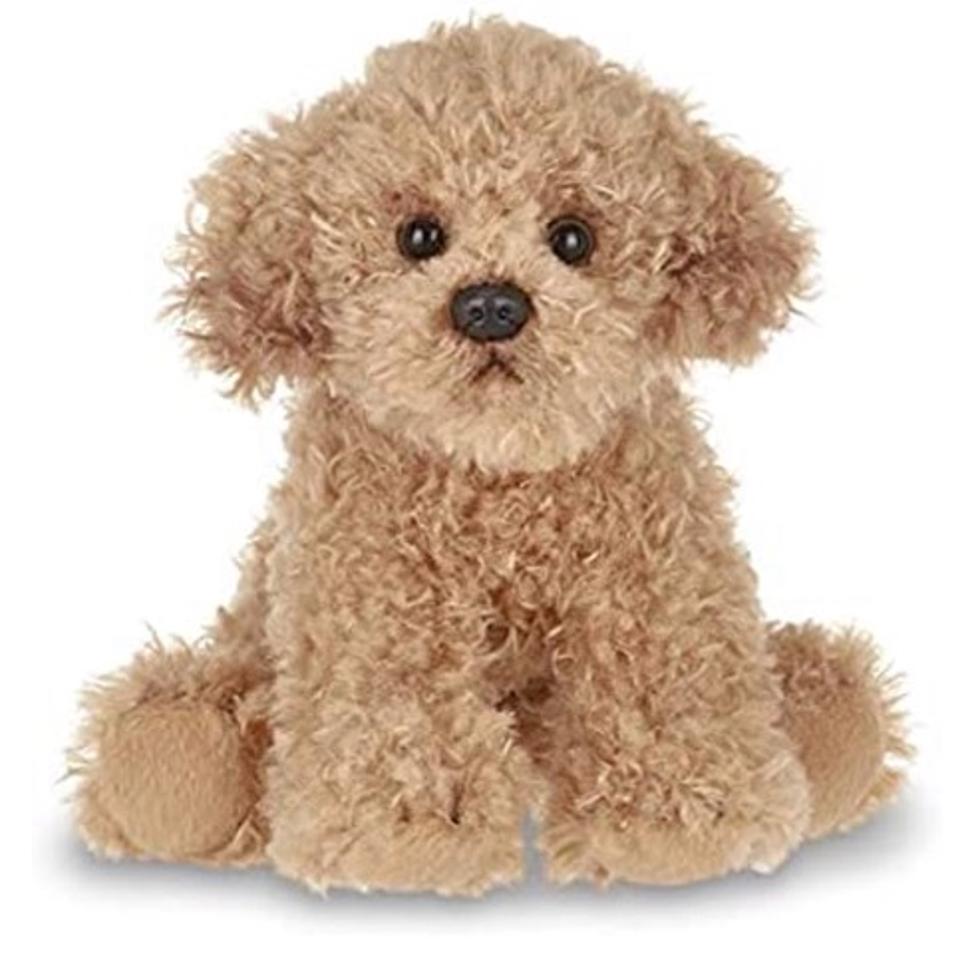 Book & Stuffed Puppy to Read to Young Kids About Covid-19
(Photo courtesy of Lynn Snyder)
Common Ground Grief Center in Manasquan helps children deal with the death of a loved one. This non-profit knows all about loss and teaching kids to cope. Now there is a special book and stuffed animal combo that you can get to teach your younger kids about the Covid-10 pandemic.
Lynn Snyder is the founder and executive director of Common Ground Grief Center, one of the most important organizations to exist in the Monmouth/Ocean area for children, teens and young adults who have suffered the loss of a parent, sibling, or close friend.
Lynn is a Licensed Professional Counselor, Registered Board Certified Art Therapist, and Fellow in Thanatology (the study of death, dying and bereavement.) She also serves as adjunct faculty at Monmouth University.
Through group therapy, art therapy, and so much more, this 'shelter in a storm'  beautiful house in Manasquan lets those who have suffered traumatic loss to feel physically and emotionally safe and understood by both professional counselors and trained moderators but, most importantly, to know that they are among peers who have been through the same thing and help them process their feelings
Common Ground also has a memory garden as a way to honor and stay connected to loved ones lost. This charming home (because it's so much more than just a 'building') offers free, open-ended peer support through your donations.
I adore Lynn and support all that she continues to accomplish for our community with her gift to those in need, and now she has a new book out that is just as important and necessary, especially for younger kids who are still trying to process the ramifications of this pandemic.
Little Ruby's Big Change is a story told through the eyes of Ruby, an 8-week old puppy who is adopted into her new home during the coronavirus pandemic. It weaves together a story about loss, change and hope. The book is meant to be read with a parent or adult caregiver as there are "paws for reflection" questions throughout, which help children identify their own feelings along with strengthening communication between parent and child.
The book and "Ruby puppy stuffed animal" is $19.99. If you would like to place an order, email lynn@commongroundgriefcenter.org.
And now for something else so heartwarming.
Common Ground Grief Center will now be able to hold their peer group grief sessions at  Allaire Community Farm in Wall Township (another non-profit that I love).
Since social distancing became the 'new norm' back in March, Zoom had to take the place of live support groups at Common Ground. Lynn and the staff began looking for a  creative and innovative way to help those families who needed the support and connection that only being among peers could provide.
"Our hearts hurt at the fact that we couldn't be there to support so many  children  and teens who were grieving. The calls for services kept coming in."
With a connection made through a board member to JoAnn Burney of Allaire Community Farm, Lynn asked both her facilitators and the families who were involved with Common Ground how they would feel about returning to their support group in person. She received an overwhelming response in favor of holding in-person sessions.
What a challenge in times of social-distancing to hold group therapy. That's when Lynn reached out to JoAnn about holding these sessions at Allaire Community Farm, a nonprofit animal rescue with a mission of inclusion. Their use their rescued animals and working farm to 'nurture through nature' -- special needs adults and children, at-risk population, veterans with PTSD and families battling cancer.
Lynn says of JoAnne and Allaire Community Farm,
"Joanne was  so incredibly gracious and couldn't have been more accommodating and giving to our needs. She showed me around the farm and offered any of the various spaces to run our groups on her beautiful property. And she offered this free of cost to us!"
Lynn is delighted that Common Ground Grief Center will now be able to now offer group therapy in a safe way at Allaire Community farm for the fall. She says the groups will be a hybrid of what they had been doing in the house in Manasquan and instead will have a 'camp-like' feel. (Once the cold weather hits, they'll need a 'Plan C' for a larger indoor space which she is working on securing.)
Lynn would like JoAnne Burney and everyone else at Allaire Community Farm to know this:
"Allaire Community Farm was the answer to our prayers. We couldn't be more grateful and thankful to JoAnn. She does so much for so many local nonprofits, all with a smile on her face  and her heart set on the intention to help others."
If  you would like to volunteer or lend your financial support to Common Ground Grief Center,
CLICK HERE
and
HERE.
If you would like to volunteer or lend your financial support to Allaire Community Farm,
CLICK HERE
 and
HERE
.
Enter your number to get our free mobile app
7 Ways To Manage Anxiety/Depression During COVID-19 Pandemic