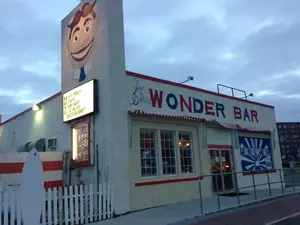 Bruce Watches Giants At Wonder Bar
Wonder Bar in Asbury Park (Lou Russo, Townsquare Media NJ)
Was that Bruce Springsteen watching the New York Giants game at the Wonder Bar yesterday?
Well, according to TMZ it was Bruce catching some of the Giants game at the Wonder Bar yesterday, and according to them, he grabbed a beer and burger as well, although I don't know how anyone, even Bruce, could have any kind of appetite watching the Giants.
No one has been a good luck charm for the Giants, and Bruce was no exception yesterday, as Big Blue suffered a crushing defeat on a last-second field goal. If Bruce can't even help the Giants, we might as well pack it up and dream of next season.
According to the TMZ report, Bruce cruised up on his motorcycle to catch some of the game and grab something to eat. How cool is that?
More From Monmouth & Ocean Counties