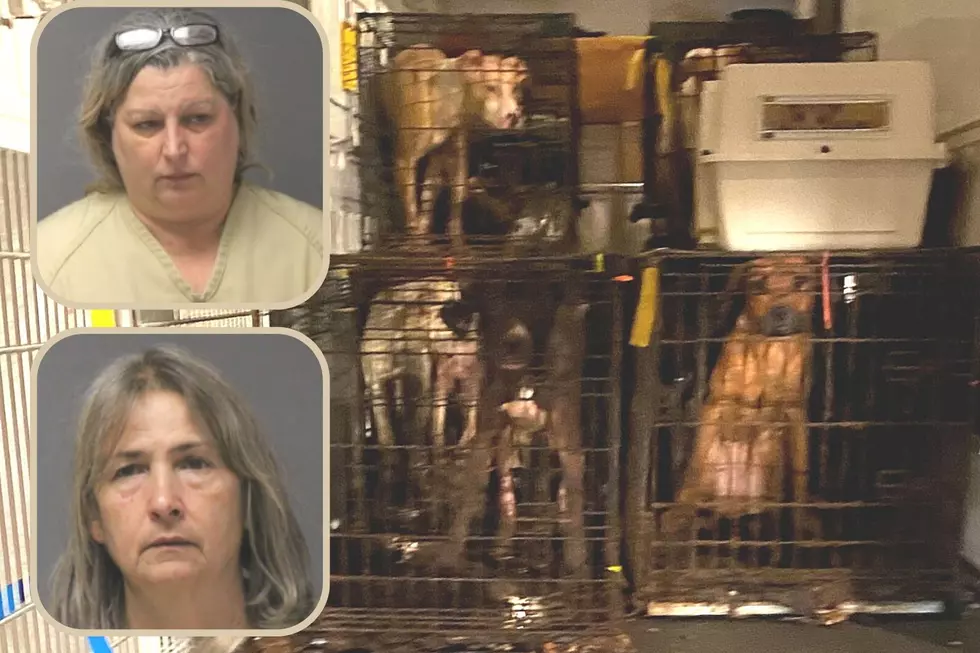 'Crazy Rescue Ladies' offered plea deal in Brick, NJ hoarding case
Aimee Lonczak, Michele Nycz. Animals removed from a Brick Township home 12/3/22 (Photo courtesy Patch)
BRICK — The two women charged with keeping 180 dogs and cats inside their home and forcing the animals to live in their own feces have reportedly been offered a plea deal that involves jail time.
Brick police were called to the home of Aimee Lonczak and Michele Nycz on Arrowhead Park Drive on Dec. 3 where the animals kept by the "Crazy Rescue Ladies" were living in absolute filth, according to authorities.
Police and animal rescue workers wearing hazmat suits removed the animals from the home and took them to the Ocean County Animal Shelter. Lonczak's 16-year-old daughter also lived at the house.
The women were released pending trial on animal cruelty and child endangerment charges. A judge ordered them to stay away from their house and the animals at the shelter. Lonczak was not to spend time with her daughter.
Brick 'Crazy Rescue Ladies' offered plea deal
Ocean County Prosecutor Bradley Billhimer said Lonczak and Nycz showed up at the Ocean County Animal Shelter in the Manahawkin section of Stafford Township on Jan. 19 requesting the release of their personal dogs. They were accompanied by Lonczak's 16-year-old daughter.
Billhimer asked a judge to revoke their pre-trial release and jail them until trial. The motions were denied Tuesday, according to Billhimer. He did not disclose a reason for denial.
An additional condition, however, was added to their release that the women have no contact with animal shelters or pet stores.
At a hearing Monday, prosecutors said that Lonczak and Nycz were offered a plea deal that involved some jail time in lieu of a trial, according to a News 12 report. Details of the deal were not disclosed.
Cost of removing animals from Brick home
At a Brick Township Council meeting Tuesday, Police Chief David Forrester said a review of his budget found the removal of the animals was responsible for a $27,000 spike in overtime.
"That site was considered a crime scene. They had to excavate the backyard, we had to call in a lot of additional resources. It was a very costly case and a lot of manpower was needed," Forrester said.
Township attorney Kevin Starkey said that the township is seeking restitution for the overtime cost from Lonczak and Nycz if they are convicted.
Patch of Brick was first to report on the overtime costs.
Dan Alexander is a reporter for New Jersey 101.5. You can reach him at dan.alexander@townsquaremedia.com
Click here to contact an editor about feedback or a correction for this story.
The most Irish towns in New Jersey
Using most recent five-year data from the U.S. Census American Community Survey, we plotted the municipalities in New Jersey with the highest percentage of residents claiming Irish descent. Take a look!
Weird things NJ taxes - and some they don't
In general, New Jersey assesses a 6.625% Sales Tax on sales of most tangible personal property, specified digital products, and certain services unless specifically exempt under New Jersey law.
However, the way the sales tax is applied in New Jersey sometimes just doesn't make sense.
New Jersey puts out an itemized list for retailers that spells out what is, and what is not, taxed.
Perhaps because this is New Jersey, there are some bizarre and seemingly contradictory listings.
LOOK: Food and Personal Care Shortages We Could See In 2023
Learn about the 13 potential shortages that could impact stores in 2023, from produce and meat to snacks and beverages.