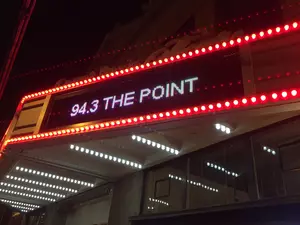 Lou & Liz Live This Morning In Red Bank
(Photo by Liz Jeressi)
This morning Liz and I are kicking off a full day of live Giving Tuesday shows from the Count Basie Center For the Arts.
It is going to be a great day with special guests and live entertainment, and it's all to raise funds to help underwrite free tickets to Count Basie Holiday shows for first responders and their families.
It's a great way to say thank you and happy holidays to all the first responders in Monmouth & Ocean Counties and their families for all they do for all of us in the community all year long,
And more good news. The first $20,000 raised from the day long radiothon will be matched by Citi.
In addition, $1 from every ticket sold on Giving Tuesday will be donated to the 200 Clubs of Monmouth and Ocean counties, two 501 (c)(3) organization dedicated to providing financial assistance to the families of our public safety and rescue personnel who have been killed in the line of duty. This includes, but is not limited to Monmouth and Ocean County police officers, firefighters and EMT technicians.
So come on out and join us, Nicole and Matt to say thank you to Monmouth & Ocean Counties first responders on Giving Tuesday.
More From Monmouth & Ocean Counties